2010
06.25
This post has been delayed a week, I've got a killer torticollis that has taken my willingness to do things. Now I'm nearly fine and I've been able to finish it and move a little bit. Here it is:
Last week it was four months since I left on my trip. The time goes quickly. Until now all has gone great(apart from the torticollis) and all has been quite easy. From now, all becomes a bit more complicated, after Turkey there's no alphabet like ours and that makes things harder. Also I leave the Mediterranean and the culture changes quite a lot. That's also why the most interesting part is coming..
I'm not sure how I've been able to make it, but for the 2 packs of razors I brought with me I've just used one. Four months, four razors, I think I've shaved less than what I thought.
I'm in Istanbul, the Eurasian city, as my trip. The Bosporus separates me from Asia. It's the only city in the world that is between two continents. I love Istanbul but I want to cross, continue the trip, keep seeing things, changing to another country, another language, another currency…. But this has to be done step by step, now it's time to enjoy Istanbul.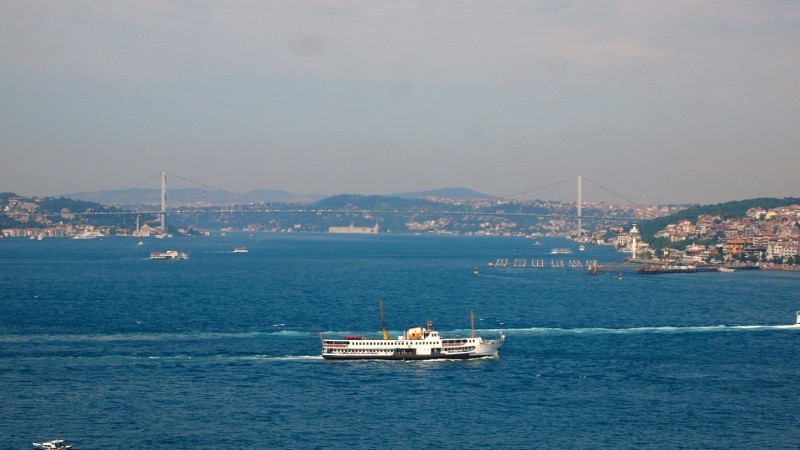 On the left Europe, on the right Asia.
Turkish visa has no complications just pay 15 Euro at the border which most nationalities don't even have to pay. The bad part was going through the Greek and Turkish passport control at 3am, with the Cyprus conflict they both annoy the other country a little bit at the border.
From Turkey all the countries also require visa. I got the Syria one in Madrid and with the Iran one I started the process a while ago, but, It's been authorized! So I'm happy as I'll be able to collect it on Monday.
For Jordan, Armenia and Georgia the visa can be got on the border so I just have to manage another 4 visas until the end of the trip and I have already started with the Turkmenistan one so I'm doing quite well.
It still seems I'm not far, there's only one hour difference with Spain and the plugs have been the same since I left. Well, the faces are changing. Until Montenegro people looked the same as in Spain, totally familiar faces, even in Albania most of the people would look unnoticed in a street in Zamora.  In Greece people looked different, they looked like… Greeks! Curly hairs, eyes like… Greeks!, why describing them. You can see how they look looking at my guide in the video. In Turkey a lot of people have a darker colour on their face and the factions are different also. Things are changing. Cool!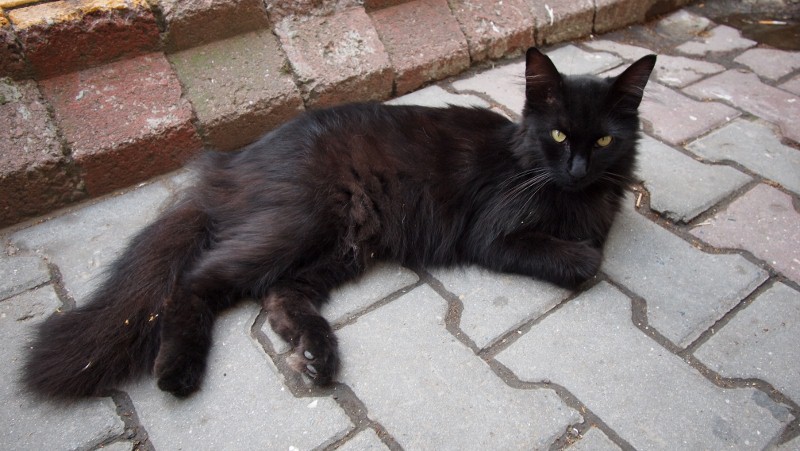 Even Street cats get to change, they look more Persian with longer hair. Iran has a border with Turkey.
I don't know why it's come to my mind that when I was a kid I didn't really like this thing of travelling, I think the main reason was the food, I hated eating in different places than home, the food that I was not used to. Now I'm looking forward to see the food in every place. Once my mom would not allow me to eat for a full day. There was rice for lunch and I didn't want to eat it, so she told me that until I'd eat one grain I wouldn't eat anything else. Now I love rice and I don't even remember if I ate that one. I think I didn't.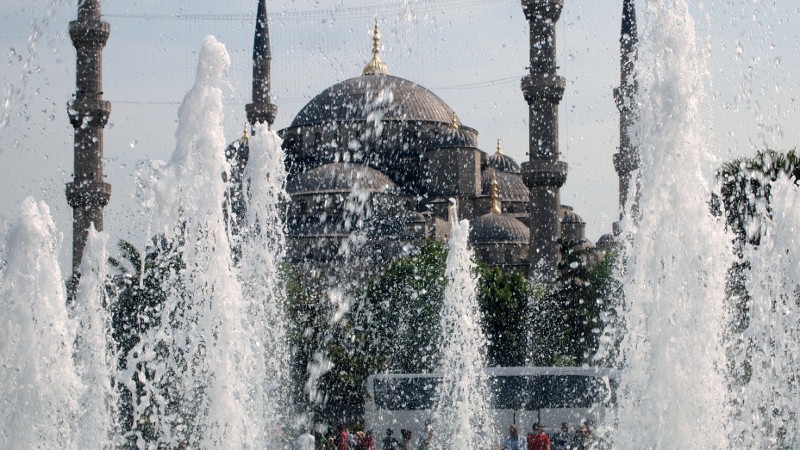 The Blue Mosque. Behind the fountain you can see the one of the buses that provides the place with thousands of tourists a day.
As I've been a few days waiting for the Iran Visa approval I've taken some time to improve the web, I'm going to tell you what I've done because I think the people working in IT may find this interesting.
There are 37 posts and 15 videos. I'm getting to do the minimum postings per week as I wanted. Each week and month I have more visits. This last month I've got over 1500 which is an achievement for me.
Here are some of the changes I've been doing:
– Enhancement on navigation for users and search engines.
– Videos Uploaded to YouTube.
– Change in the layout to display bigger pictures which is not very normal in blogs around the web.
– Picture tagging to improve photo search by search engines.
– Iphone(and similar) plugging to have a friendly display.
– More SEO(Search Engine Optimization) to be display in searches. Change the structures of Tags, Labels and Permalinks.
– Use of Google Sitemap for search engines. Also now Google receives an update when the page changes.
– Similar posts are displayed when a single post is viewed.
Two more pictures to finish the post. Next time I'll talk to you about the neighbourhood I´ve liked the most.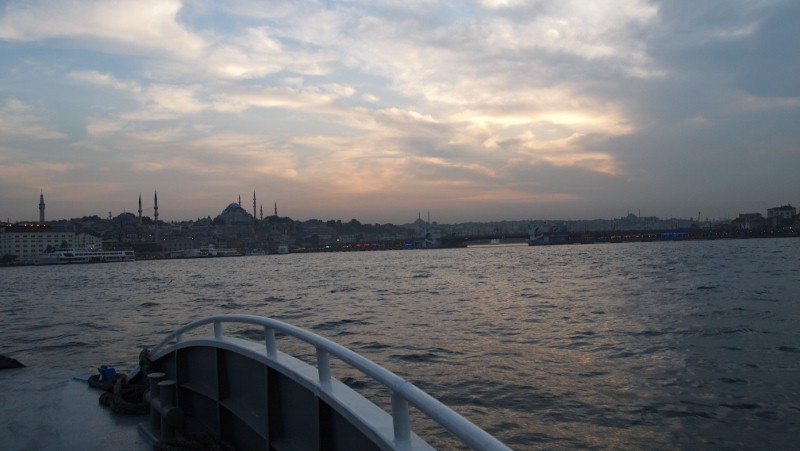 On a boat.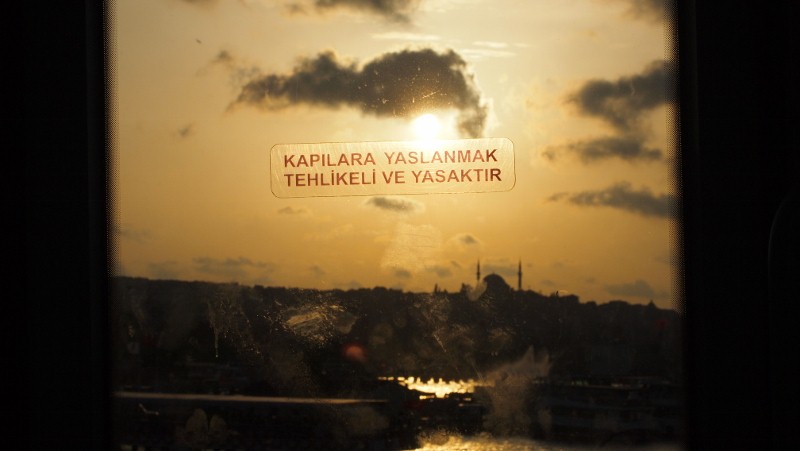 Crossing Galata bridge by tram. There´s always a mosque in view.
Ah, for healing the torticollis I've used up the Tiger balm that the owner of the Korean Barbecue, were I used to eat with my work friends on Thursday, gave me the day I told her I was leaving. I love that ointment. The Korean Barbecue mmmm the best tempura in town!.
Fernando