2010
07.02
I've got my Iranian visa!!!!
It has not been that complicated, but like to get any visa I have had to fill up the common forms giving my information several times. Going to an embassy to get a visa is a process in which you have to abstract yourself and not think, put the head down, do what they tell you to do and not try to find the meaning to it. That they have the passport there for a week… OK. That you have to bring a photocopy of it… they could do it with the 60 Euro they are charging but…OK. That you have to put the money in a bank that is 15 minutes walking uphill… OK. Each time I go to an embassy(consulate technically) I have the feeling of being a kid in school that does things just because you have to do them, I feel like Bart Simpson writing 100 times in the blackboard "I want to get into your beautiful country and I promise not doing anything bad",  someday embassies will make you do that just to get a visa.
I had doubts on coming to Istanbul this year but Istanbul is the European capital of culture and I couldn't miss it…. Well, ok, I got to know it when I was there…. I thought that doing a trip along the silk road and skipping Istanbul didn't make sense. I´m very happy about having come to visit for a few days so I arranged all to get the precious visa there. Now I'm super happy for having come here. I came here 7 yeasrs ago and it´s been interesting seeing the change, now it´s a LOT more liveable.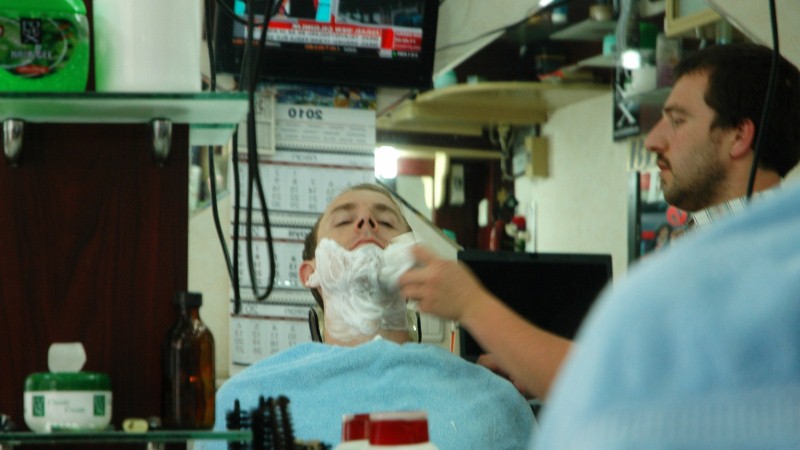 The first day we went to a Turkish barbers, it was surprising how much care they put on it, however I have to say I get a better shave when I do it myself.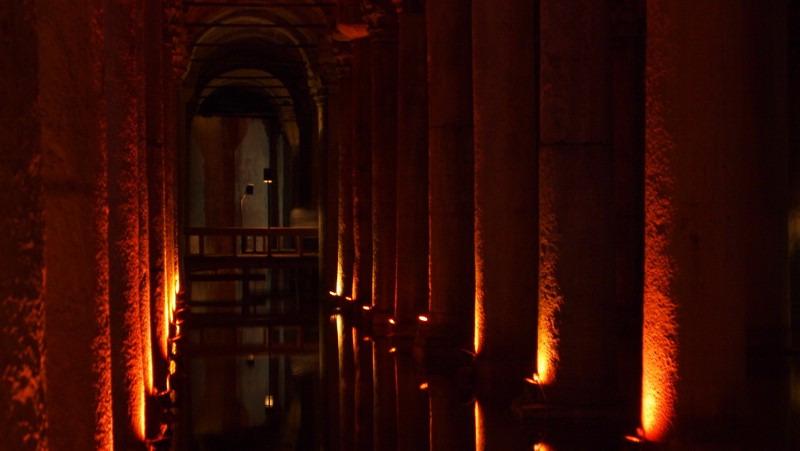 From the typical things to visit, what i liked the most was the Byzantine Birbindirek cistern with the impressive dimensions of 65×143 meters with 335 columns. To bring the water here they had nearly 20km of accueducts.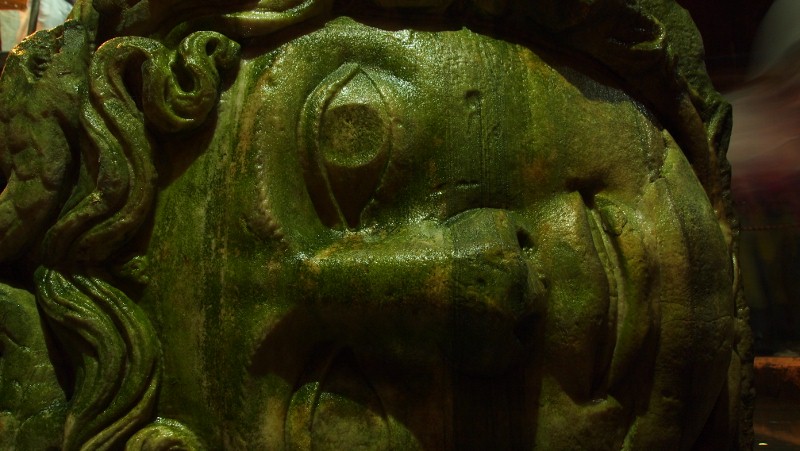 Details of a column with a sidewise medusa.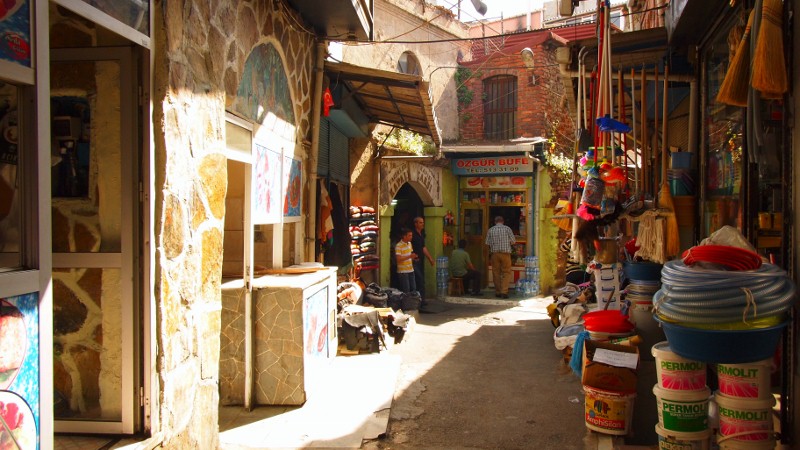 Near Grand Bazaar. I didn´t enjoy the grand bazaar at all, just 4 types of shops repeated with nothing authentic. Most of it fake designer clothes.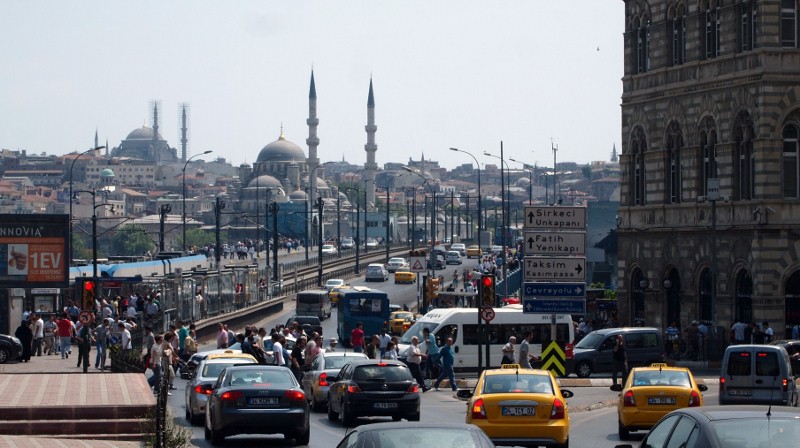 Istanbul is a total metropolis, thinking that around you there are 16 million people is somehow disturbing.
Have I told you I have the Iranian visa????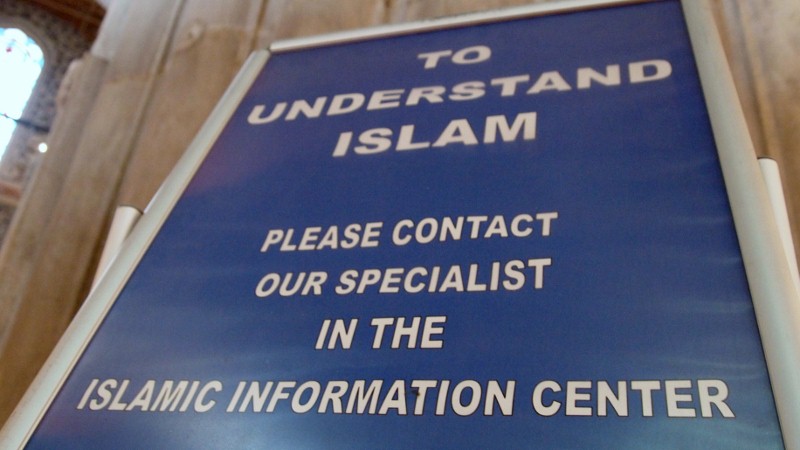 Turkey is doing some big efforts to get closer to Europe. It all started with Ataturk that secularized the legal system and now Turkey is changing the laws to be more European. The question of if Turkey can become part of Europe is difficult and I´ll give my opinion once I leave Turkey.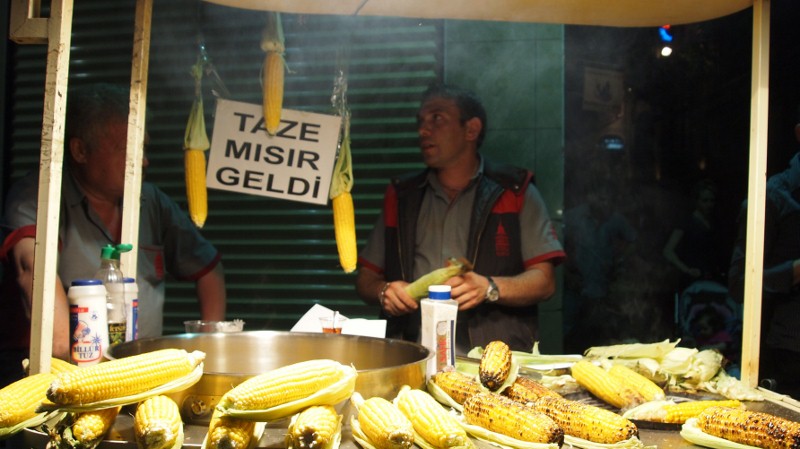 I love corn. Ideal for a snack and not searching for a restaurant being starved, that's the worst.
When you are travelling and you say you are Spanish everybody asks you about football. I know about football as much as about nuclear fusion so my football conversations are pretty sad. For you to get an idea, in Montenegro I got to know that Messi was playing in Barcelona and the other day I saw him playing with the Argentinian team, surprise for me because I thought he'd be Catalonian.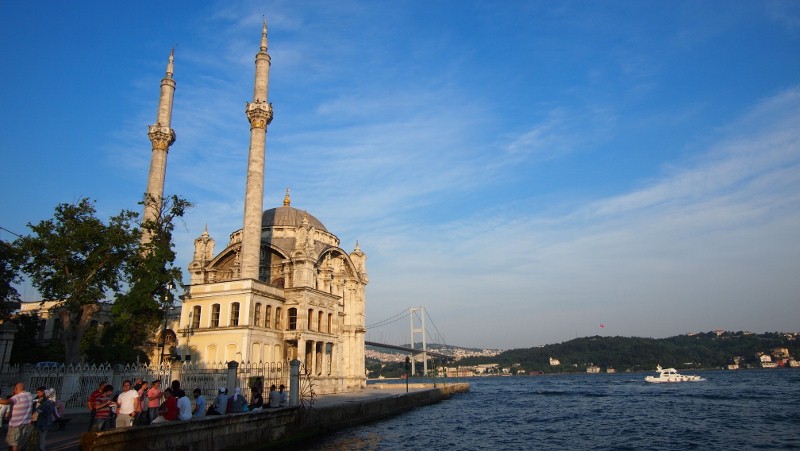 Under the Bosporus bridge with 1047 meters. Just next to it there's an ideal area to have something in the evening with a real Turkish atmosphere, most of the tourists don't come that far. The speciality is stuffed potato with absolutely anything you can think of inside. We went by bicycle, an extreme sport in Istanbul traffic.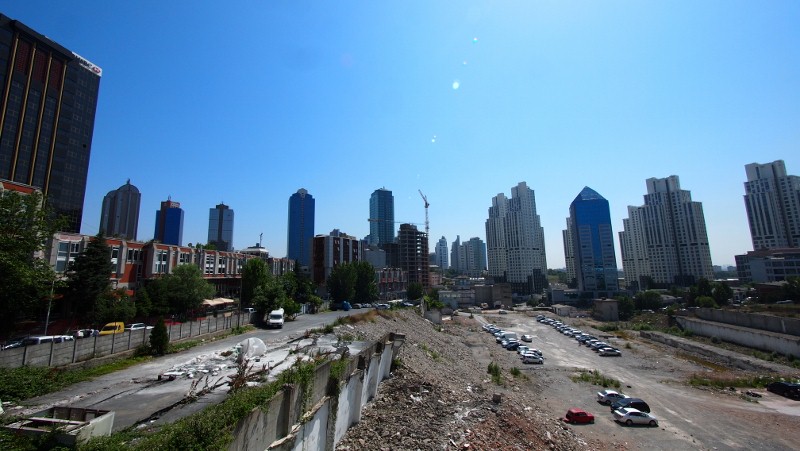 We got the metro to the last stop, the area is called Masak, we were not sure what awaited us there, a posh area with designer cafes and restaurants with salads for Turks in suits. It was in fact quite similar to any other neighbourhood but with glass buildings, also there were tons of  garages, ah, and of course, a Starbucks.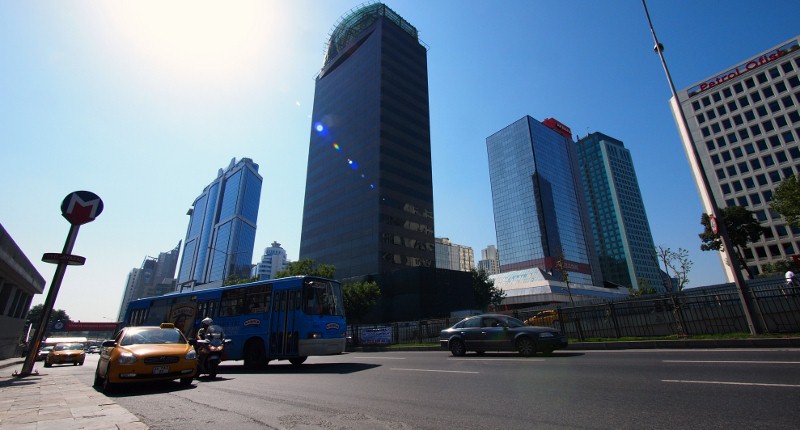 Some taste of an American city.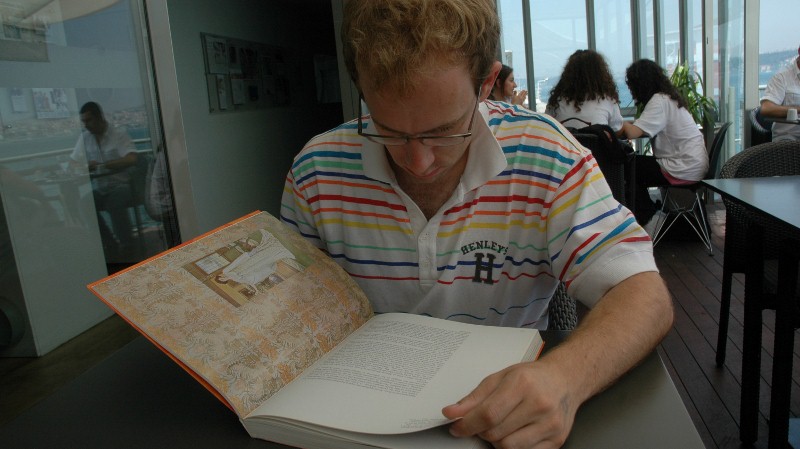 I've been reading the book "The book of silk". As it was pretty big I coudn't bring it too far. The edition is very well done with a lot of pictures and examples.
The book is structured by geographical area and tells the story, how it was descended in Geographic and history from the unknown Chinesse masters to current designers.
It also tells how most of the countries has tried to start a silk indistry in their borders. Places like Syria, Egypt, Scandinavia, England, Ireland and United States has tried to plant mullberry trees to grow the worms.
Here in Istanbul it tells how unwanted wifes were strangled with silk scarfs in the Topkapi palace, but it also tells what has been found in Burgos, my home town. Very interesting.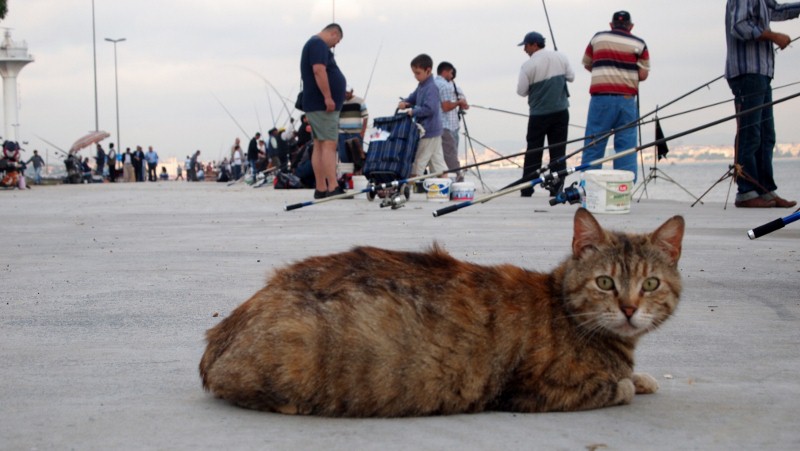 In the port area under the Topkapi palace. "With so many fishermen I´ll sure grab something to eat"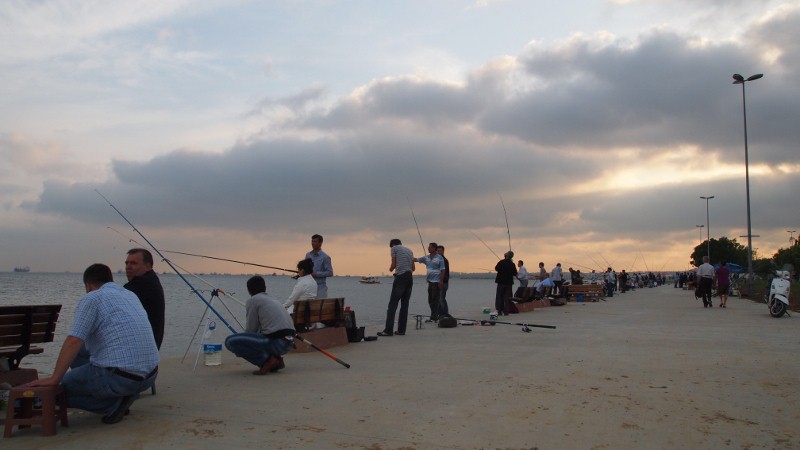 What the cat was looking at.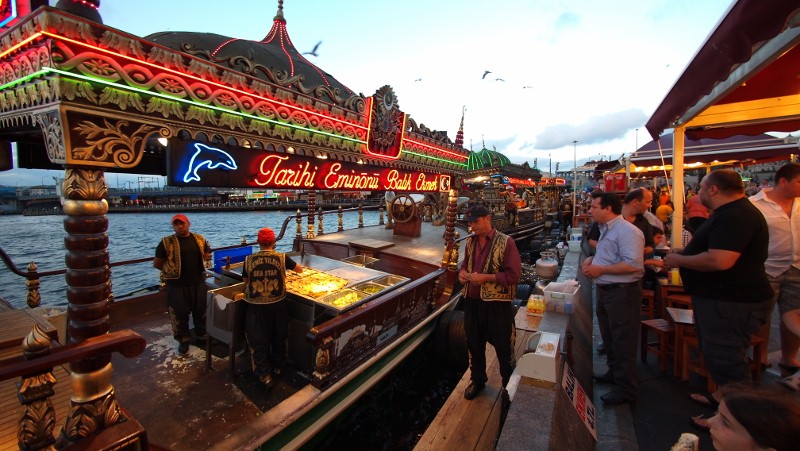 Fish caught freshly in the Bospherous is cooked on the boats at the Quay side and sold to the public every night. It looked really well but with the amount of ships that cross the Bsophorous every day I had some doubts on the healthiness of eating it. I had it and it was good.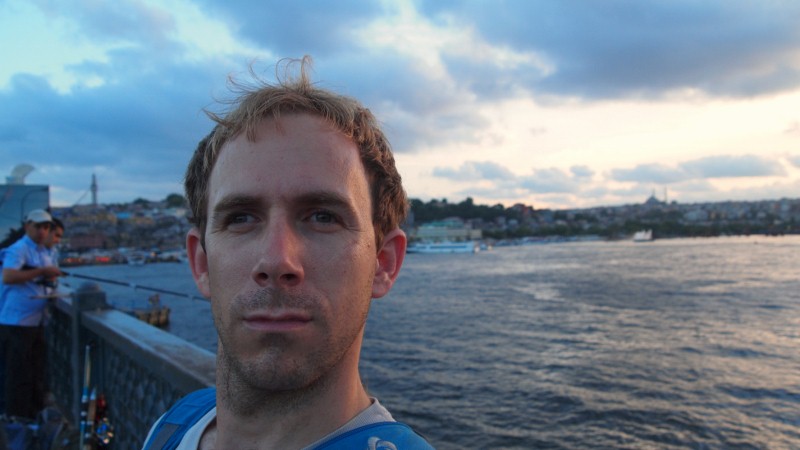 I love being around the Galata bridge when the call to pray, the song of each mosque arrives but not exactly at the same time. To come here in the tram a girl with scarf on her hair and last Adidas model had the music loud in her headphones and I could hear Katy Perry's song "I kissed a girl and I liked it". I think I need another shave.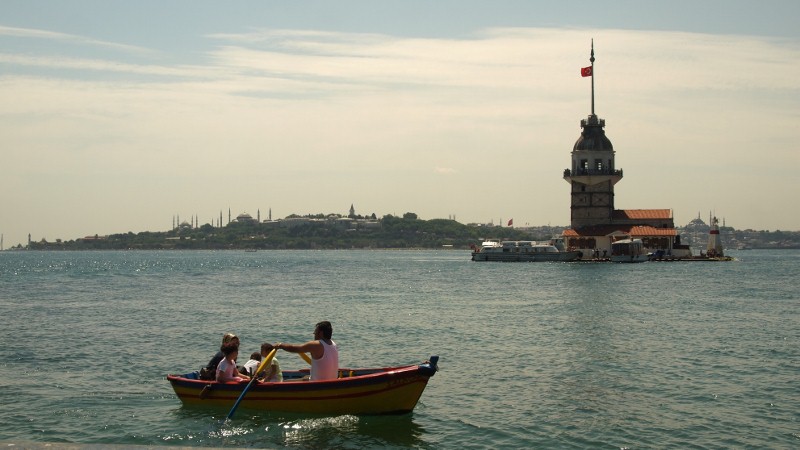 Ancient Lighthouse at the entrance to the harbour. The most beautiful view of Uskudar, the asian area, is near the Kiz kulesi lighthouse. This was my last view of Istanbul before leaving to the bus station to get the night bus to go to Efesus.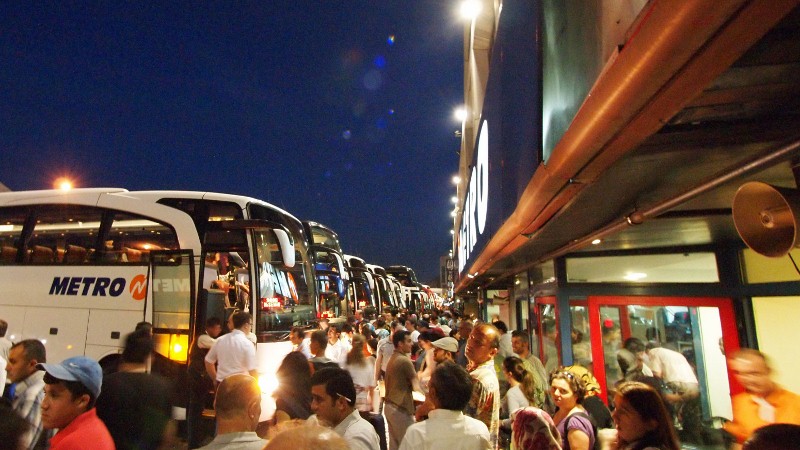 Never ever in my life have I seen so many buses than in the Istanbul bus station. It´s also true that I´ve never been in a bus factory.
Let´s see how much I sleep!
By the one that has an Iranian visa in his passport.