2010
07.14
I can finally post a video, the last two I tried to do looked horrible so I haven't posted them. I recorded one of them with Ana about an Oraculum in Greece and the second was about my backpack so after a lot of time I'm very happy to edit a video and post it here.
The video was totally improved, I arrived there and liked the activity so much that I thought capturing it in pictures would have lost the meaning of constant movement. Different to the Istanbul bazaar there's nearly no tourism, I only saw four foreigners in four hours. It's a local market with no souvenirs with Syrians buying Syrian things.
The music is Turkish because I still have no Syrian music, they are Burhan öcal & Pete Namlook.
I'm going to tell you quickly my last steps in Turkey as I went through Antakya, one of those names that sounds so biblical and you don't know what to expect.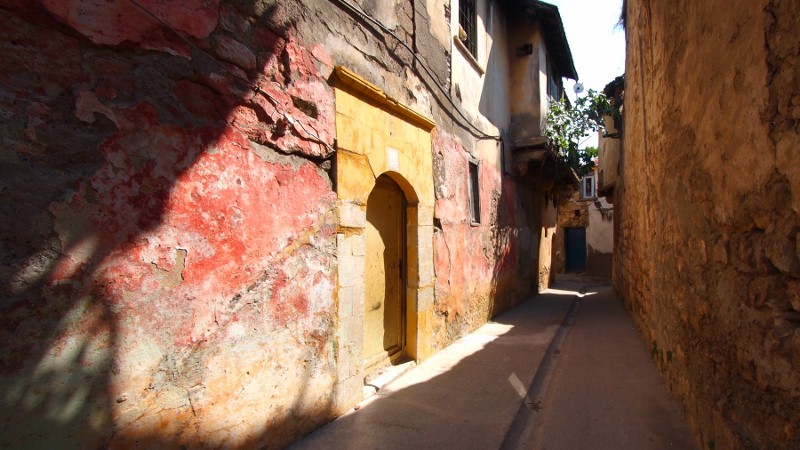 I knew there wouldn't be much from what I had read, and in fact apart from the centre of little alleys the rest is quite ugly. In the picture an alley downtown.
What I've liked the most is the mix of culture, I tell you; in the guide books you read that Antakya is one of those places where Christians, Muslims and Jews have always been living together in peace, bla bla bla….and when I read this I think that it sounds beautiful but with those things I always think that it's something written in the books but that there is no way to feel it in the city.
In Antakya this is more tangible than in other places. Apart from the fact that you can see mosques, churches and a synagogue, the interesting thing is that when somebody stops you in the street to talk(yes, it's very normal) after giving a cordial welcome they tell you the same, that here they are all mixed and happy and tell it proudly. It's comforting that there are places in the world that co-living exists.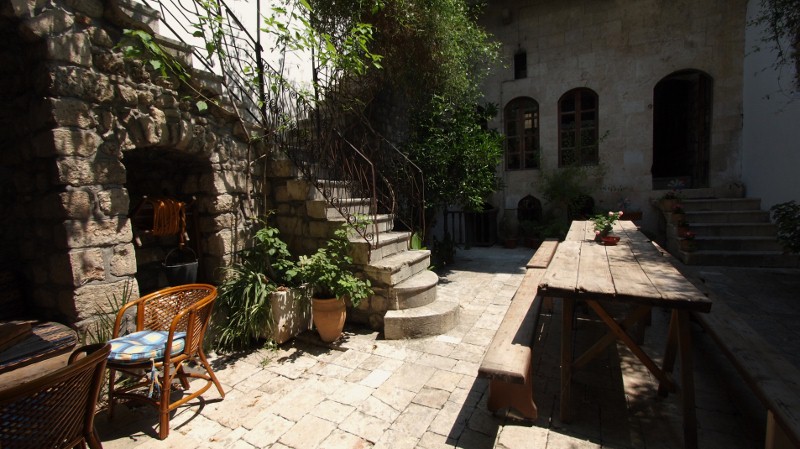 To finish feeling what the books says I stayed that night in the HOSPEDERÍA of the Christian church. They are old houses where you can sleep. There were some musicians preparing an event of songs for peace in the cave-church of Saint Peter. There was a very good atmosphere around, it was like sleeping in a music school where music of any instrument could start at any moment as well as a chorus starts singing. I was planning my trip to Syria for a couple of days.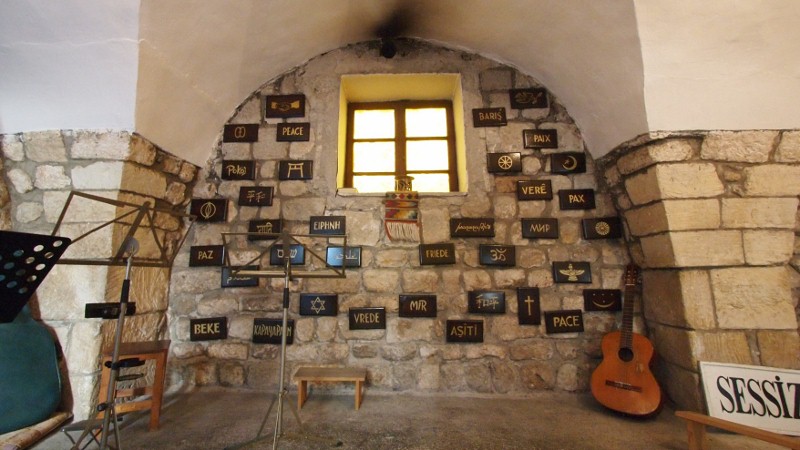 Religious symbols of all religions. Barbara showed me the place, she´s been there 38 years and broadcasts peacefulness.
Also staying in the place was a German, Jens, an anthropologist working for an American university he was doing a study of the integration of religions. As he had an interest in the silk route we were talking for a while. An interesting guy.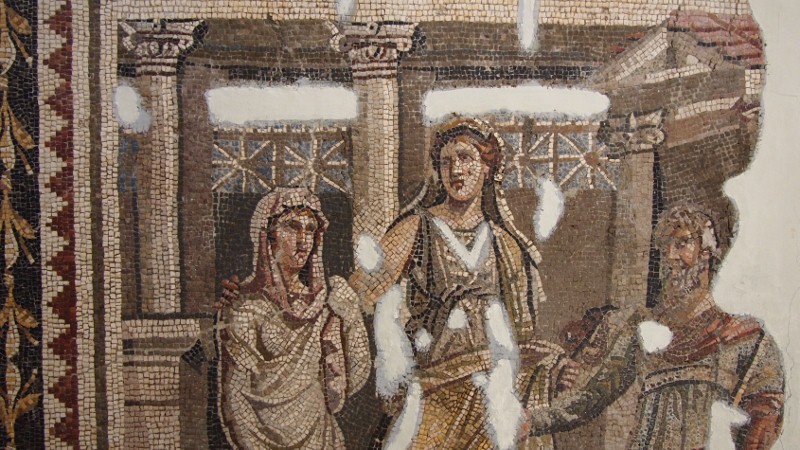 Antakya museum is one of the most important in the world regarding mosaics, It has a lot of pieces from the II and III century.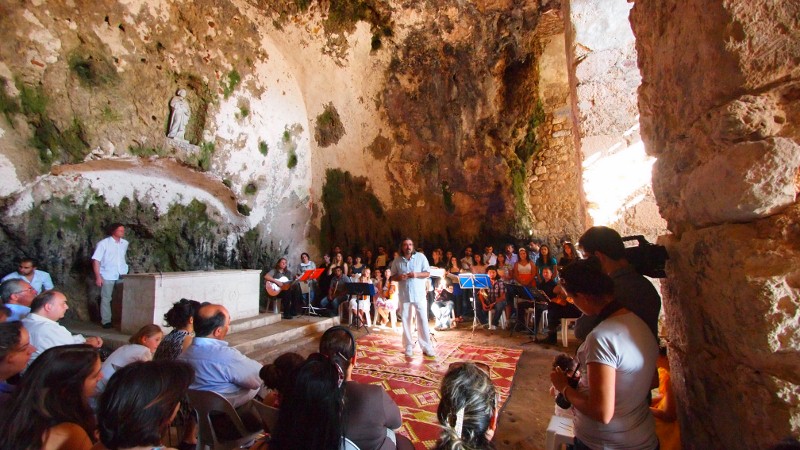 The day of the canticles. One of the songs was in Spanish so during rehearshal I read it in Spanish so they would know the right pronunciation.
The last night I made a stop in Odeon, a café that I'd spotted in one of my walks around Antioch. A chatty Turk came to talk with me, he was a biologist, specialized in butterflies and he worked for the university. He made 1000 Euro a month, that let's you do a lot of things in Turkey. I proposed playing Backgammon with him, he was the champion of his town and as that's the application I use the most in my phone, I decided that was the perfect person to try my game.
We started with a very sad 0-2 to him as he set up the board in the opposite way my phone does and I was a bit disoriented at the beginning, after a little while we were 4-2 to me. When the owner of the place came to chat with us the board was mysteriously closed and moved to a corner as if nobody had ever played it. The owner was a very nice guy, he had been travelling all around the world selling gold and now he was taking his time to enjoy live in a relaxed way.
Next day to cross the border with Syria I got a shared taxi, it's a bit more expensive than the bus but I keep checking where my passport is exactly. It also takes a few less hours as the arrangements for 50 passports in a bus takes a while.
By the road I saw men and women harvesting potatoes, the harvest seems to be much earlier than in Spain, there were a lot of cereal crops already reaped in pieces of land that the dessert has not taken. A few more potato fields and the wire fencing and the watch towers announced the border. Once more I felt the excitement that I have when I'm taking my passport out of my pocket to cross a border.
See you soon.
Fernando