2010
07.21
Syria is giving me wonderful surprises every day. People are amazing, they say hello, they ask, they tell you, they make you feel good. As soon as I say I´m spanish they all congratulate me about the world cup, they like football a lot, even though it seems impossible they have a lot of Spanish flags everywhere. They are very happy to have Spain winning instead of Germany or Holland. Being Spanish is quite good for travelling, people usually likes us.
It was not easy leaving Aleppo but the dead cities aroused an intense interest to which I couldn't say no. To arrive there is no public transport  so you have to find a taxi for half a day to go. From the one who likes them with a passion for a while there are around 600 settlements, from isolated monuments to full cities. I visited four of them and was lucky to find two "friends of the day" in the hotel to share the taxi and not going alone. Here are the pictures.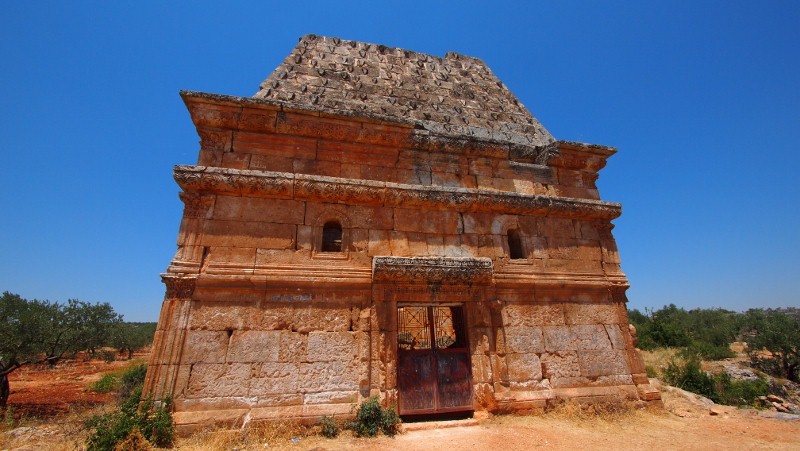 In the city of Al-Bara there are funeral tombs, the one in the picture is the best preserved one.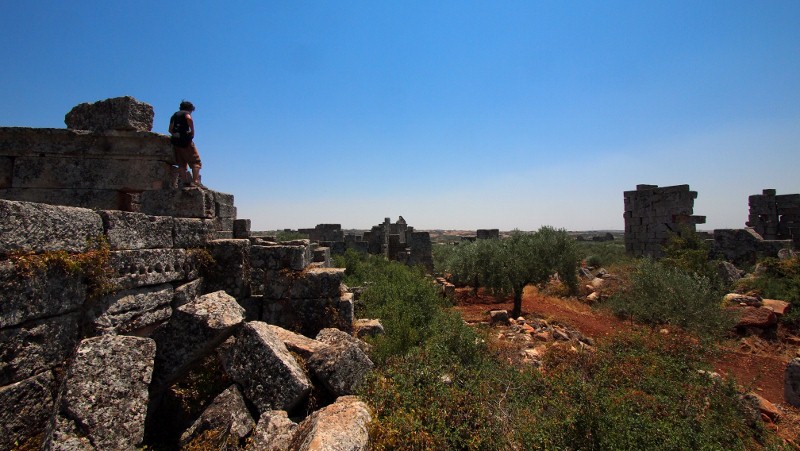 Greg on top of a wall overlooking the horizon, the city seems it never finishes. It's eerie walking between the houses, walls and the olive trees, we are totally alone discovering what is in each building, in each corner. The reason why they were abandoned is not clear, seems that the trading routes changed and the population moved away gradually leaving this isolated landscape.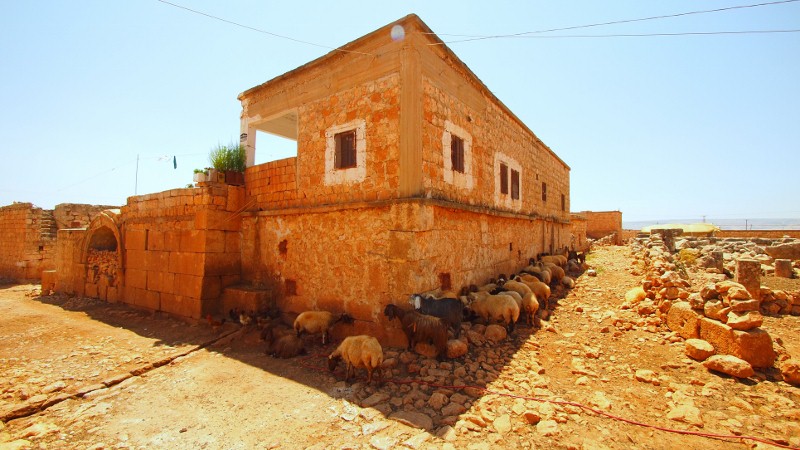 In the shade it's 40 degrees.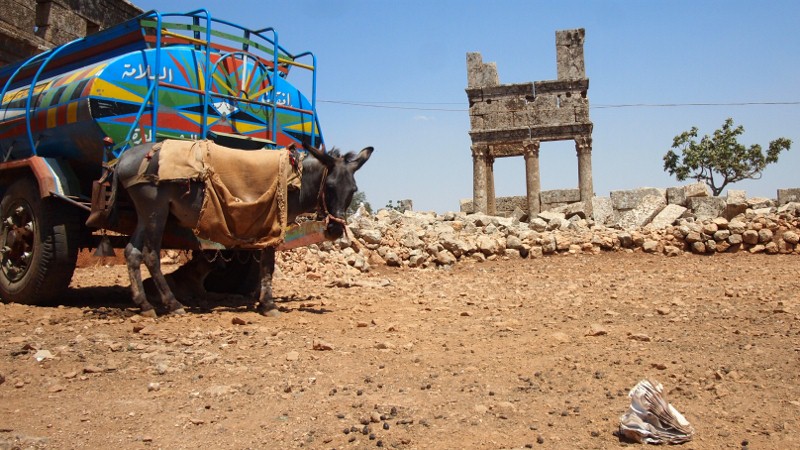 The name of dead cities is not totally right, there are some people still living in them.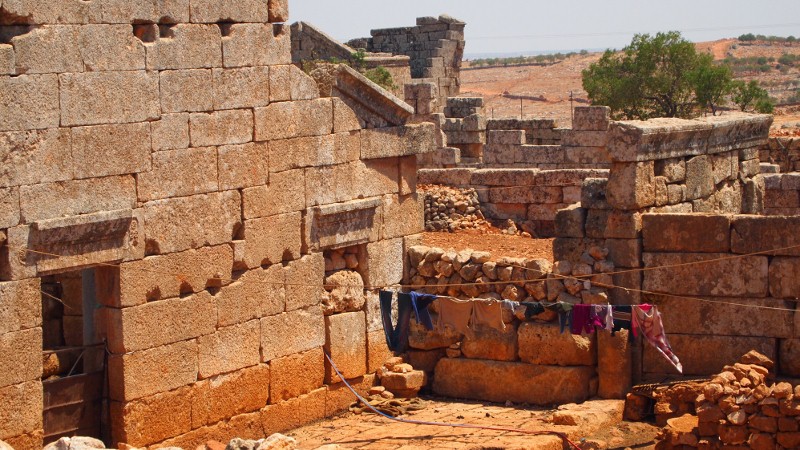 Clothes drying is an unmistakable symbol of life.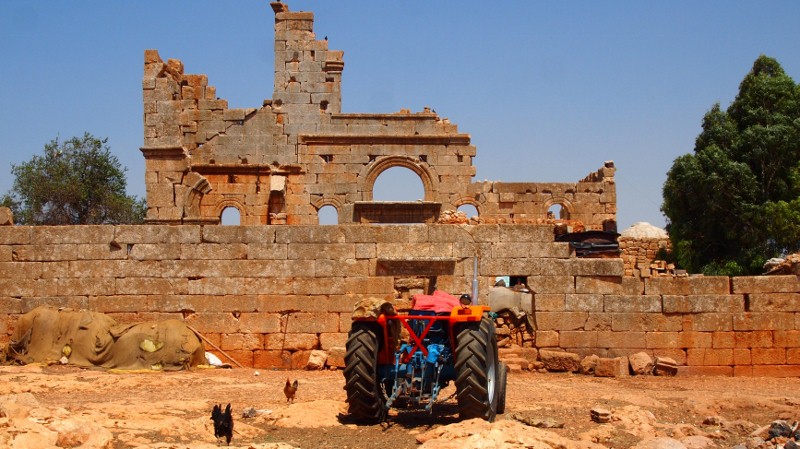 Jedara and Ruweiha are two cities that are together and they are some of the biggest. In the background the Byzantine church of the 5th century, it's used nowadays for living.
The last city we saw was Serjilla, one of the best preserved and most prepared for tourism with explanation panels. Some houses have two floors created building an arch inside the house to hold the second floor, I liked the idea.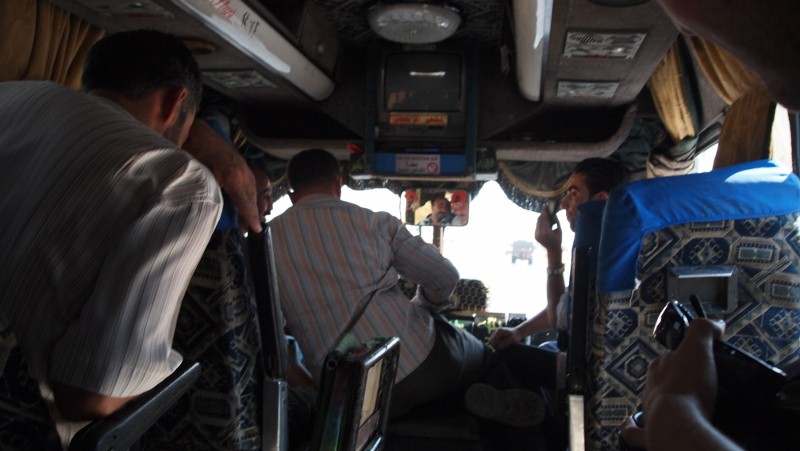 The next stop was Hama where I went to see the water Norias.
Orontes means revel river as it's the only one in the area that goes from south to north, it in fact starts in Lebanon mountains where there's even a ski resort.
For the Zaragoza Expo I've been told they constructed one, now I want to go and see it as they brought the same people to build it that maintain the ones in Hama.
As soon as I click the publish button I'm going to the airport to collect my father, he's coming a few days for visiting. Hope the flight is not delayed.
See you soon
Fernando