2010
08.25
Why the old Armenian capital is in Turkey is something I'll tell you once I'm in Turkey, it's not that I want to create a mystery. It's that I haven't read about it yet and I want to read about it in Armenia.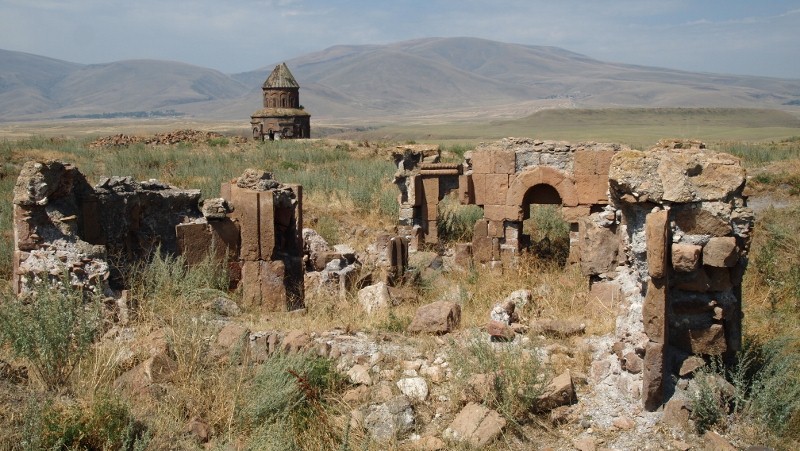 It's magical, old and captivating. I saw it with an Italian accent, I came with a couple I met on the bus from Erzurum.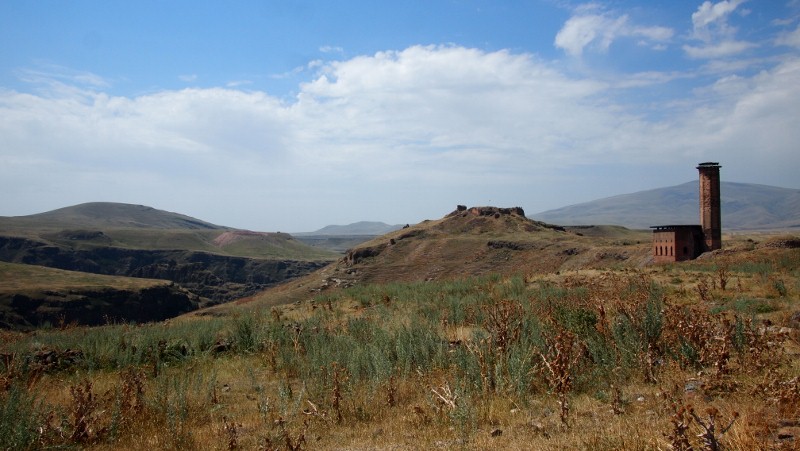 The pictures speak for themselves.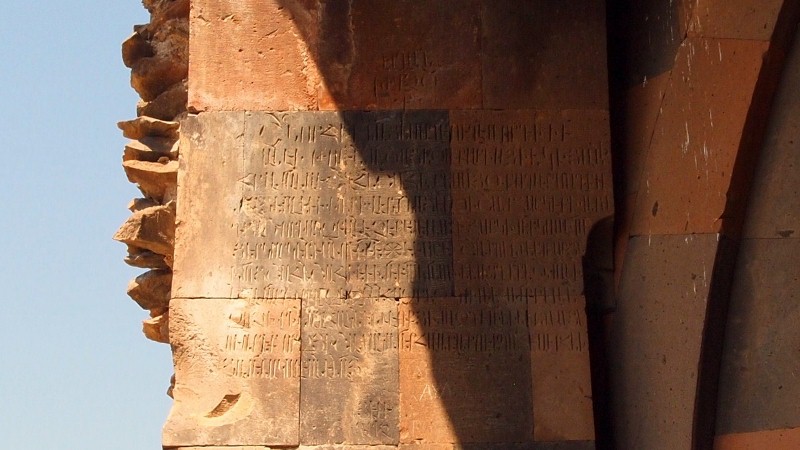 Old Armenian inscriptions.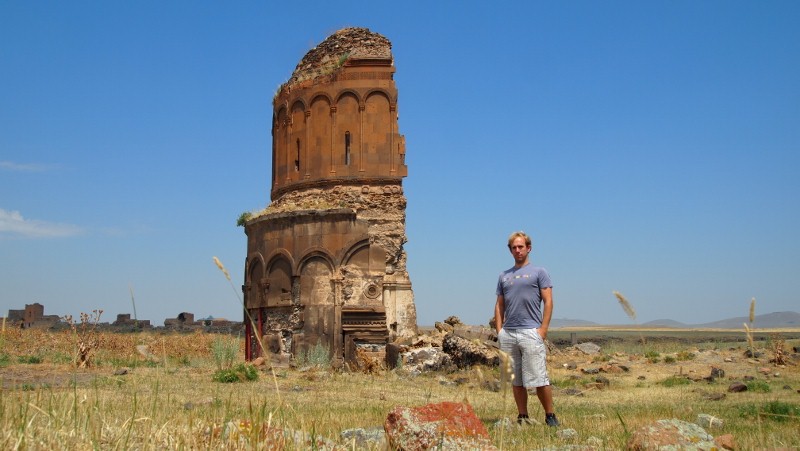 One of the most striking buildings, and half of a church…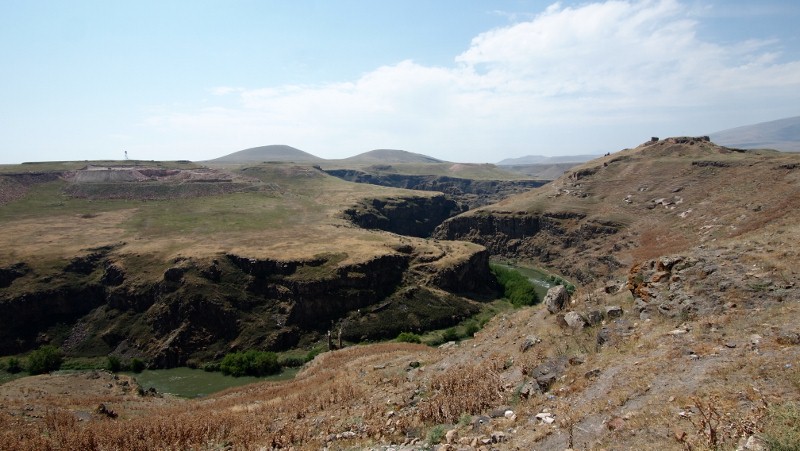 Between 100.000 and 200.000 people lived here at its prime, rivaling in importance with cities like Bagdad, Cairo or Constantinople. Ani was the first stop on the silk road after the Caucasus. In ancient times, as now, the cities with large commerce end up being the most important ones.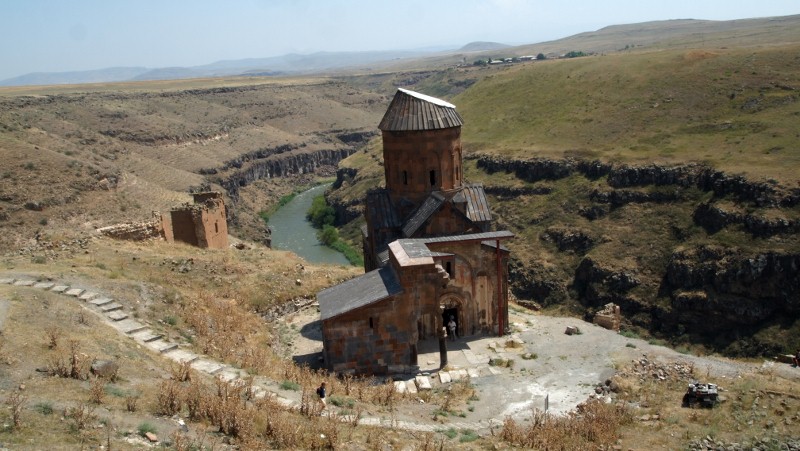 Fortunately some of the buildings are restored or are being restored. They look slightly too new or otherwise you can see others that are falling apart day by day.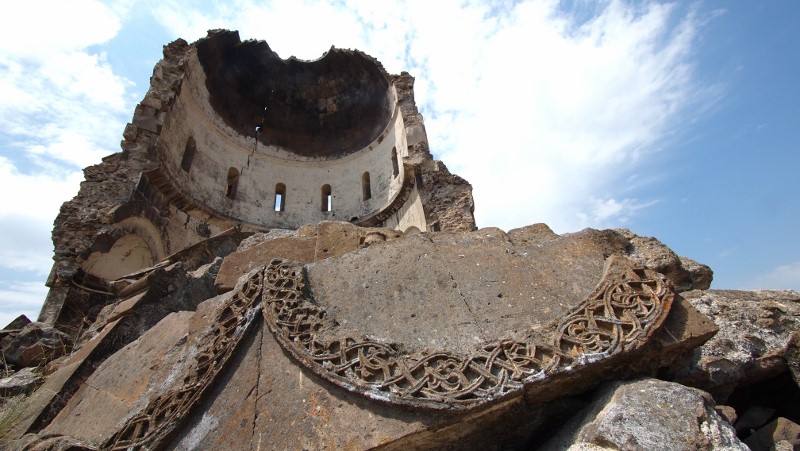 Like this one.
The interior of the cathedral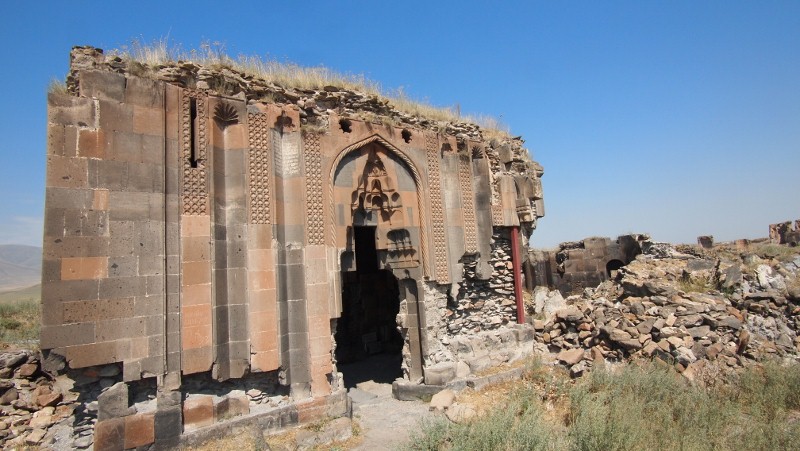 A caravansaries, a caravan stop. The name is a bit strange but it's how I've read it in several books.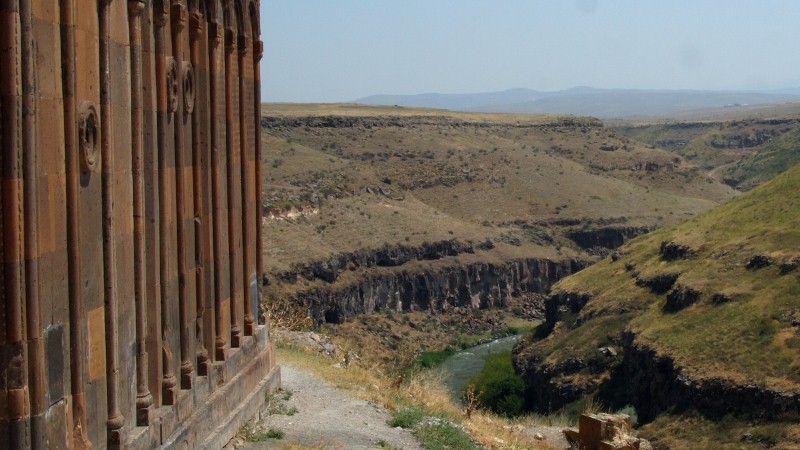 Ani is nearly surrounded by a natural moat, these are the canyons that surround it.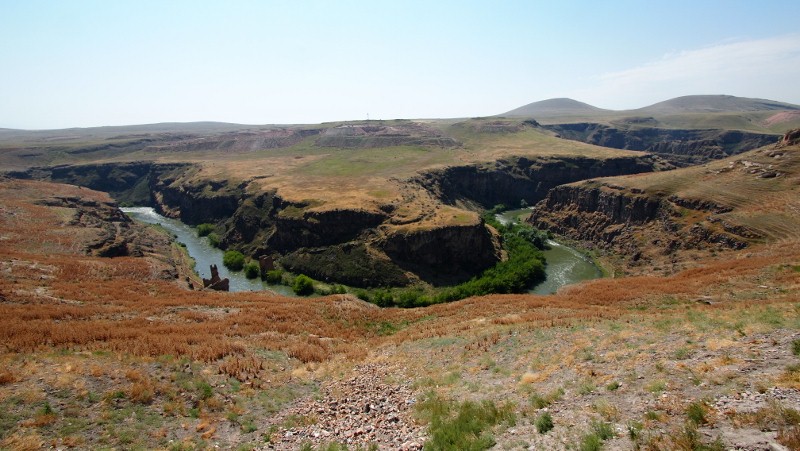 It would be amazing kayaking down this river seeing Ani over the canyon but it's quite likely you receive some shoots from the Armenian or Turk soldiers that take care of the border. It's a closed border.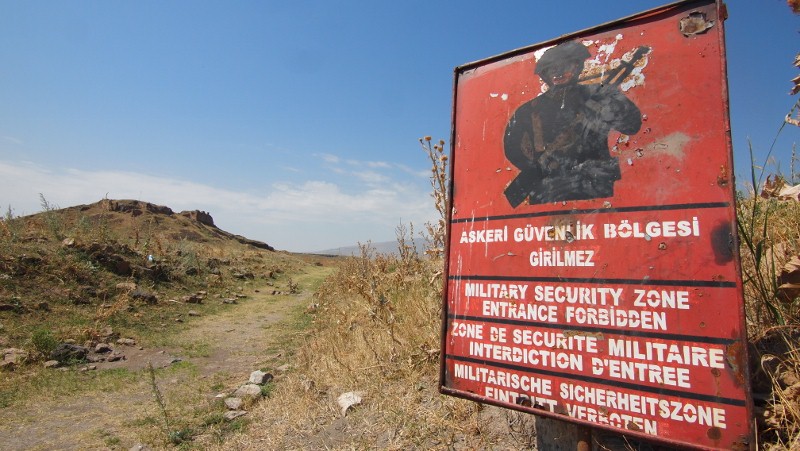 Until very recently the site was closed, even now a part of the enclave is closed.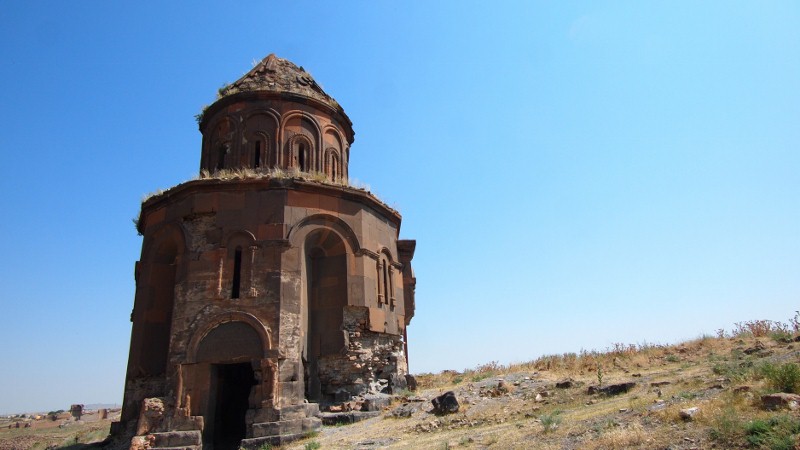 It's been very nice being in a country that, even you don't understand the language, you understand the alphabet. If you see a bus, you can know if it's yours without asking someone. From now until I'm back all the places will have an alphabet that I won't understand.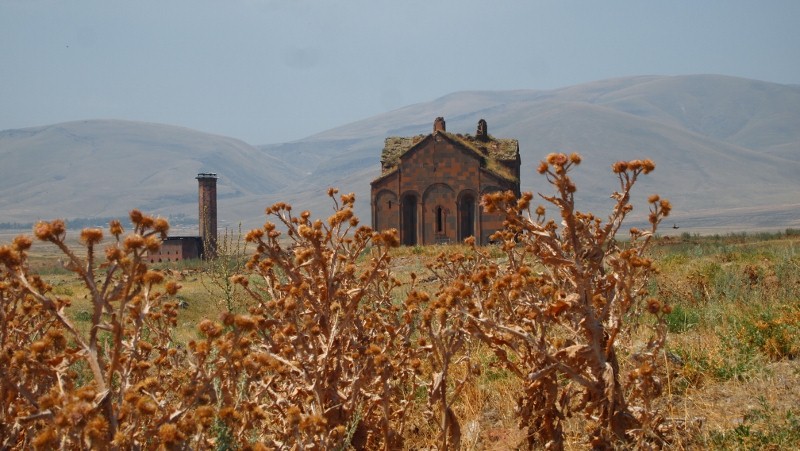 Unique ambience. Melancholic maybe.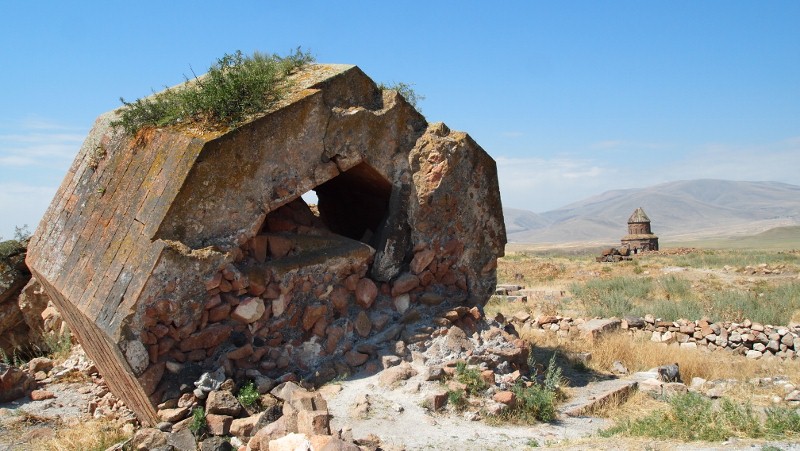 It's not clear why Ani was abandoned making it a bit more eerie. It's one of those mysteries of history. Maybe the frequent earthquakes? Maybe the big Tamerlane's plunder in 1239?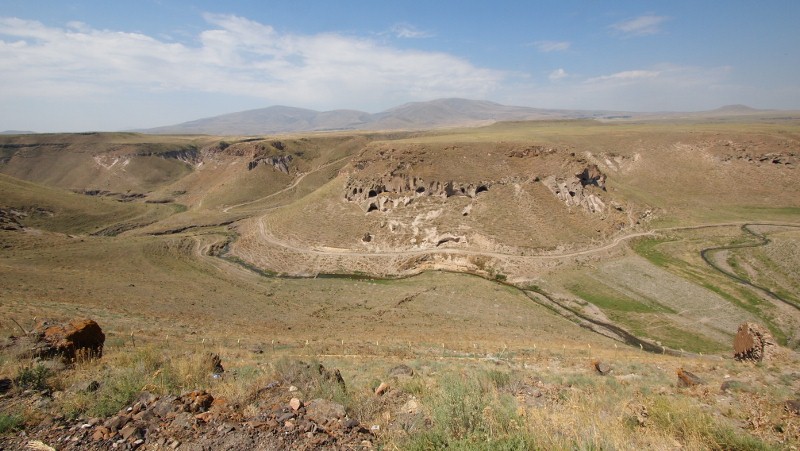 I stop in Kars, it is the best place to visit Ani from and to cross the border to Georgia. I try to buy a Muslim hat. The man in the store is very talkative, he tells me in Turk in 20 minutes how his religion is. It's a religious objects so I couldn't expect some proselytism . I see that he does it with good intentions so I find it nice. I think the hat I want is not suitable for non-believers. He brings out another box with simpler hats and he tells me to choose from a white or a grey one, I like the gray one. I'd prefer the blue one I've seen on the old guy in the coffee place, but seems I don't have that option. The shopkeeper gives me a gift of the hat with an enormous smile in his face. I say thanks for the hat and for inviting me to belong to his religion. I go to eat another kebab.
Reading about history there are new "actors". Still I'm not where Persians were, but in Kars there has been a heavy Russian influence, you can see in the layout of the streets much more organized than in other Turkish cities, and in old times Ani had Azeri influence, from Azetbaijan.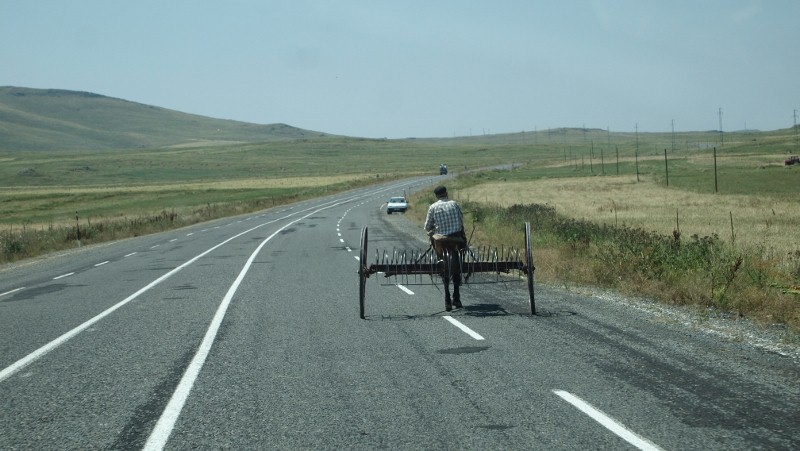 Going by the road is a total delight, the landscape is gentle, rolling mountains covered in mild coloured green grass, farmers collecting the grass with old plows or with tractors that look like toys from the distance. The animals cross the road wherever they want and the clouds moves slow and smooth.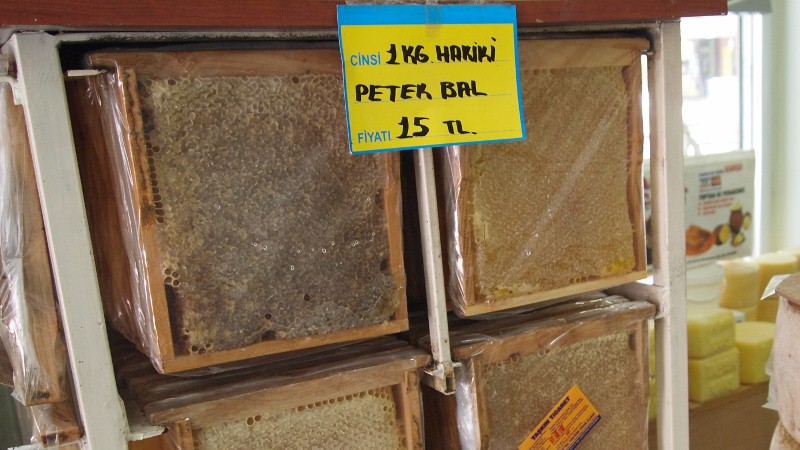 In a shop I try honey, very well known from the area.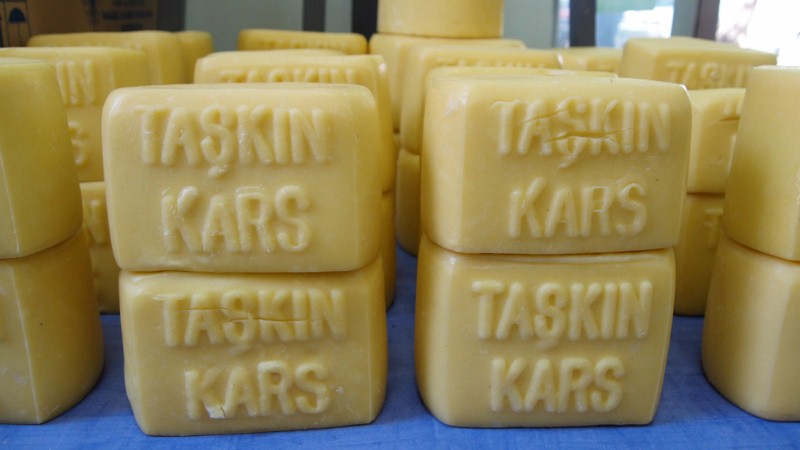 And cheese, with the name if you have forgotten where have you bought it.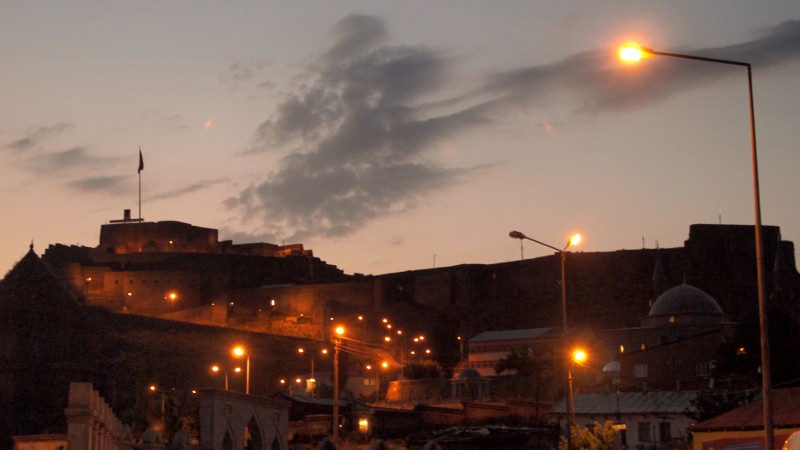 Kars has an impressive castle that dominates the city. Here it is getting dark. Tomorrow I cross to Georgia.
I wait for my bus to the Georgian border, the muhaidin calls for pray once more, a dog barks to him. I have another tea in the "saloon" that is full of men. My last Turkish moments.
I leave the Asian Turkey, this Anantolia that has kept me little by little, I think it's been a total of five weeks and now is time to leave it behind. I go to the Caucasus, my first ex- Soviet place. Gooood!
Write to you soon.
Fernando