2010
09.14
Had to happend somewhere…. can't connect my laptop and some characters have been changed by the computer in internet cafe, mainly in the Spanish version, hope it's not too annoying to read….[I've already corrected it, but leave it as history.]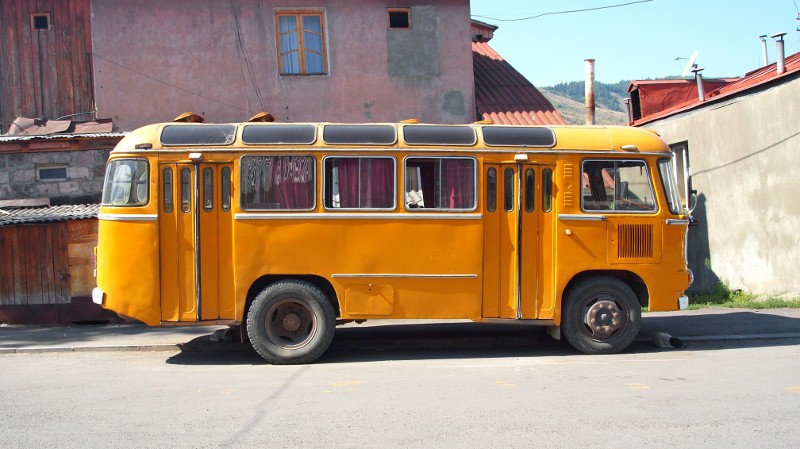 The musical tastes of drivers here are very varied, this one has played Jean Michelle Jarre while driving as fast as he could. I'm going to Tbilisi, to see what's there. The bus is cool, but it is not the one I got, a pity!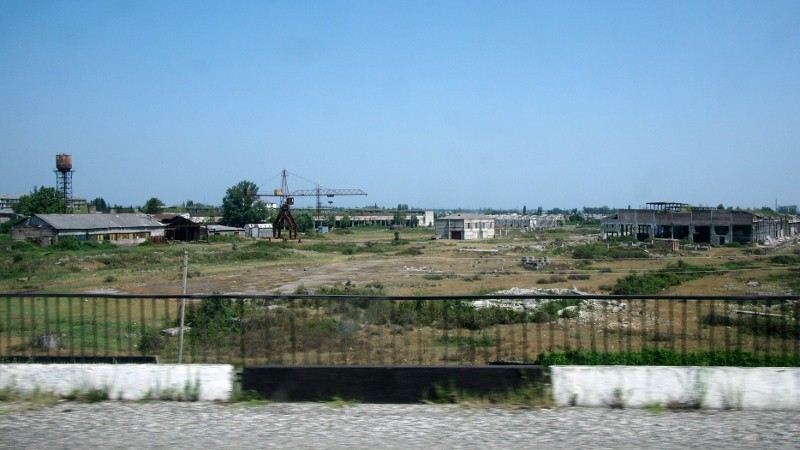 On the mountains we let cows cross everywhere, we see bees getting out of their coloured houses and conifer forests, now, in the main road that crosses the country I just see ex-soviet abandoned factories. When the USSR fell also the economical structure fell, and even today it has not recovered totally.
I was not liking Tbilisi too mucho, I was walking through Rustaveli(a Georgian writer) street and I was just seeing buildings like the Opera House, the parliament, the academy of arts, the palace of  "idon'tknowwhat", the street was a typical soviet one owithexaggerated proportions and being Sunday; empty. I find an insipid place.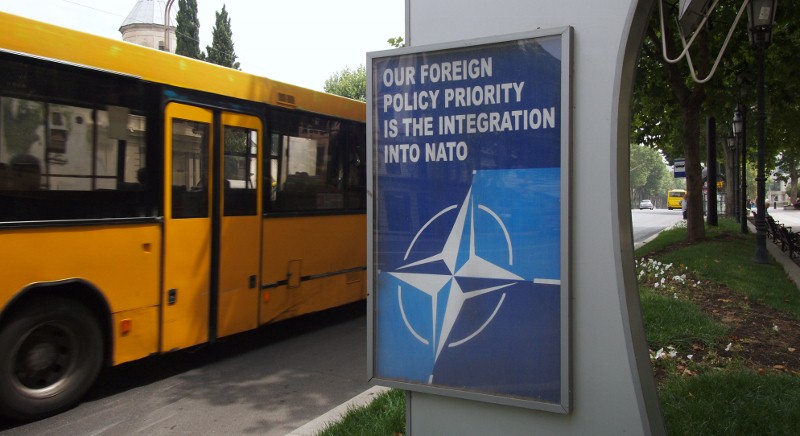 They are making big efforts to open up internationally, here is an example, in English so visitors have it clear. Looking at their internal policy there are still a whole lot of things to do, but I guess we have to look at this as one step.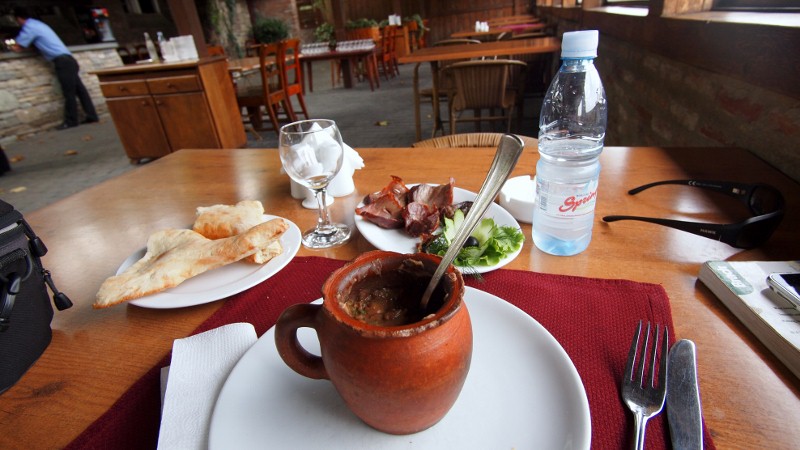 I go to eat in a good restaurant, it's the good thing of being in a cheap country. I have views of the river, elaborated food and I spend 15 Euro. As a starter I ask for lentils done in this pot. As a main dish I ask for pork which I find tastier than ever as I've been two months not eating it in Muslim countries. I have to confess that I've been close to get into a Sushi restaurant as I miss some Japanese food.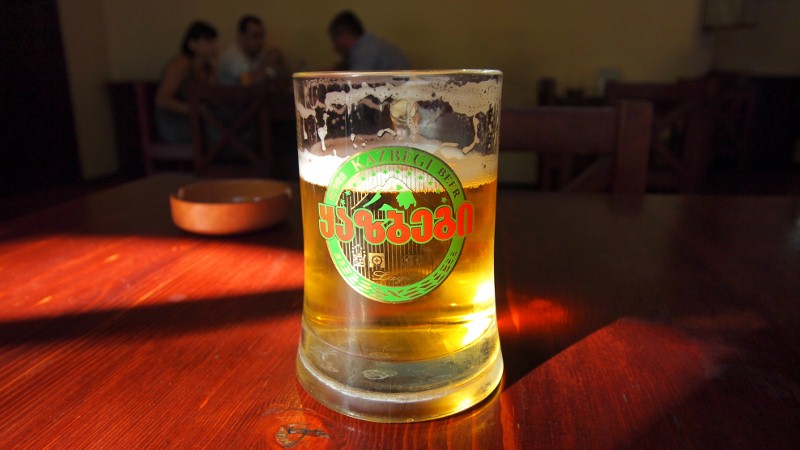 Local beer. It rains, I have to wait until it stops, what can i do?

Kala neighbourhood, the historical area. Things change, the alleys give me more than the street made by a ruler. The city climbs up the hill with buildings made of timber and balconies all over.
I get into every alley, in the main streets there are a lot of restored buildings but I want to see the old ones as they used to be.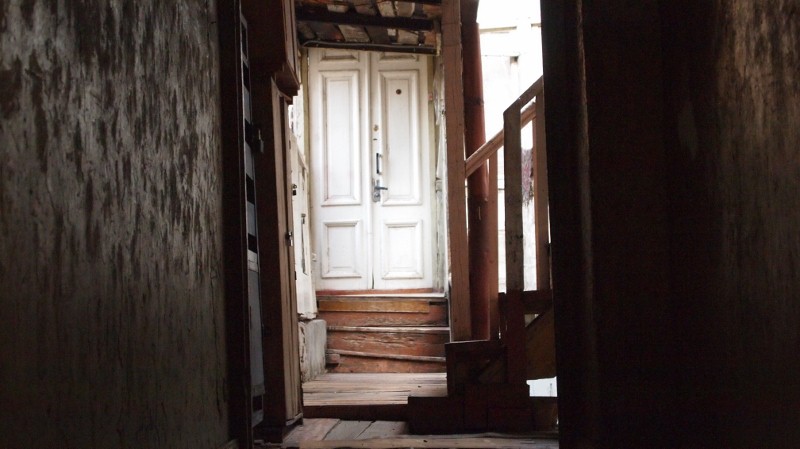 I take pictures of the halls.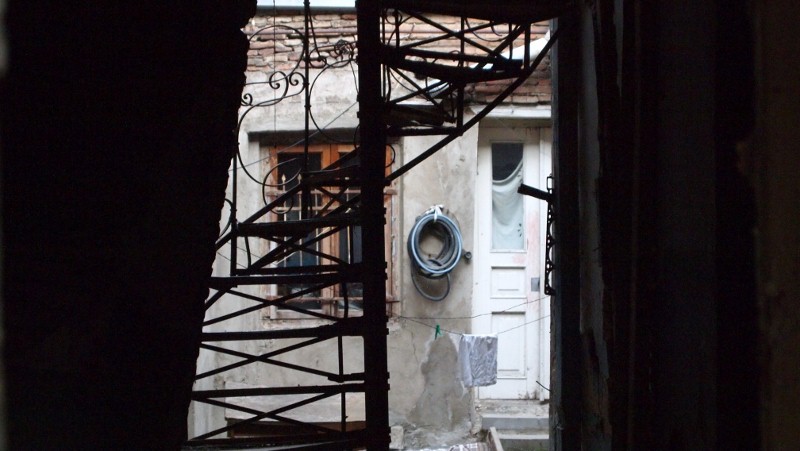 Of the doors.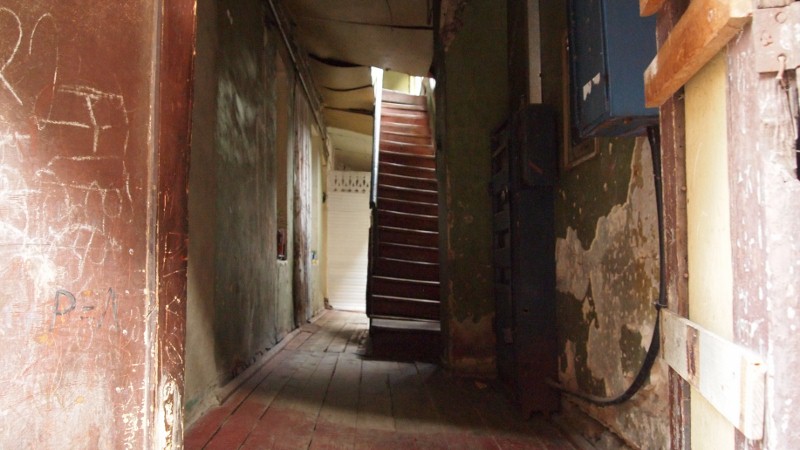 Of the stairs.
One of the streets is fully restored and with cool cafes. I sit down to prepare some of the post. Battery finishes, that means I've been three hours! I close the computer happy for having a draft of the post and I continue walking rested.
The area is very nice, they've respected their own architecture mixing it with a varied architecture of western style, It's a pleasure being here.
Here the crosses don't neccesarily have perpendicular arms.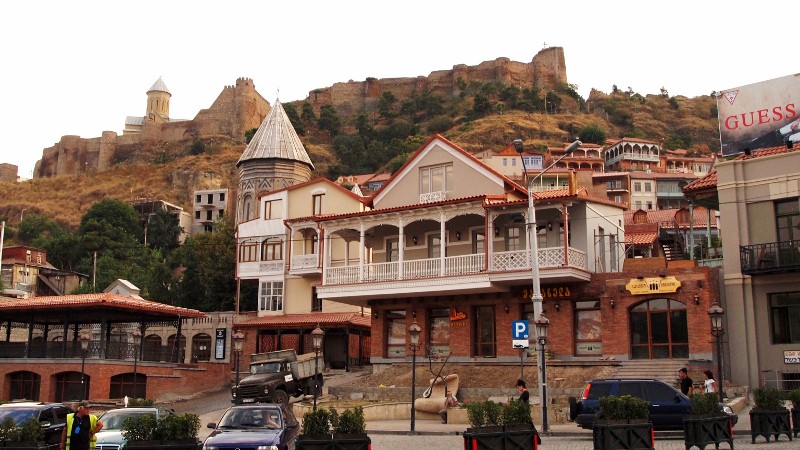 Tbilisi is on the same latitude as Rome, Barcelona, Boston or Chicago, but I find it like New Orleans, it's also true I've never been there so maybe it does not look like it that much.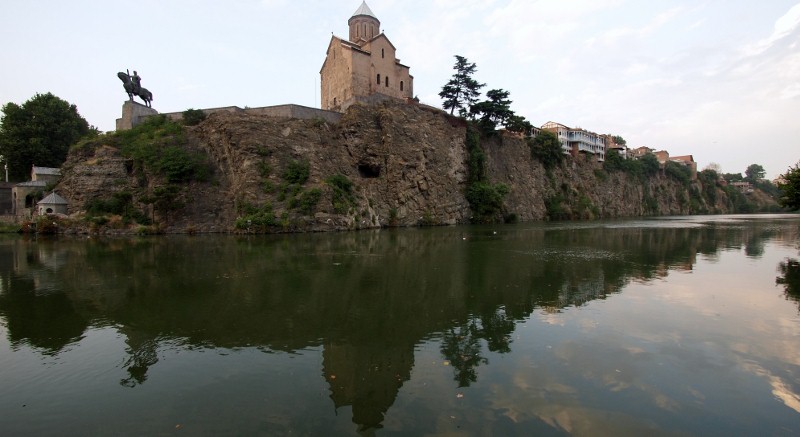 I would have preferred a sunset with more colours for this typical picture.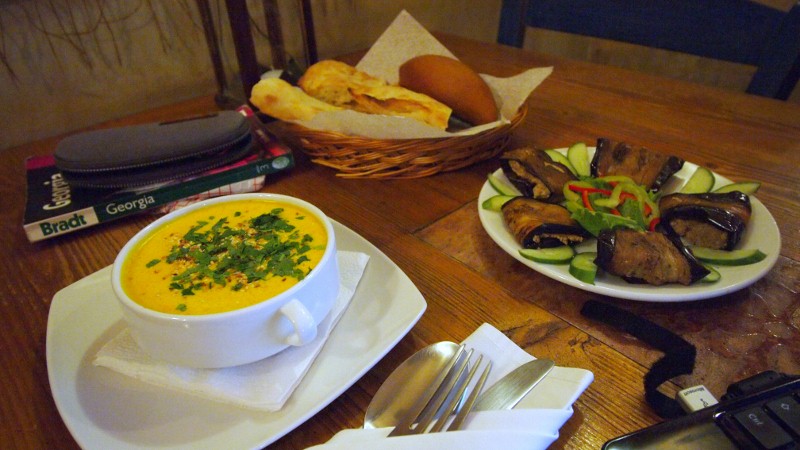 The carrot soup is more normal but on the right the aubergine filled up with nuts is a very Georgian dish.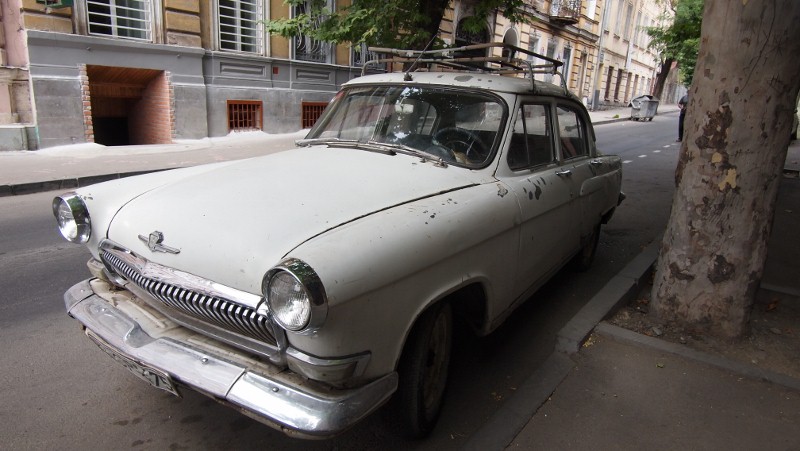 Cool car.
I stay in a hostel called Dodo, It's a good place with Internet and a rope to hang the washed clothes. The second day the power goes, I ask a girl that works there and she says; "no, it's not broken, it's the Russians that are bombing us". I like the black humour of recent history.
Here I meet Ferran, a Catalonian guy that is travelling in the Caucasus, he tells me that he works in Teheran so he invites me to his place. I hope to overlap days with him there, I'd love to visit the city with someone living in it.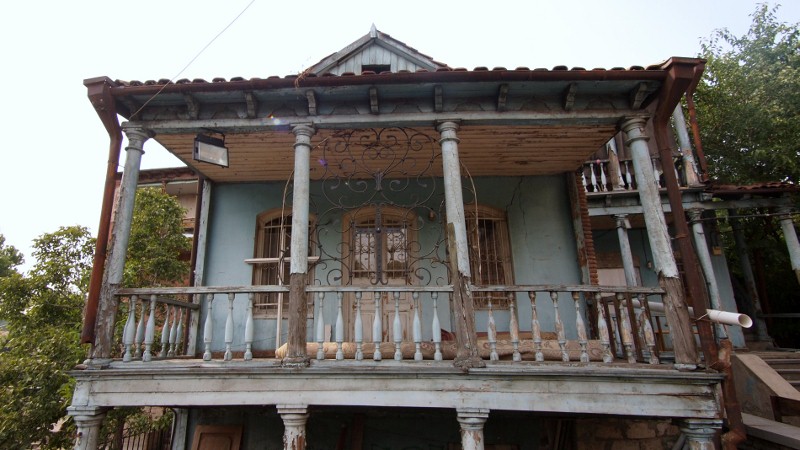 A more twisted balcony than others.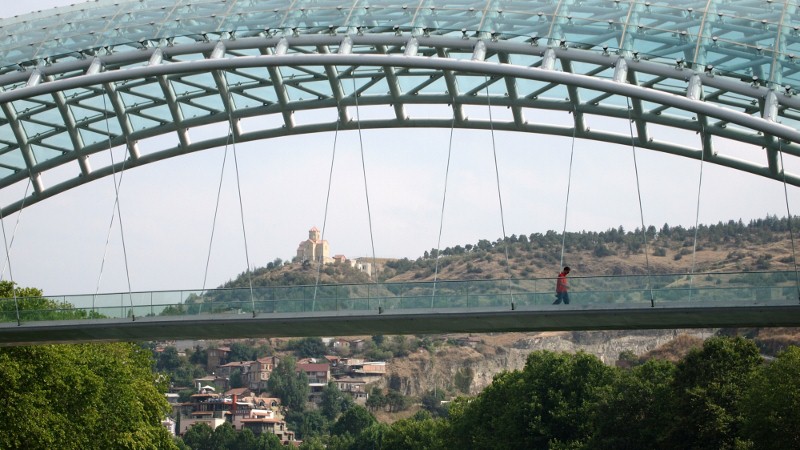 A bridge that takes you to the area where the cool cafes are.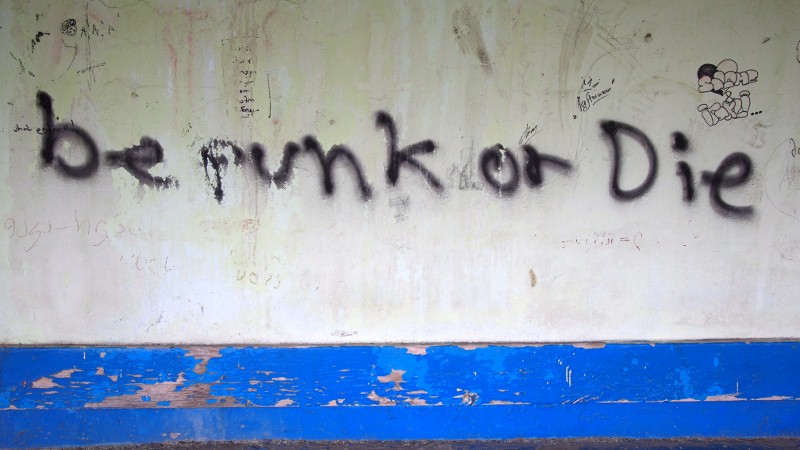 We may see it as an old fashion message, but here they are re-living all the cultural movements in fast forward, next to it there was a painting about Parkour(a movement that is kind of like the skate people jumping and doing tricks in the urban morphology but just with sport shoes).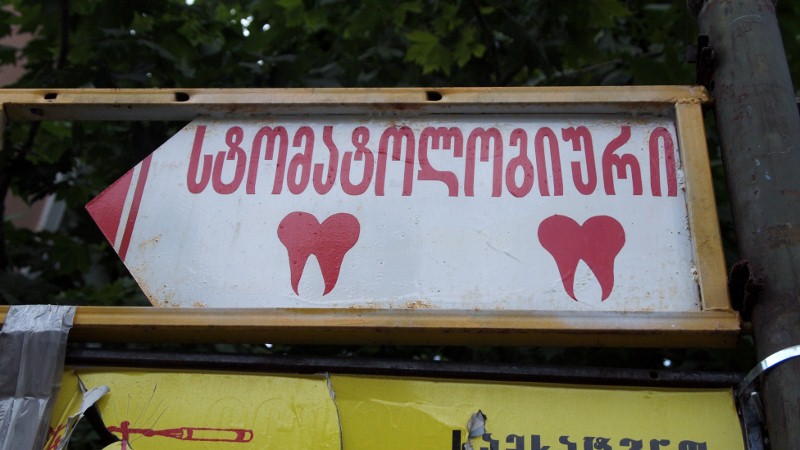 What an scary dentist!
Roofs of the Tbilisi baths. It's name comes from here, hot water, there are 30 springs.
Silhouette of a Georgian church and the antenna of the city. I'd have personally installed something more discrete but here they even light it up at night like a Christmas tree.
And I leave the country where Stalin was born, where the wheel was invented(here and Mesopotamia) and where the centauries myth was raised(as was the first place where a man riding a horse was seen for the first time). During Soviet times they had four million visitors a years, now it's a lot less because in our heads war and conflict still resound with it even it's a totally peaceful land, I think it's people are bored of war, like most of the places I've visited that have had a recent war.
I've felt good here, I've eaten well and I've seen a lot of interesting things. Once more I'd would have stayed longer. With the trip to Svaneti I've been two days more than what I initially planned and as I've accumulated so many extra days during the trip, the three weeks I wanted to spend in Armenia are going to be three days only.
Soon from Armenia.
Fernando