2010
10.01
Rivers always tell stories, on it's s banks there's people living, things happen. Kayaking you can see the villages, then hanging bridges, the women washing clothes in the banks, people with their dresses and the day to day life.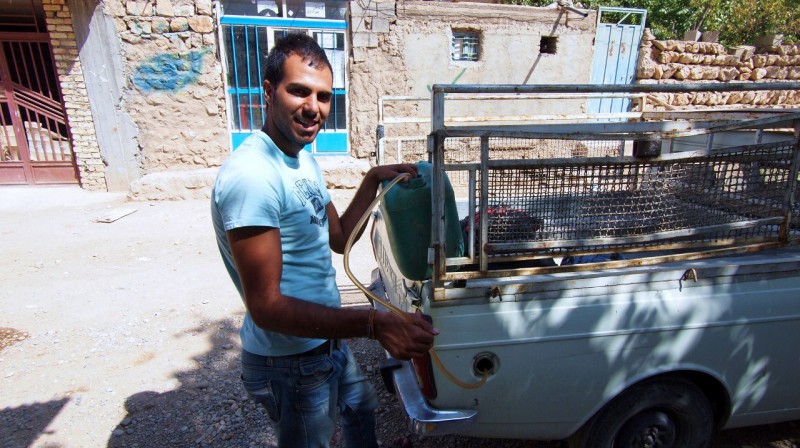 We were based in Maadan, a little village, it had three little food shops, a school, a mosque and… and… a river… There is no gas station so you have to fill up the tank with a can to continue.
The kids play in the river, it seems they spend all day here, and it's how it is during summer. These kids are lucky, at least they have this entertainment, a village that small in the middle of the desert with no river has to be the most boring thing for a kid. The floating system is just great.
One afternoon we went to see the sulphurous waters from a spring, the water was so clear that you cannot really see it in the picture. We were near a National Park.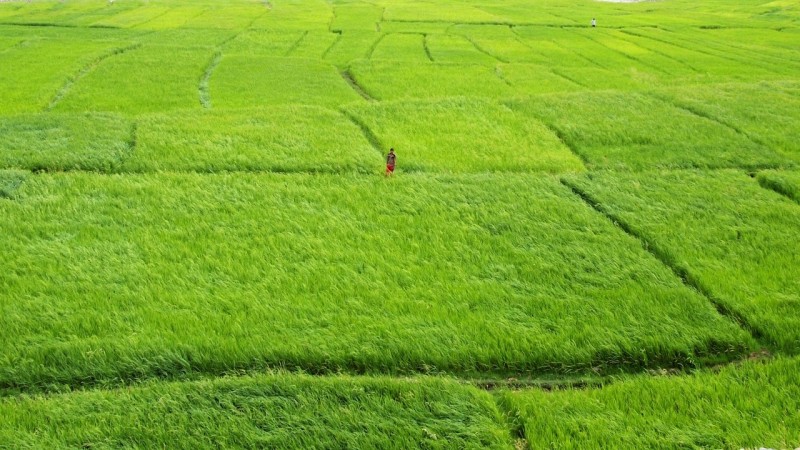 The green of the paddy is what I've found specially captivating, they were growing with a strong red that seemed like they were growing just at the same time we were kayaking, I took hundreds of pictures of them. When the wind blows it is a show in itself seeing how the wind moves from field to field.
Yes, I know, this is the same image as in the video, but as I've liked that mountain I put it anyway.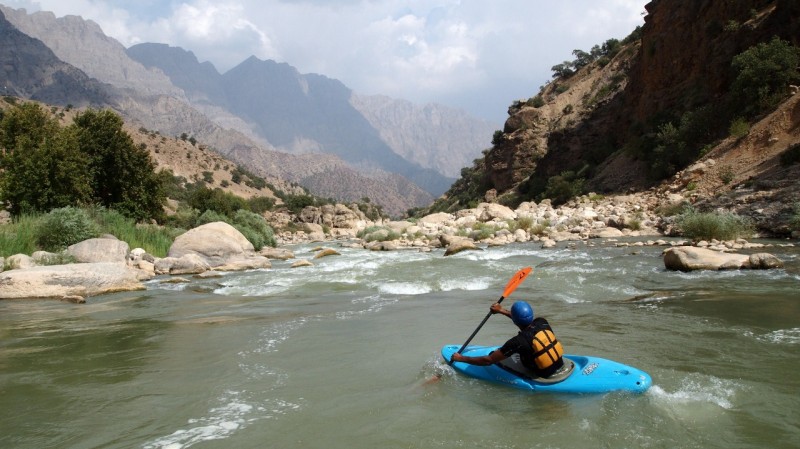 A panoramic of Heidar going down the river. We had just been helping two men to recover a net they had trapped in the middle of the river.
One afternoon I played some Spanish music for Heidar, I wanted to show him that the Spanish music was more than Enrique Iglesias so I played a lot of different stuff for him, to complete the thematic Spanish evening we finish watching the film Vicky Christina Barcelona in where you can see the Barcelona city very well so I can tell Heidar some more stuff about Spain with some context.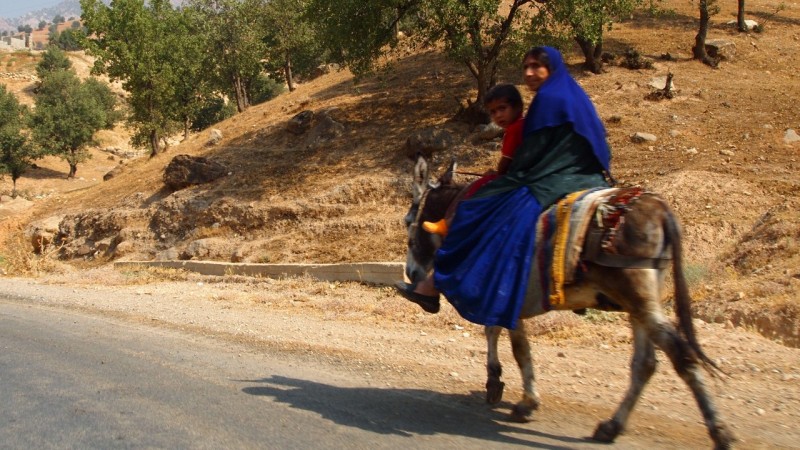 In this area women do not wear black chador, They go covered, but with a traditional dress with very lively colours. Picture is very bad, I know, but it was impossible for me to get a better picture, I didn't wanted to offend them taking the picture.
Kids with black colour as only Iranians have.
There are no kids having a swim, there are also men fishing with nets and men working on the paddy fields, as the one that invited us to have fish yesterday. They called us initially because it was a surprise for them to see us in a kayak, then their surprise got bigger to see that someone from that far had come here, for them I was as exotic as them for me.
The most talkative man asked me how waould his village compare with the ones in Spain. I explained to him as much as possible some differences without offending his humble village, he told me he wanted to compare how his government treat them.
The second question was more direct: "Why does your governments dislike our government?". Me innocent, after having been several days in the city hearing constant complaints about the government answered sincerely(and in a simplified way): "Because your government does not give you freedom". All this with the help of Heidar that was a neutral translator.
They told me that they had complete freedom, that, in fact they were one of the most free countries. I've met a follower of the regime! Those votes have to come somewhere. For him that women have to wear a scarf is not a lack of freedom, it is good for her, the religion says so and they are Muslims. That a guy wants to meet a friend(girl) is not bad, it means she's a whore and it's not good. Like this there were some other explanations.
For me his way to see things is not bad itself, he seemed to think it all genuinely, and that's how religion is, you believe in it with the faith and you follow the set rules.
It was Ramadan and the man had been eating grilled fish. I don't blame him, it was really good and working in the paddy fields must make you hungry. Also he was smoking, it was not tobacco, it was something that was not banned but I was told that made you stoned and it was addictive and not well seen, it may be an opium type of thing. I don't know if it was related but he had a shaking fit in his hand that would have scared Catherine Hepburn. He was smoking it burning it with a hot metal stick and inhaling the smoke by a wood tube that he put near the "tobacco".
Islam prohibits drinking because its bad for your body: "don't hurt your body". In the west smoke it is seen as worse than drinking(kind of it's like that in society, isn't it?). I guess this man was skipping this part because he liked smoking, you don't need much to know that smoking also harms your body.
The man was incongruous for me, there were things where Islam had to be followed and others that were not. As a coincidence, the ones that didn't have to be followed were the ones that were nice for him. He seemed to be indoctrinated, he knew the answers to my arguments, he was impermeable to any influence.  I guess the prohibition of foreign TV(satellite is banned) works, they can only see state tv in which they are half of the time praying or sermoning.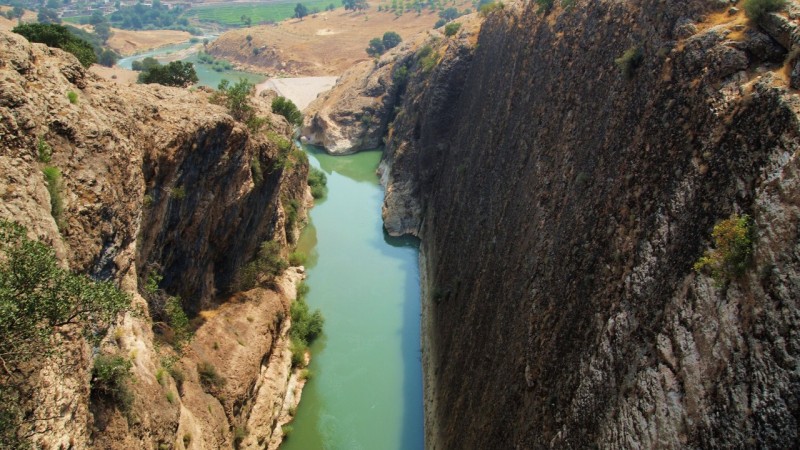 The upper section we kayak had a canyon with a totally flat wall.
In the quiet canyon.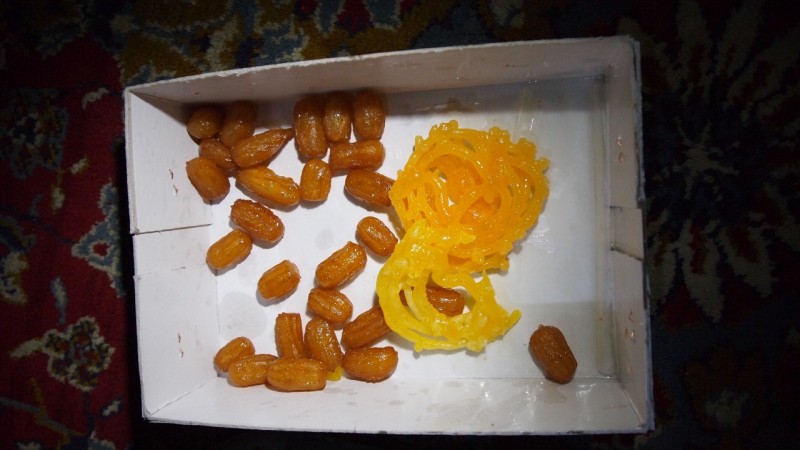 Before coming back to Esfaha, we wen't to visig Heidar's cousin, that invited us to a chicken kebab marinated in yogurt mmmmmmmm. In the picture hot water with sugar, the colour comes form the saffron that the sugar has. After all day fastening it's good for the stomach.
In the picture some ramadam sweets that are eaten after the water and before dinner. To my surprise they do normal dinners. I had in my mind the idea from school times that after all day without eating they had a real feast all night eating a lot.
We came back to Esfahan, once again Heidar's family hospitality gave me a place to sleep and a home made dinner. Before going to the night bus I went for a famous saffron ice-cream with Heidar. The new taste made me feel good, lucky, I had one of those "travel moments" where you say….fffffffffffffffff, how great it is being here!
The bus was great, Heidar took me to a super VIP bus with just three seets per row, like business class in a plane. I was equipped with my pullover and a scarf for my mouth to beat the glacier cold. Didn't want to awake my cold.
Soon from Persepolis.
Fernando