2010
10.17
My days in Tehran have been incredibly pleasant even having been run over. The city is  chaotic but it's also interesting walking along the streets looking at the start of autumn. With the road sweepers fighting with it's leaves. I've walk a lot, buying Iranian films in the museum of cinema, watch palaces and eaten ice-cream in the streets and finally I feel sad to leave.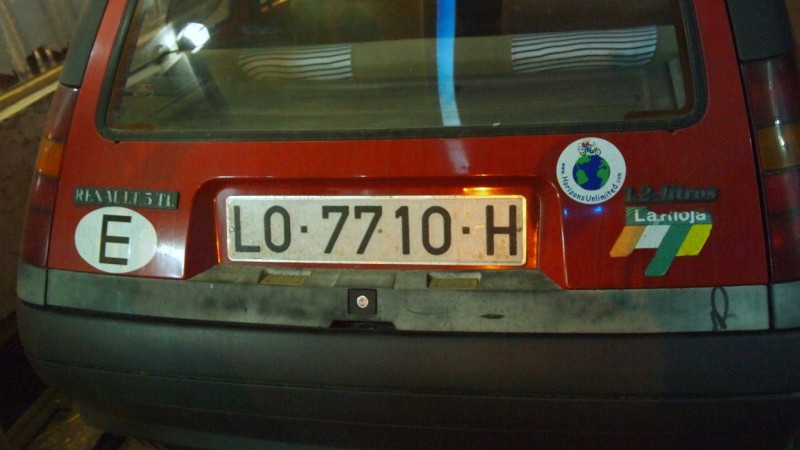 Apart from Ferran I've met more interesting people as this couple from Logroño (Spanish city in the north) that have come here by R5 (Renault 5 car) from Switzerland. Iran is full of French cars, there are a lot of R5 so they'll be unnoticed. They wanted to continue to Pakistan but now they don't get visas if you don't apply in your own country.
The Ramadam has already finished so I can drink water and eat when I want, it's function has worked, now I appreciate more being able to do it, hahahahahha. With Ramadam I've missed some things, but I've also gained some other, I think people were even more willing to talk and complain. I've meet very few people following it, even most of them follow it outdoors.  There's people telling me that it's something backwards and that the country's productivity stops for a full month and that it's bad for the country.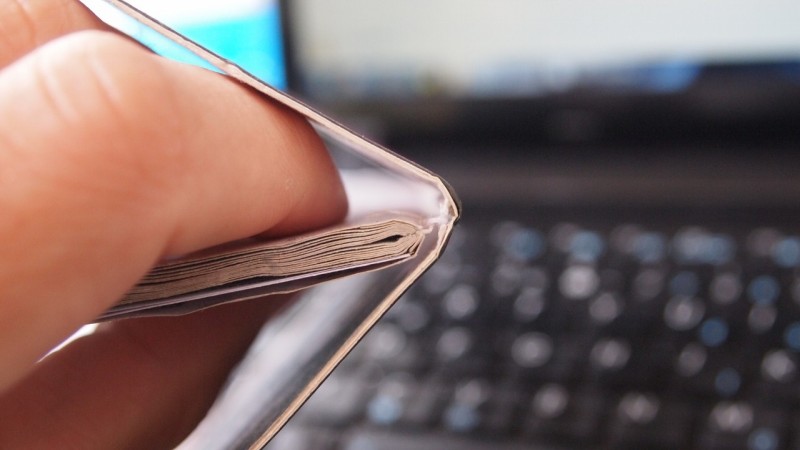 It has survived the coming and going of the embassy, but I have to repair it again. This time I'll put more superglue. I'm one of those people that thinks that the more superglue or duck tape you use the better things get fixed.
The passport apart from the glue also has a great wall crossing on of the pages of my passport. It's taken me two more days than what I initially thought but I leave with something important done. The embassy guard surprised me when after telling him I was Spanish he asked me about Federico García Lorca (one of the most important writers).
I left in another night bus of 14 hours. My destination; Mashhad; the most holy place in Iran. It's on the east, towards I way always go, near the border with Turkmenistan.
In the bus my seatt buddy became instantly my "protector". The protector is a non typified figure that exists. When you are a bit (or very) lost in a bus station, train or in the street, it appears and takes charge of you. He ensures you get the right seat, helps you to understand the ticket inspector… Today's protector told me how many hours the bus journey was, helped me to know the length of the stops, help me to ask for dinner, he invited me even though I opposed, and when I arrived to Mashhad he didn't move until he had clear I had got my bearings.
Mashhad is interesting from the point of view of being such a holy place. Here is the temple-mosque-mausoleum of the eight Imam Mohammed Reza. To visit it does not have much so I leave my backpack in the first hotel I see. I talk with the hotel manager in French (my French has like 12 words and the rest is made up) he offers me to have breakfast. I think that as I leave the backpack I can spend something so I have it. I just want to see the Shrine and leave. He does not let me pay.
Three kilometres of concreted avenue separates the station from the shrine. I see it's copulas in the distance after the lines and lines of traffic. The access to the interior of the Mausoleum is not permitted to non believers, so you don't get to see the place where the 20 million visitors a year pray and cry for the Imam. To compensate you have a free guide that talks great English and that shows you around the complex. You get a welcome kit with postcards and leaflets that tell you about the wisdom and charisma of this man. I've read it all at night and what I've liked the most is: "To be kind to people is half of the wisdom".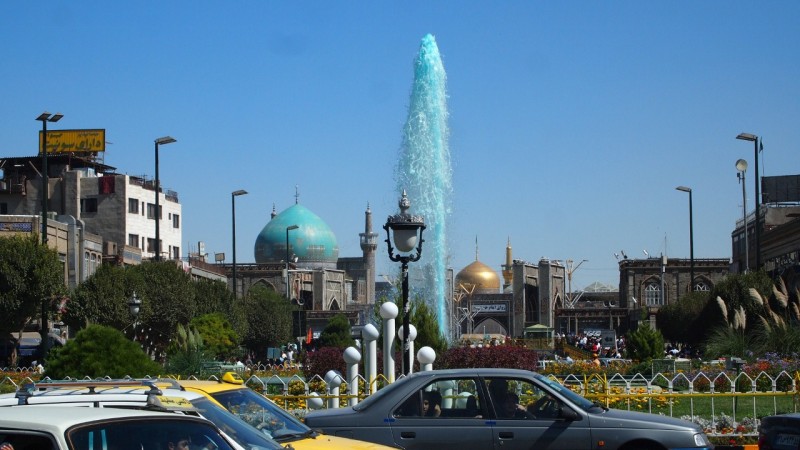 Iranians are tacky. This is not an insult, it's a fact. They like the overloaded, the exaggerated, the golden, the decorated… Who otherwise would tint the water of the fountain in turquoise to match the copula of the mosque in the back? Specially in such an important place.
In three hours I've gone, I've seen the shrine and I've come back. I get into an archaic bus to Quchan where I think I'm going to sleep today. A young girl carrying "English grammar in use", that I've used, starts chatting with me to practise. She want's to get out of the country, learn French and see the world. She insists on paying the bus and I give her some sweets in exchange as I have nothing better.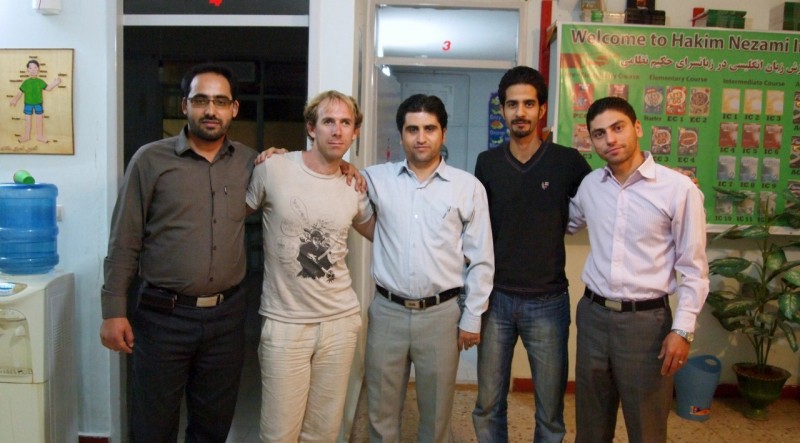 Quchan is not very touristy so everybody looks at me and stops me to know something about me. Some kids with bicycles try to get me to the hotel but I end up in this English school (look at the poster with body parts) talking with teachers and pupils. They gave me a video to put in the web page!
Majid, the guy in the middle of the picture, invites me to sleep in his place, when I told them the crappy hotel I was going to sleep in they recommended me the best hotel in town. I told them I preferred the crappy one and finally Majid has taken me to his home.
I have dinner with his daughter and his brother-in-law. We chat until midnight. In the morning they prepare me breakfast, they offer me washing some clothes, they offer me some medicines as they see I have a small cold, they gift me some postcards of the area and they ensure I get the right taxi to where the share cars depart to the border. The first taxi does not let me pay even I hand him the money three times. .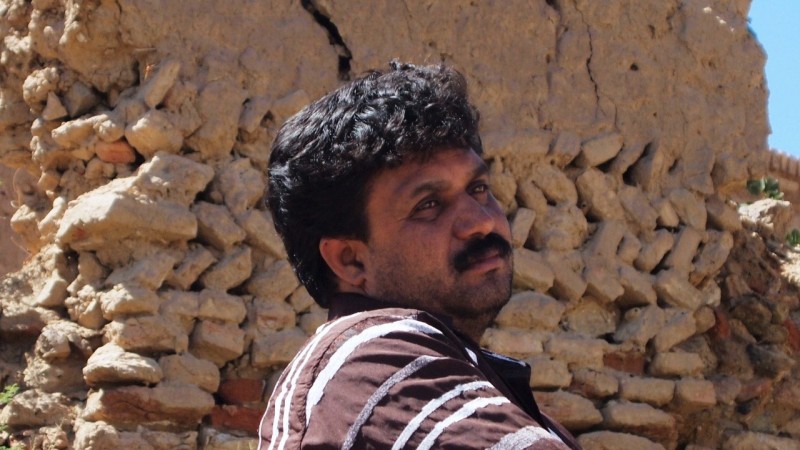 As I don't have many pictures I put you a bored Iranian.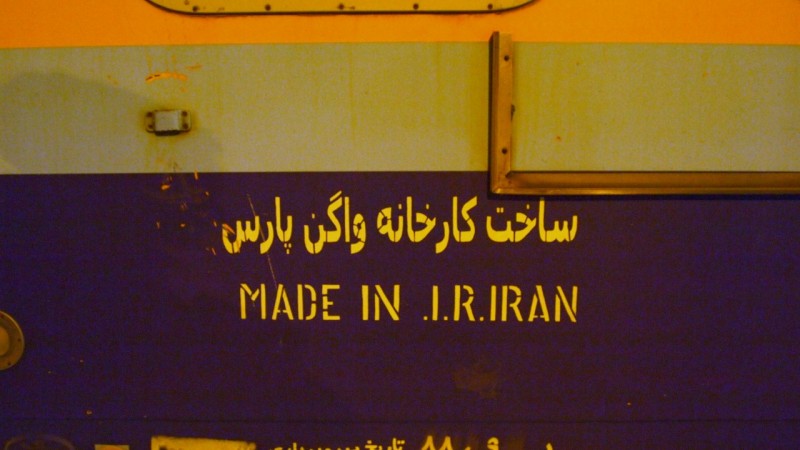 And some train writting. I.R. means Islamic Republic.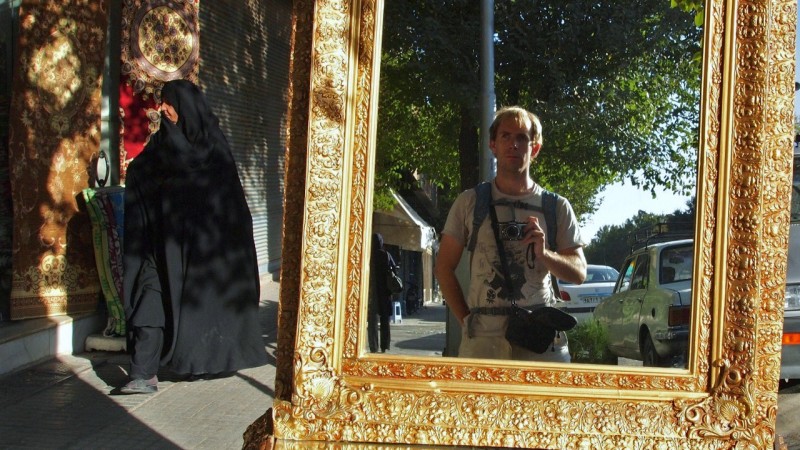 And a street picture. Chador means tent. Koran recommends modesty on clothing with no more specification. I have seen nobody with burqa here. The chador is the most conservative thing I've seen here, seems totally uncomfortable, they have to grab it with their hands constantly. With it you can't probably work much, moreover with the heat in summer, it could at least be white. From the distance they look like nuns and when there are a few of them you feel like in a convent.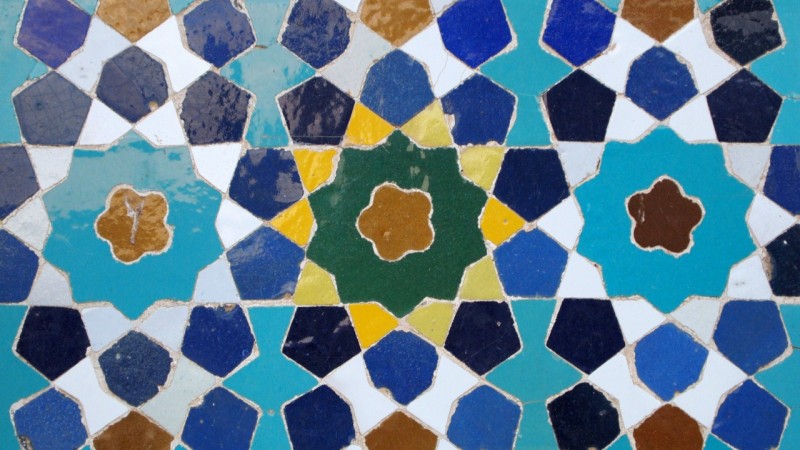 And some tiles.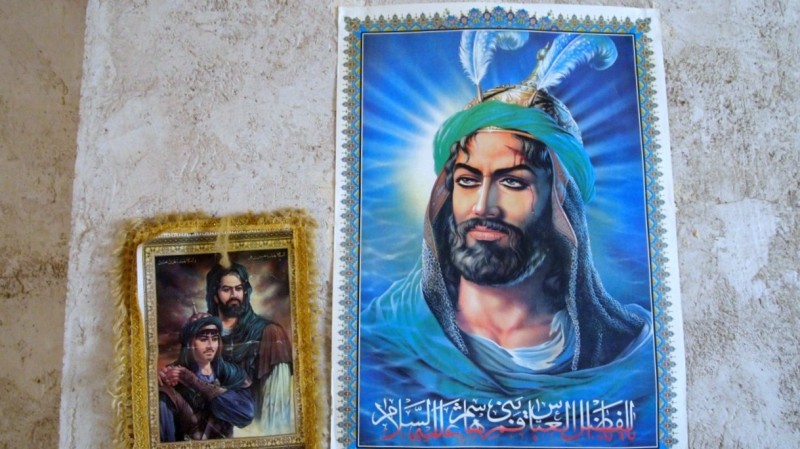 And a picture of Prophet Ali, the forth. With the beard as Islam recommends not shaving. The representation is similar to the representations of Jesus, but with the eyes a bit more highlighted. I told you they like exaggerating things.
With these last hours in Iran an example I've said it all. Iran has been intense. I've talk with a lot of people, I've had tea with them, they've invited me for food and to sleep in their houses… I've only met fantastic and hospitable (apart from the idiot army man that ask me for my passport) people. For a little bit they outdo the Albanians as the nicest of the trip which is saying a lot for me.
I've achieved my objective; trying to understand the country a bit more, see the real images not what the catastrophic media wants to tell us. Even the image that a foreigner gets in a short trip is not real either, the people that talk in English, the people that are easier to communicate with, are more open and liberal.  I leave Iran with my positive prejudices reasserted.
I go towards the border. On top of my fear of the amended border I have to sum that I'm leaving the country two days after my visa expires. In fact the day of expiration has pass, but I entered 21 days ago and the duration of the visa is 30 so I may be fine. I put good-guy-face and give my passport to the Iranian policeman, a few seconds later I hear TUC!. My passport has been stamped, all is fine. I have a deep breath and walk to the Turkmen post. I'm about to get into Central Asia. Goooood!
Soon from a new country.
Fernando