2010
10.22
In the east of Turkemenistan is Merv, one of the most important oasis in the silk road in Central Asia. We drive for five hours in a straight line watching non stop cotton fields. Here you have some pictures of these two days.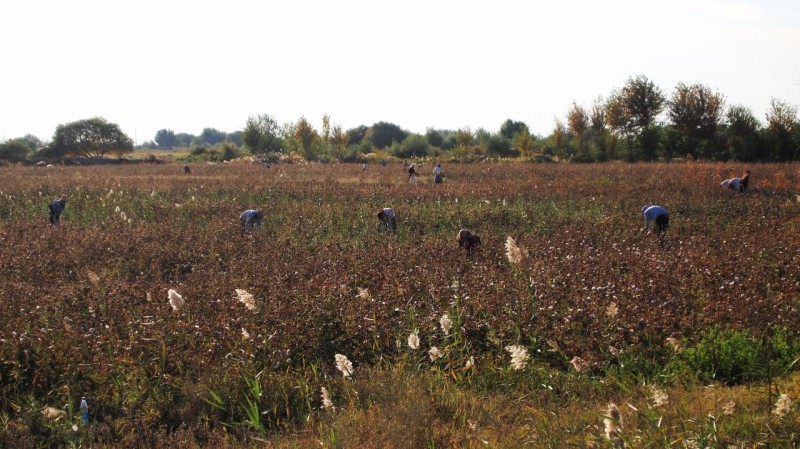 I'd never seen cotton fields before. This is the collecting time, when they are more beautiful. Nearly all the cotton is collected here with John Deere machinery, the most expensive ones in the market, consequences of having money from selling gas.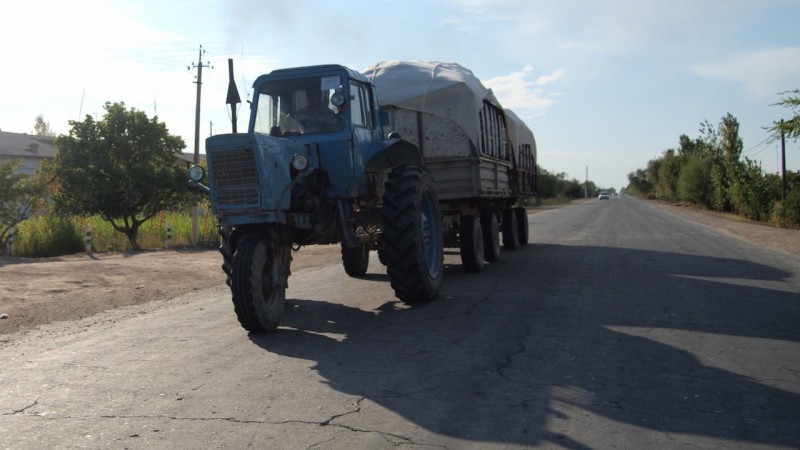 A three wheel tractor.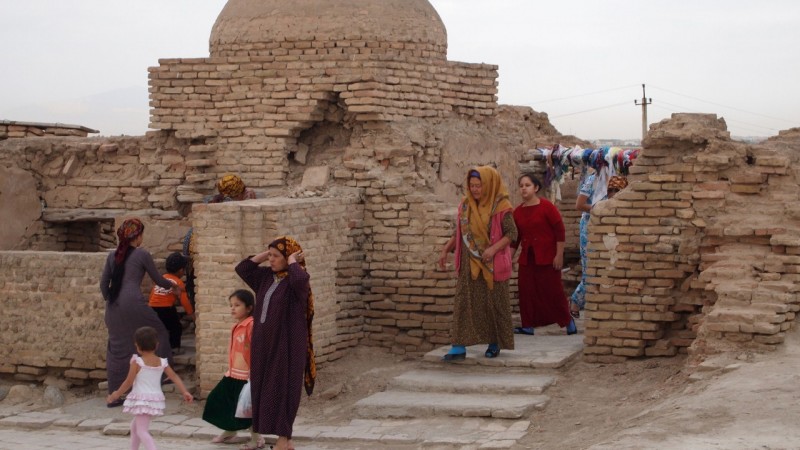 The remains of one of the oldest mosques of the country. Here Islam is mixed with previous beliefs and Islam is lived in a relaxed way.
Wish tree. They tie pieces of clothing with wishes, it may come from Buddhism.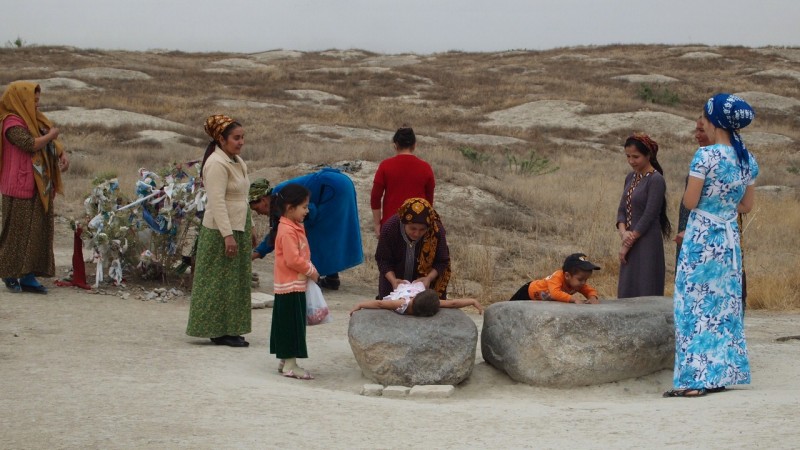 The old women rolls the kids by the rock. This type of practice is unthinkable for a pure Muslim, "Ála is the only god and Mahomet is his prophet".
Getting out of Ashgabat we've gone by a grain museum. Here they've found evidence that 6.700 years ago they already selected seeds to get better harvests. They've also found millenary evidences of cotton production.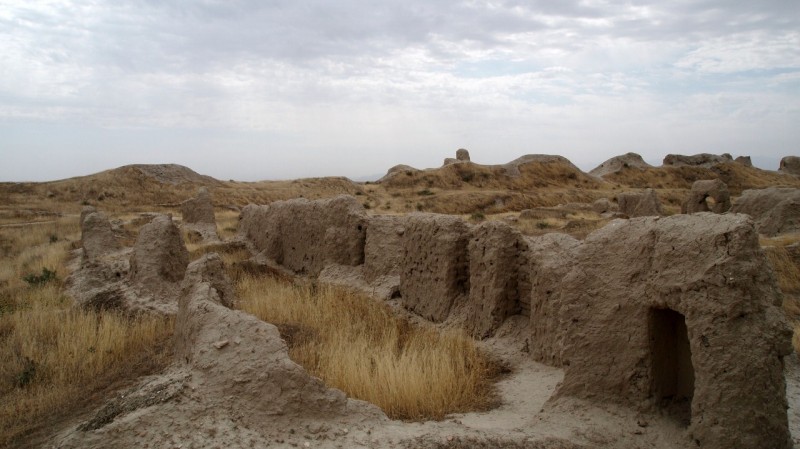 We continue, every 25 or 30 kilometres There are little humps or mounds. They were caravanserais and now they are nearly destroyed as they were built with mud bricks and they erode easily.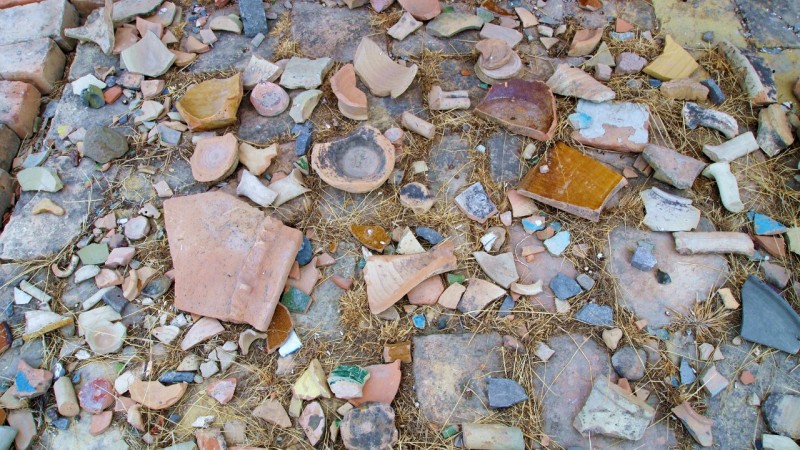 Walking in the ruins pieces of ceramics are found. The different colors reveal the technique used and therefore the culture that used it and the age.
This place was a fortress. Every four or five caravanserais there was a fortress to keep the people of nearby caravanserais when an attack was coming. There were 999 caravanserais in Turkmenistan, so you don't forget the number.
To get into Turkmenistan there are two options:
– Get into the country with a transit visa. The visa lets you be in the country up to five days and you have to say the entry and exit point and you can't get away from your itinerary between those two points.
– A tourist visa with which you can go anywhere in the country and stay longer. The problem with this visa is that is compulsory to have a guide with you all the time(except Ashgabat and around).
I wanted to see a bit more of the country so I got a tourist visa so I had a guide with me. Having a guide has some advantages, I've heard horror histories of people being asked for their passports ten times a day and having a hard time with policemen so I wanted to avoid this also. Apparently lately the police are more relaxed so it is not that bad.
With the guide on your back you miss that part of the trip that is discovering things by yourself and it's something I enjoy a lot however it has the advantage that he tells you a lot of things and that for a few days I've been able to leave the book at home. Having a guide is also quite expensive, it's screwed my average spend of 25 Euro a day I was doing in the last countries and I'm going to spend in eight days more than 1200 euros but it was the only way to see some of the places in the country so It's worth it.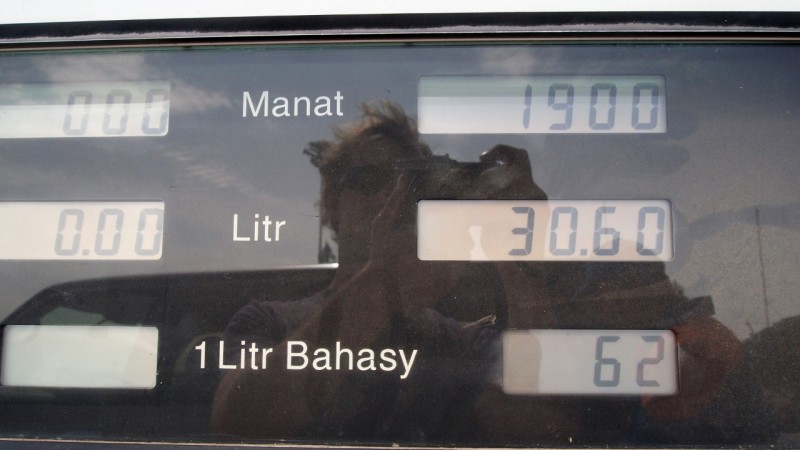 Like five times cheaper than in Spain.
Mary is the soviet city built next to Merv. The soviets looked at it as a strategic place to connect with Afghanistan and they built a new city. It has some similarities with Ashgabat, with wide avenues and exaggerated governmental buildings but with a bit more flavour. It's curios to see how key settlements revive every once in a while after centuries of lethargy.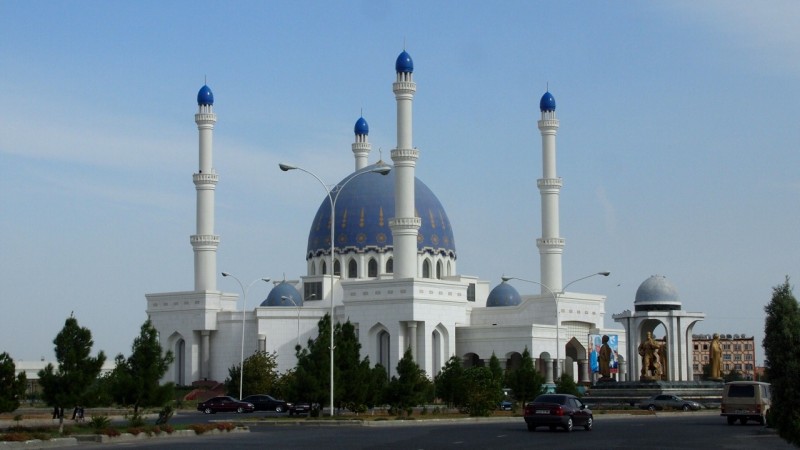 A brand new mosque.
In dinner I get a shashlik, the way they call kebab here. I ask for a beer. In Iran I haven't have beer for three weeks as in Iran it's forbidden. It's good and the jar is 0.57 Euros. With this price I can't avoid having a second one. The shashlik, is really good too.
I try to buy a copy of Ruhnama but they don't have either in Spanish or English. During the previous government most of the books in bookshops were written by Nizayov himself.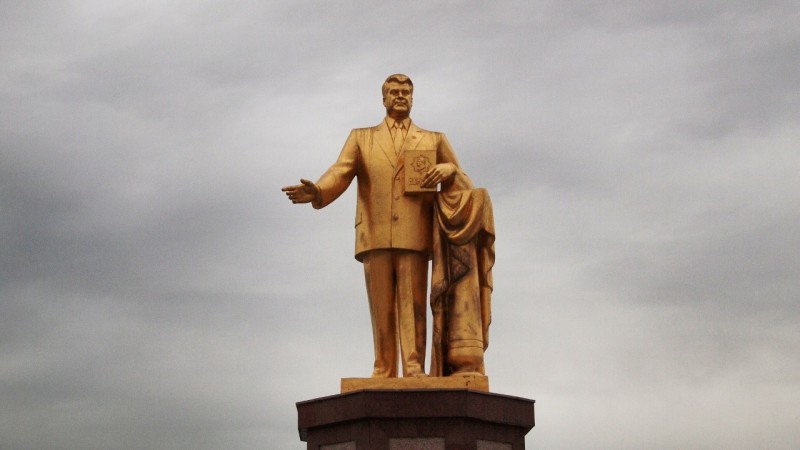 Another statue of the ex president. How can you dare to build gold statues of yourself?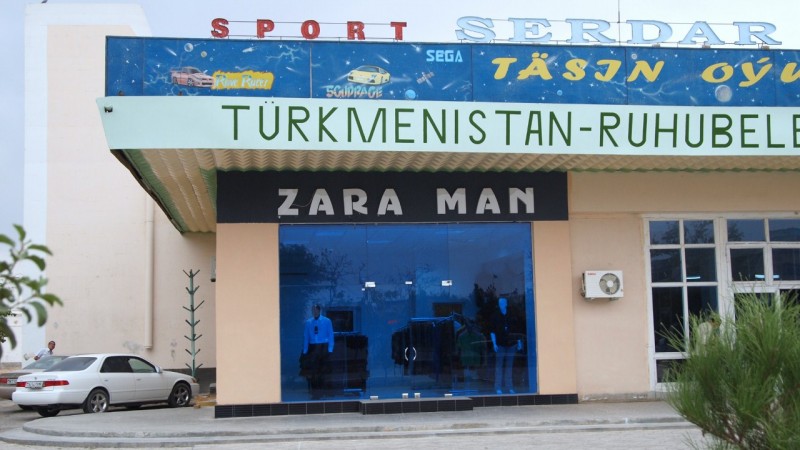 A copy of Zara(Spanish clothing brand that doesn't seem to be suitable for copying). It's not the first time I see one.
It's not only another statue of Nazoyev, he also has the country at his feet. I've realized he looks like my dad with a suit.
Merv was one of the great cities of the Islamic world with Damascus, Baghdad and Cairo. It was called Marv-I-Shahjahan, "Merv queen of the world".
It's peak was between the XI and XIII centuries when was the capital of the Seljuc empire and the silk road was boiling. It is said that it was the biggest city in the world at some time but they made the mistake of trying to avoid paying tax to Genghis Khan. Boldness that proved expensive and Tule, one of  Genghis Khan sons, destroyed the city to ruins killing a million people. By the way he took back home the most beautiful ladies.
Merv was an oasis city in the middle of the Karakum desert. Now it's small but it's importance has made it a world heritage.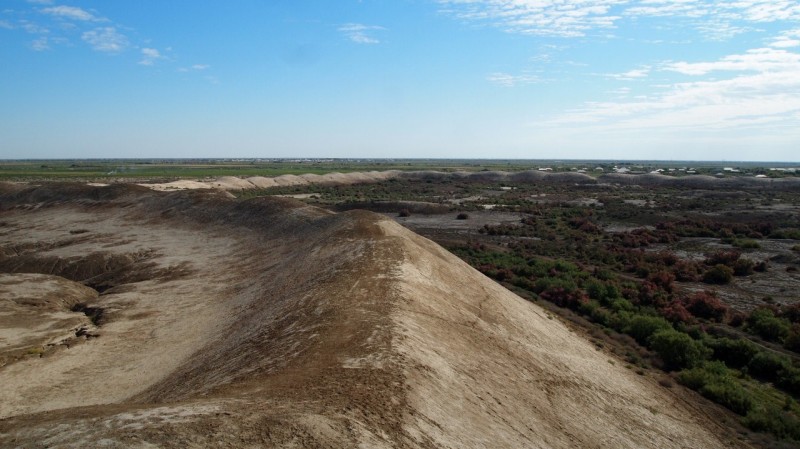 In Merv. Since we got into the complex we've drove four kilometres inside the walls. Five cities were built here one next to the other. The wall that surrounded Merv was 40 meters high, more than the great wall I'll see in three months. As there is no rock all was build by adobe and that's why it's in ruins.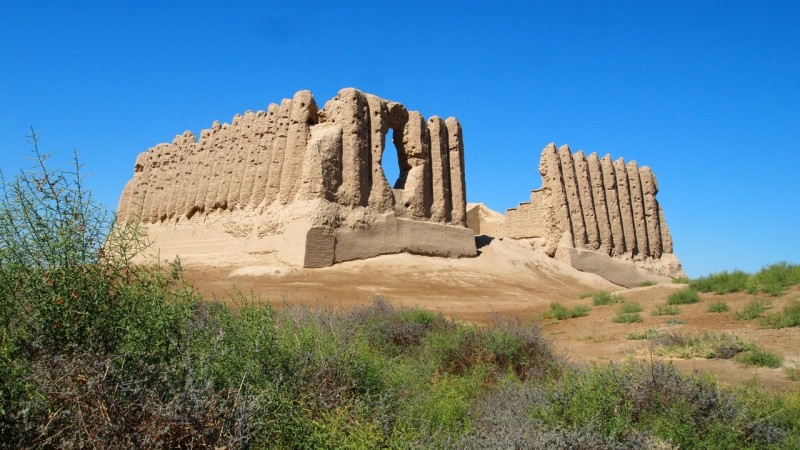 This was possibly a library.
My guide takes me to see archaeologists, one American an one English, that are working in the area.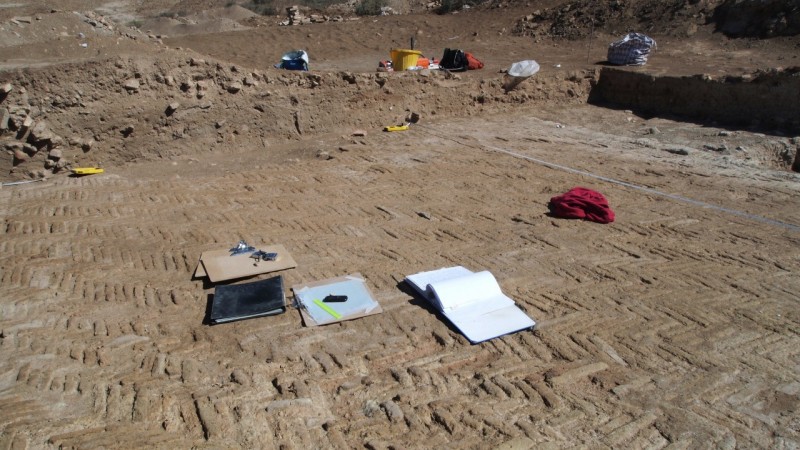 They've been excavating five weeks and today is their last day. They are happy, have found a little funding oven that had not been found before and some vessel pieces. They explain everything to me.
One of the mausoleums of the complex.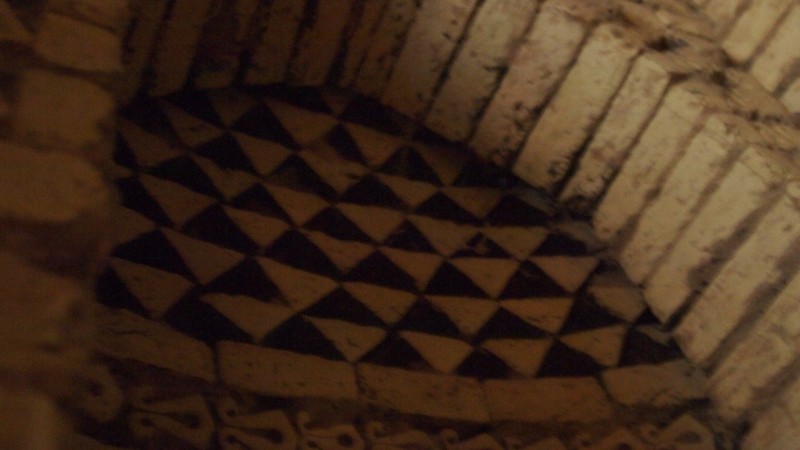 We stop in a little mosque on the way out, we see decorative mosaics with triangles. This is not seen in the Islamic architecture normally. The triangle is a Zoroastrian symbol. Here as in Persia the zoroastrism was the official language even if there was cult freedom existing Buddhism and manicurist(possibly my favourite religion).
Flat.
We come back to Ashgabat. I have only two days left in Turkmenistan. Tomorrow we go to the north where we'll se Konye-Urgench, another important stop on the silk road. But before I'll publish a video of one of the most ideal places I've seen in my life. Hope I can make the video like what I'm imagining in my head.
Soon on video.
Fernando