2010
11.12
Uzbekistán is so atractive that I was sure someone would come. More than one has tried to come and visit, finally Dermot made it so I have had a few days with Irish company. The title says plane, but that´s not for me. I won´t get any flight until Beijing, the place where I´ll return to Spain.
This time I'm not writting, Dermot felt like doing some writing, so I get some blogging holidays which I may need because my last post was not very inspired. Here you have his impressions:
Once I decided I was going to Uzbekistan I check the visa requirements, Central Asian countries are known to be some of the most tedious visas to acquire. As an Irish citizen I needed a 'letter of invitation' to get my visa to enter Uzbekistan. This had to be obtained for me through an Uzbek authorised official travel agent. In case you want to come, beware, this will take a lot longer to obtain than they say and it was nearly the reason I didn't get to see this wonderful Uzbekistan.
I had to work a few days in the USA so I leave North Carolina on Wednesday evening, arrive in Dublin Thursday and go straight to London to get my visa, having acquired what turned out to be a very expensive LOI. I got my Visa on friday morning and got my flight to Tashkent in the evening. Finally on Saturday morning a very tired Irish traveller arrives in Tashkent after a seven hour flight on what was probably the worst aircraft I have ever flown on. A pity I was too tired to take a picture.
I meet Fernando at our hotel and after resting we go to see the city. It's a 'typical' soviet city with wide avenues, it's main attraction being that it has the oldest and biggest Koran in the world but it is forbidden to photograph it, so instead this is my first picture from this country.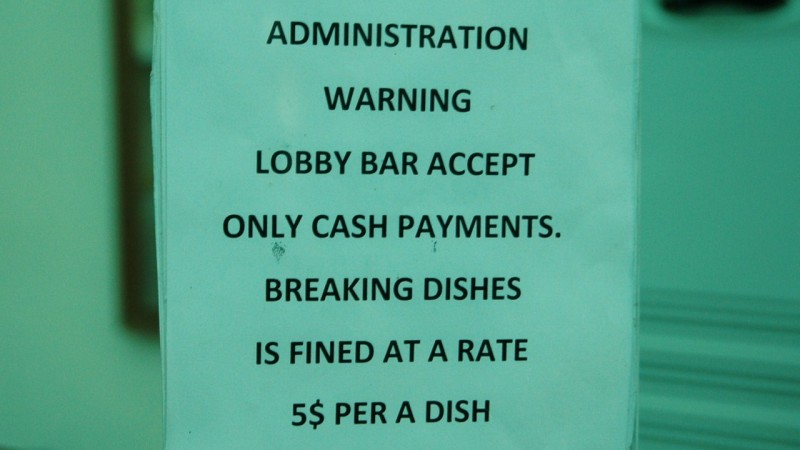 This notice was displayed on the bar counter of our hotel. Makes me wonder what type of clientele stay in hotels in Tashkent, especially as the hotel was  poshy-ish! Not like the places Fernando stays (he insists on this being mentioned hehe).
What strikes me immediately about here is the friendliness of the people, as testified by the party we have on Saturday night with some locals and Bouke from the Netherlands in the weird disco bar of the hotel.
While in Tashkent we visited Juma mosque and were introduced to a guy who specialized in ancient scribes. This one traces the evolution of our modern day numbering system.
From Tashkent it's the train to Samarkand, with airline seats which are far superior to Uzbekistan Airline seats! Samarkand is one of those places that you hear about over the years as being full of history, magical, mystical and all the usual adjectives. While you are surrounded by history, and maybe because I've heard so much about the place, be prepared to be underwhelmed. Don't get me wrong it has beautiful sites but maybe all the restoration to some of the oldest and most exciting has removed some of the intrigue for me.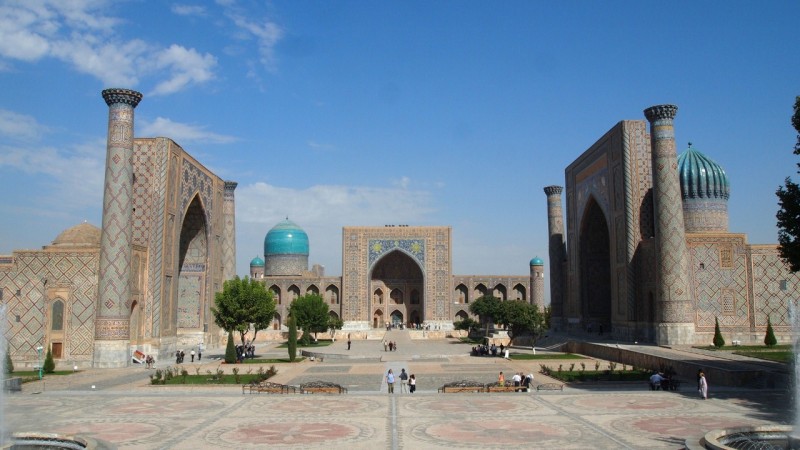 Still the Registan square is immense, it's the heart of ancient Samarkand, a place of public executions and where people gathered to hear royal proclamations.
The three madrasahs of the Registan are: Ulugh Beg Madrasah (1420), the Sher-Dor Madrasah (1636) and the Tilya-Kori Madrasah (1660). Madrasah is an Arabic term meaning a Muslim clergy academy, while Registan means Sandy place in Persian. It was also the commercial centre of medieval Samarkand with the plaza being a wall to wall market.
It is said that if you rotate the two facades at a 90 degree angle towards the ground that they meet exactly in middle of the plaza.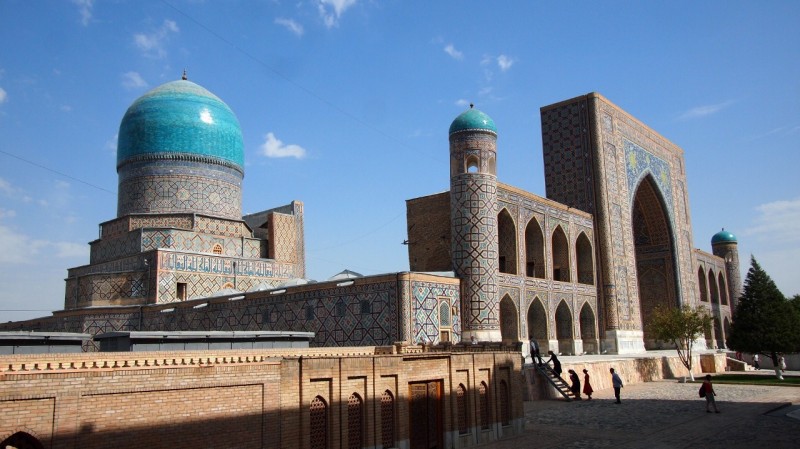 Now a major restored tourist attraction I imagine it in ancient times with the constant buzz of people, the screams of the dying prisoners and my nostrils struggling to cope with the 'cacophony' of smells.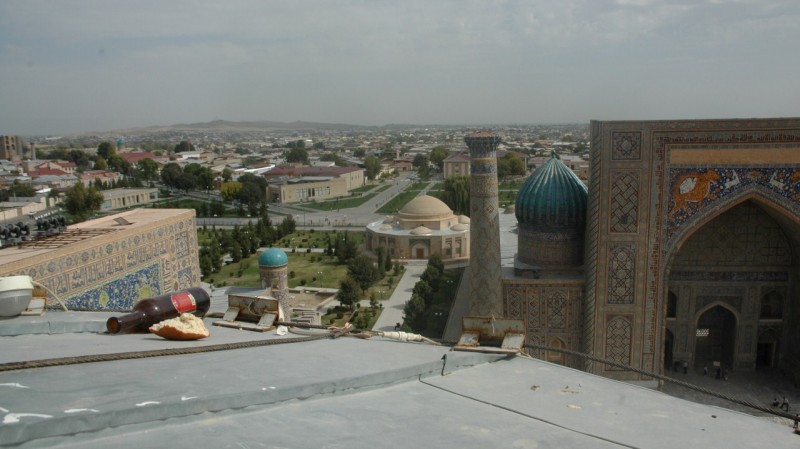 From the top of one of the minarets at the Registan. Officially this is forbidden but we were approached by a guard who asked for $10 to allow us access, we paid $5. Last people up there appear to have left an empty bottle of Sarbast and some bread. Always amazes me how disgusting some people can be.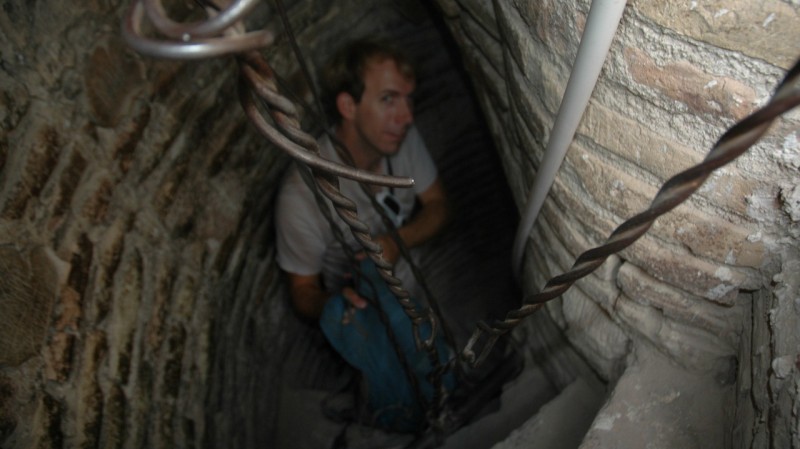 The narrow stairs that leads up to the top of the minaret with unstable steps. Now I understand why general public access to the top is forbidden. A bit like Colin Farrell taking the piss out of the Americans in the movie 'In Brugees'. Those of you who have seen it will know what I mean, those who haven't watch it, it's a good movie.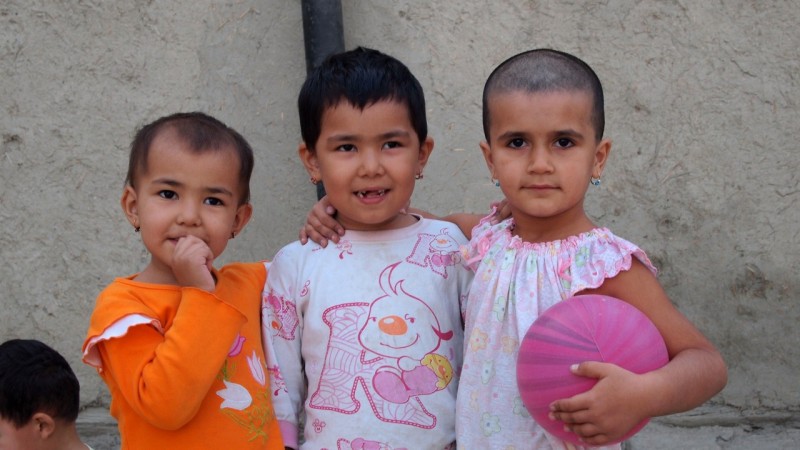 Gorgeous kids, happy playing on the street with footballs, prams, skipping ropes and many 'traditional' toys. Not stuck indoors watching xFactor or playing The Sims. Maybe we could learn something from this country for our kids!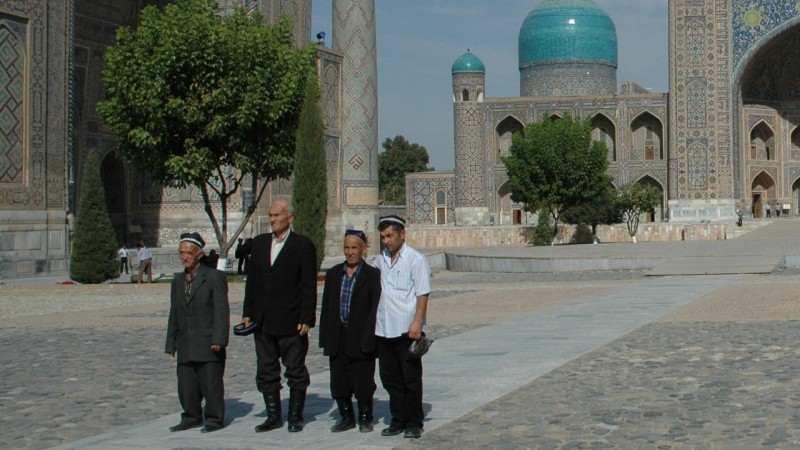 It's Westilife!!!!! They look like a local band posing for the album cover.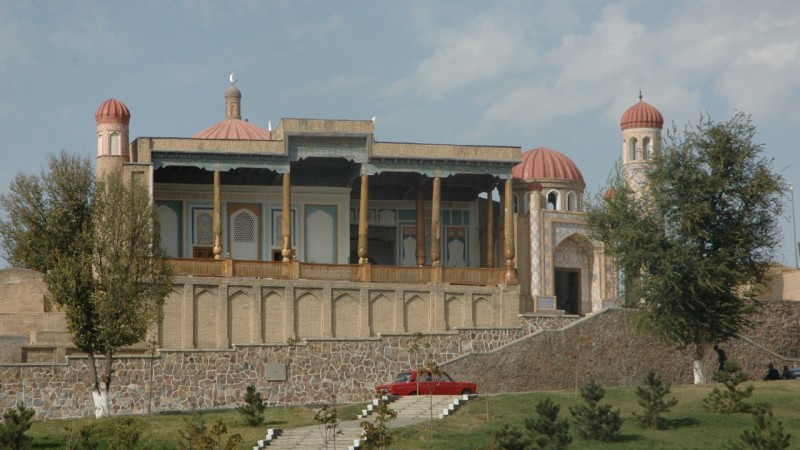 For Samarkand this is a small mosque with some nice minarets, which are red instead of the more common turquoise. It also has the typical wooden colums.
We see the city on rented bikes. We are apparently the first tourists to rent from a new venture just launched in the city. So as we pedal around the city we immediately become 'Celebs on Bikes' as the locals are astonished by the presence of tourists cycling around this historic town and people come to us saying: 'Where did you get the bikes' 'Did you bring them with you' (yea, sure from Dublin) 'Wow, you rented them here' Even when we go to the ticket office for the train, the shop sends a 'Body Guard' to protect our Set of Wheels while we buy tickets, it's funny.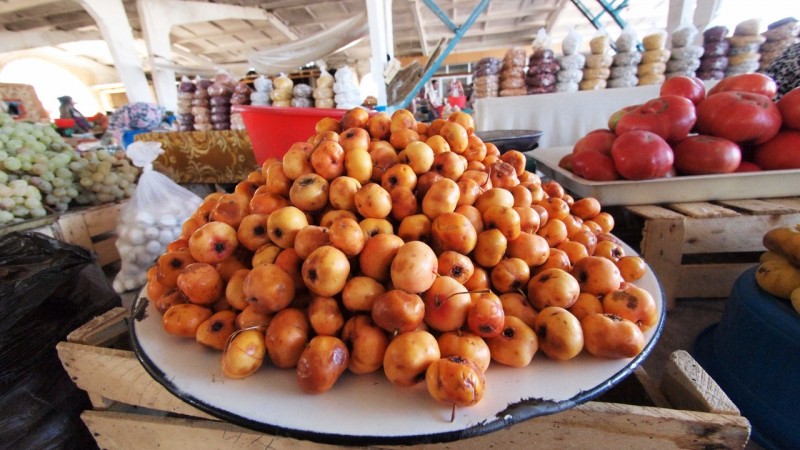 A new fruit for us in the market, a mixture between a little apple, cherry seeds inside and some kind of wild fruit.
After managing to embarrassingly crash my bike while trying to jump one of the many gullies between the road and the pavement and Fernando puncturing his wheel attempting something similar, we sheepishly return our celebrity cycles, it´s dark and tomorrow we head away.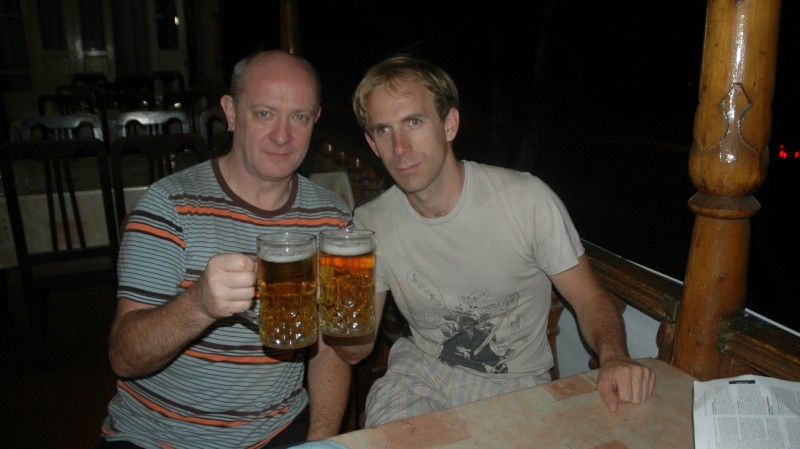 Spending the day cycling around a city in the heat can be thirsty work. Relaxing with a pint of Sarbast (the local draft), quite expensive for Ubekistan, three dollars for 2.
Timur had a special technique to make his city the most beautiful and impressive of all. Maybe you´ve got the idea from reading the previous posts… His technique was to destroy all the beautiful cities he found in order to make Samarkand the best of all.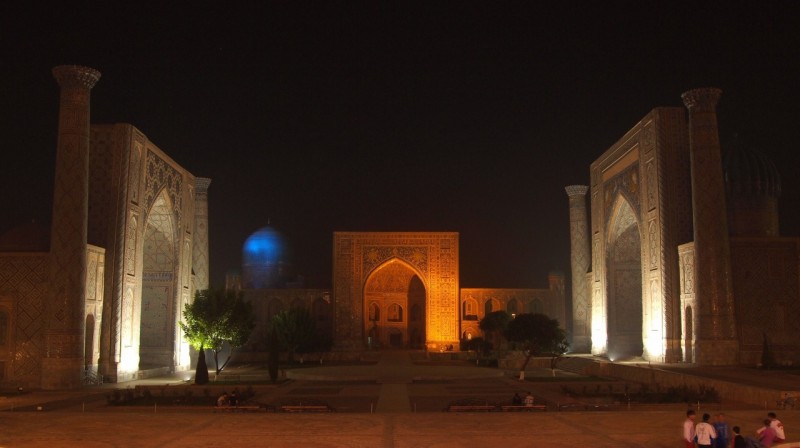 'Midnight at the Oasis' a song from the 70's comes into my head when I look at the Registan at night. If you are wondering why it does, well, I have no idea!
From Samarkand we go to the Adair Lake and spend one night in a Yurt. We share dinner with a German couple, who are actually fun, and their mad taxi driver. After dinner we go outside around an open fire listening to some Uzbek music played by a local musician. We sit under millions of silver stars that light up the dark night sky. It's then I realise that since I arrived in Uzbekistan I hadn't seen a moon. The mad taxi driver told me "In uzbekistán we don´t need moon" even if he was unable to stop laughing.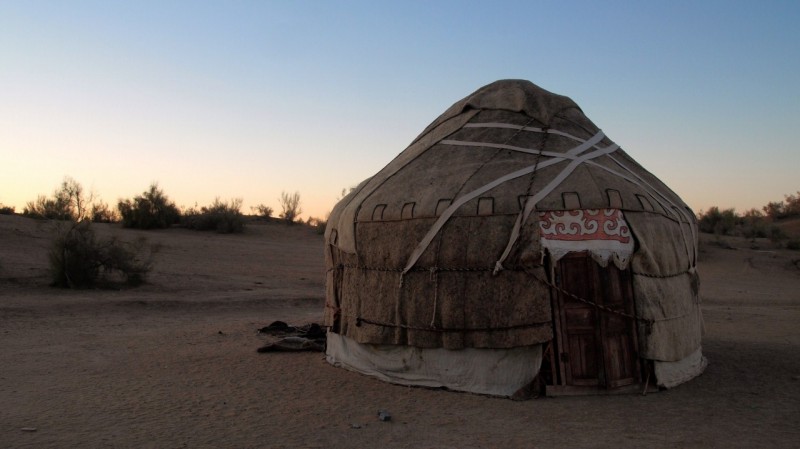 A yurt, the traditional nomad house. Easy to assemble and disassemble so the nomads could transport them as they moved on the steppes depending on the season. Sleeping on the ground, well almost, was comfortable but warm clothing is needed during the cold nights.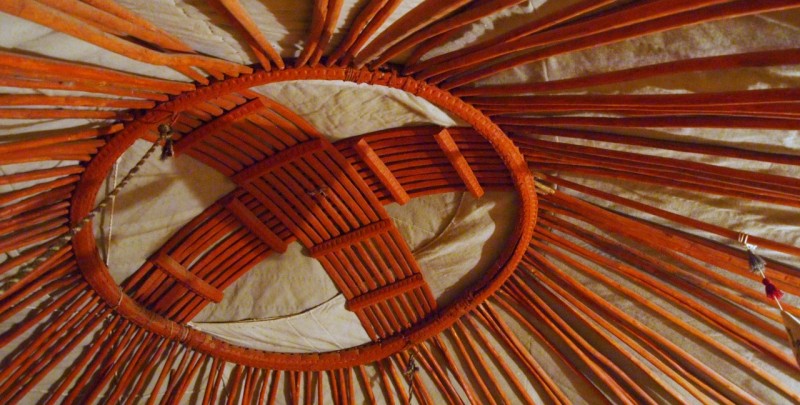 This is the interior of the yurt how the sticks are asembled in a circle to build the structure.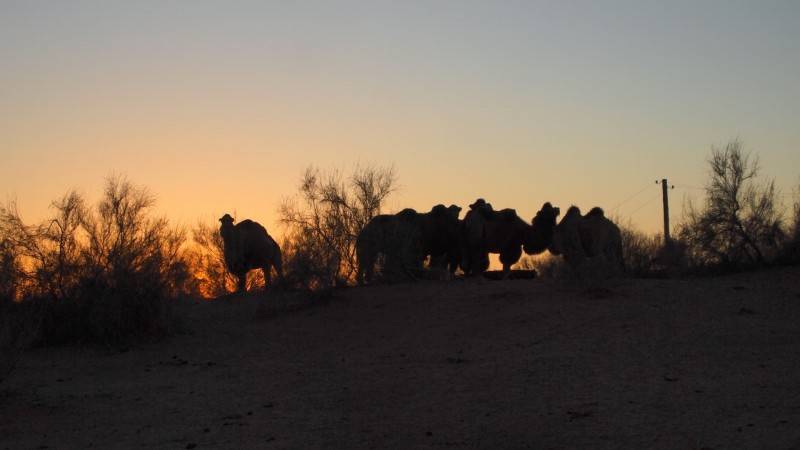 Sunset at the yurt and the camels graze before darkness covers the desert.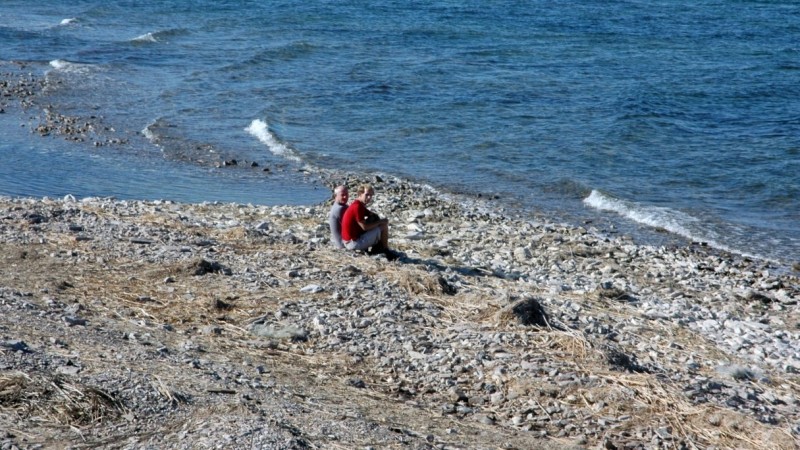 Lake Adair has increased 50% in size in the last 15 years due to dams being built. It's quiet and relaxing listening to the water break on the shore and looking out over the vast expanse of water.
Wow, Dermot´s writing is quite long so i´m going to divide it in two posts. Next post is Bukhara, a city that we've liked a lot more than Samarkand.
Soon more.
Dermot & Fernando