2010
11.12
Second part of Dermot´s visit to Uzbekistan, written by him:
Bukhara, now this is what I expected to see in this Central Asian country.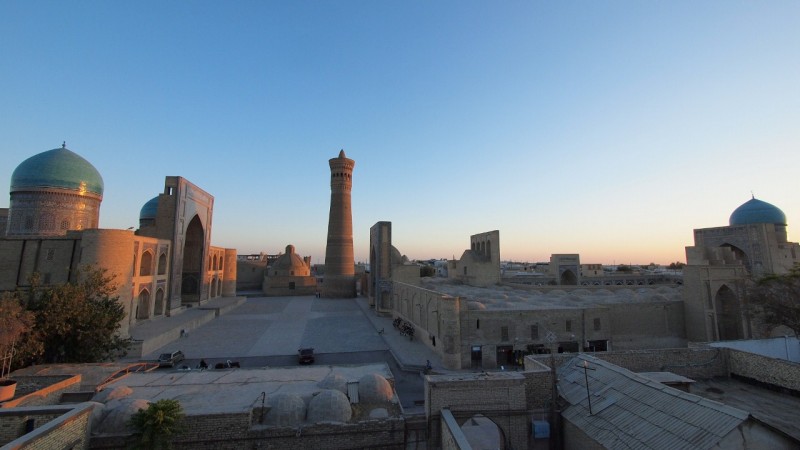 The Kalyan minaret dominates the Bukhara skyline, the only building in the town not to be razed to the ground by Genghis Khan he found it so beautiful.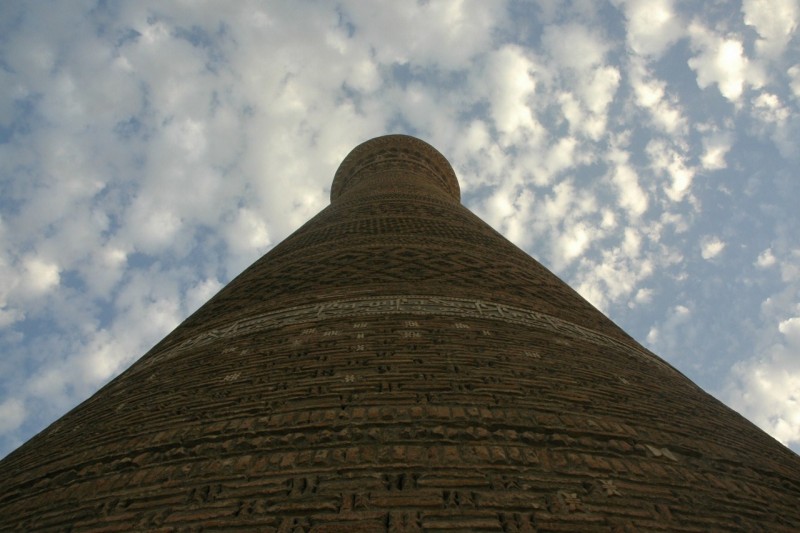 The tower is 45.9 metres high and is also known as the Tower of Death because as recently as the early 20th century criminals were executed by being thrown from the top.
Timur is now officially a national hero in Uzbekistan and for centuries remained a popular figure throughout Europe. His statue even replaced Marx's in the centre of Tashkent following it's independence from the Soviet Union. However, Timur, also known as Tamerlane, left a mixed legacy.
While Central Asia blossomed under his rule other areas and beautiful cites were plundered and destroyed. Timur was a Genghis Khan admirer but he didn't have his intelligence or his stratigic skills so he was an emulator substituting skills with extreme brutality. Many areas had their entire population massacred, while there is no official record of the number murdered by Timur, it is estimated to be between 15 and 19 million, and this must be a record in history. His next step before dying at 69 in 1405 was to China, if he'd been successful, we'd have a different world today.
For those wondering why he had two names: Timur was his original Mongol name, which means, "Iron" but in Europe, he became known as Tamerlane, which translates as Timur the Lame as he walked with a limp due to a war injury. A fact verified by the 1941 exhumation of his body by the Russians, which also revealed he was missing two fingers from his right hand.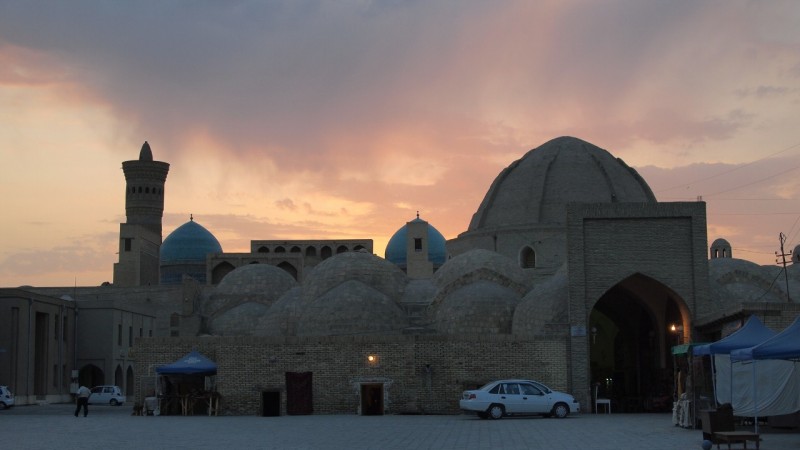 Bukhara is more ancient and real for me than Samarkand, as not as much restoration has taken place. The streets are narrow and cobbled with markets and shops selling the usual tourist paraphernalia.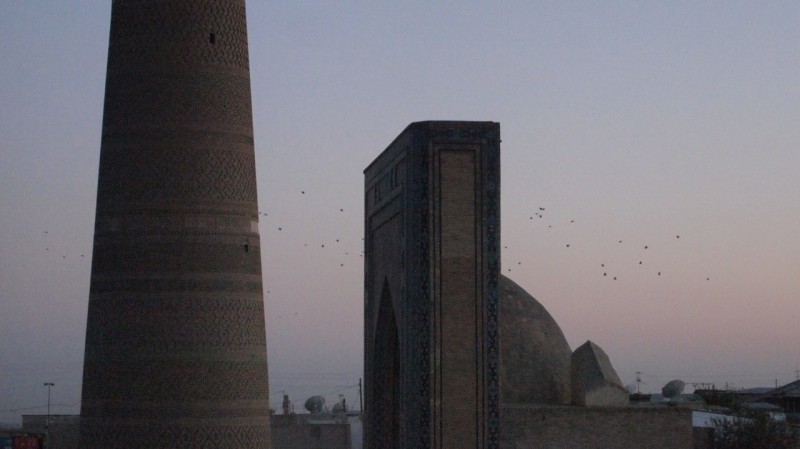 Sunset and a flock of Black birds oblige us by flying low while we watch from the Café with the 'Best Photo View' banner in the entrance.
If you want to go to the Haman, (ancient baths) go at round 8pm because when you are finished the staff will be having Plov and vodka and they will invite you to join them. While we were enjoying the food and drink, we learned that the father of one guy owned the place and another guy was married to the owner's daughter, was a dentist and at night worked as a masseuse in the Haman WOW. A fun night with a good mix of vodka for them, beer for us, uzbeknglish, Iranian music and some dancing in the hallway with the chief of police.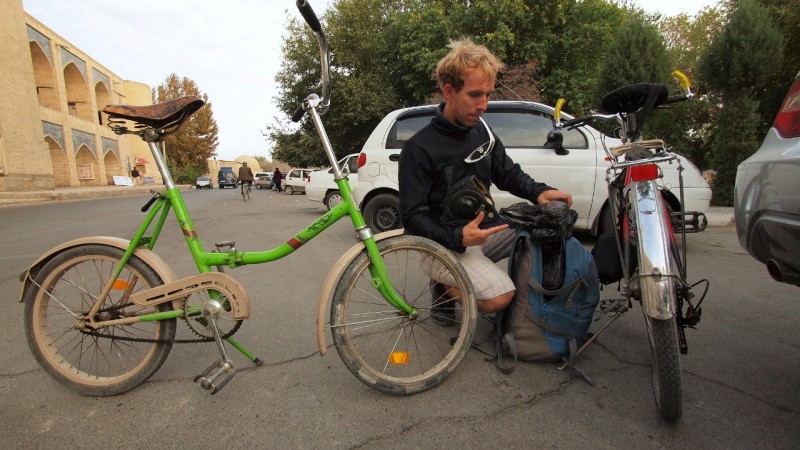 We also see Bukhara on bikes but these ones are very old compared to those in Samarkand. We loved them!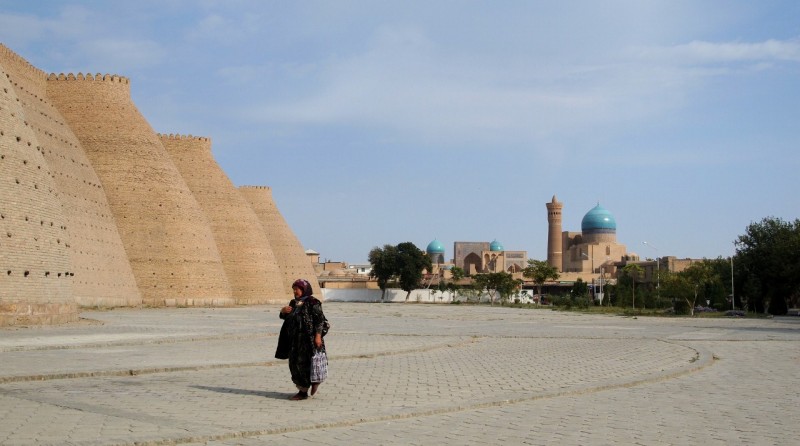 We cycled to the entrance of the city. On the left are the walls of the old city, known as the Ark, and in the background what is for me one of the best ancient Asian Cityscapes I have witnessed.
Bukhara had 40 bazaars, 24 caravanserais and 6 tims (that means shopping arcades). The development of that time was not only in a shape of buildings, the first reliable star map was created here, and during what is know as "Islam Golden Age" the Avicenna was created, a medicine cannon that was used in Europe until the 17th century.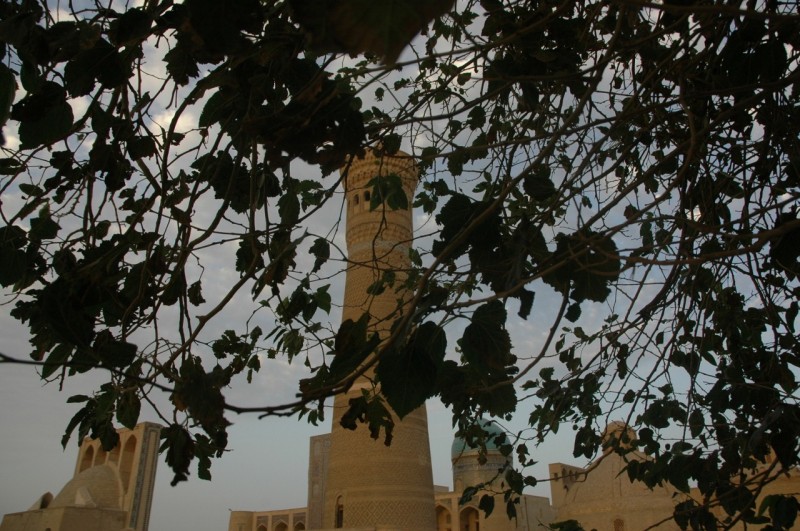 The Kalyan undercover of leaves not yet transformed into the colours of autumn, which would almost match the colour of the Kalyan.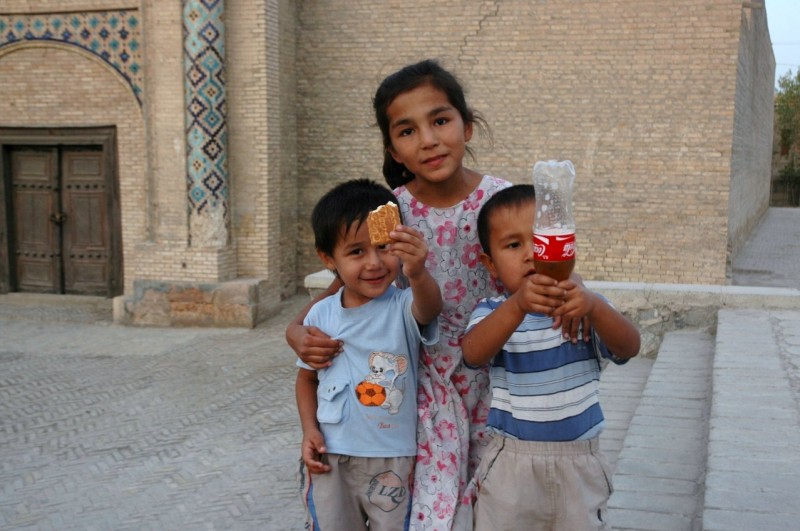 Everywhere you go in Bukhara the kids ask to trade candy for a 'photo', the effect of irresponsible tourism, but it's when they ask for money that annoys me. Coke, Liga and intense dark eyes.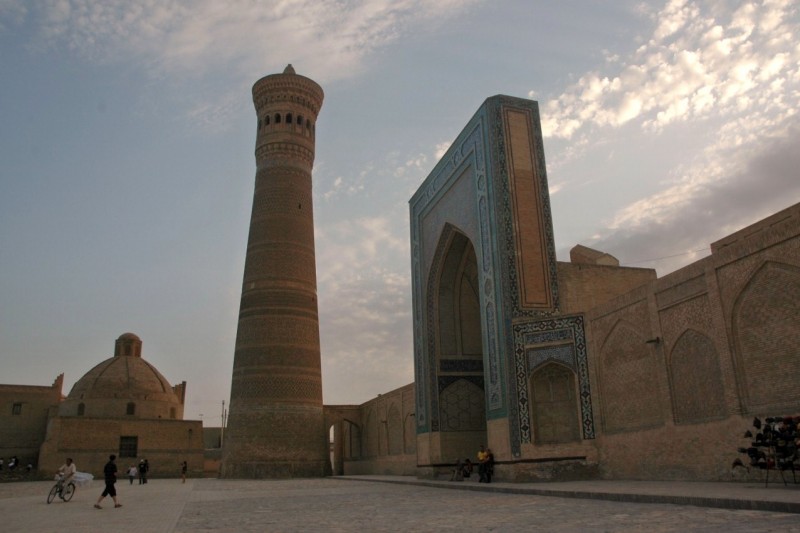 Both Bukhara and Samarqand were important cities on the Silk Road. Samarqand in particular because of its central location between China and the West. They were both centres of trade, culture and religion and both are listed by UNESCO as World Heritage Sites.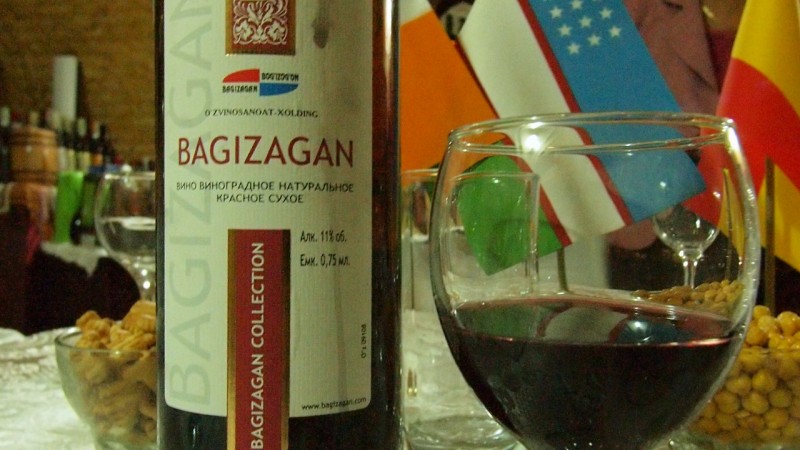 We go wine tasting where we tried four red and four white Uzbek wines. Some of them were quite good.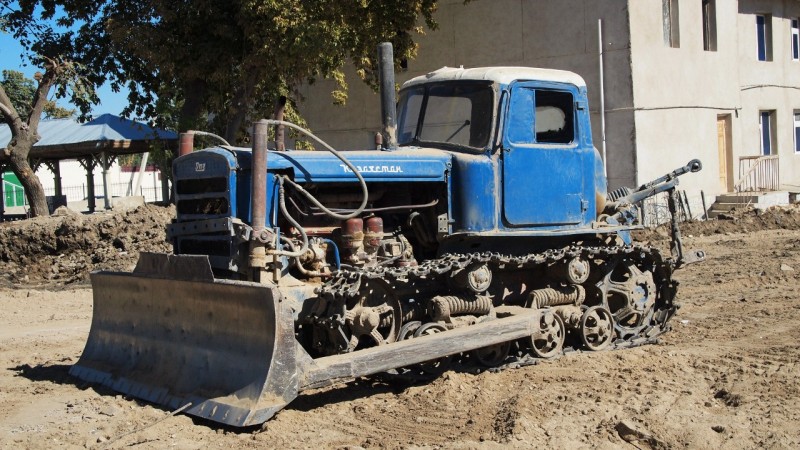 40 years operating as testified by the driver. Nice colour, they are all yellow in Ireland.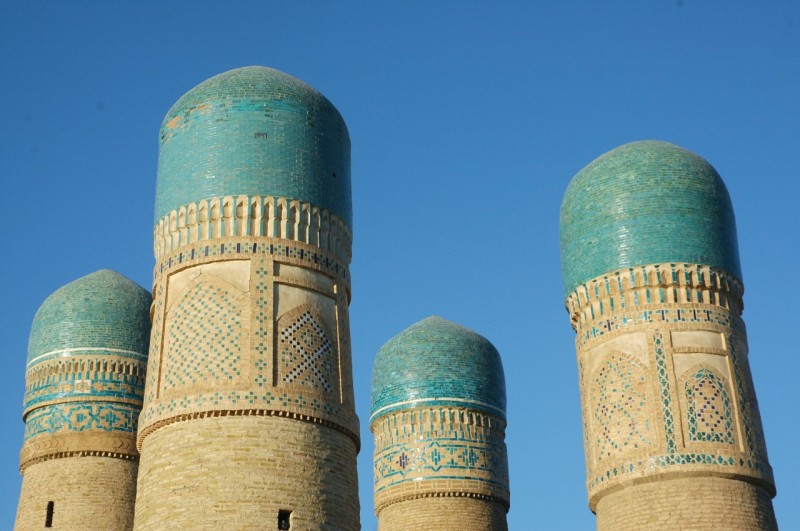 Among the back streets and alleyways was this hidden four-minaret mosque. We nearly missed seeing it as it was not very well highlighted.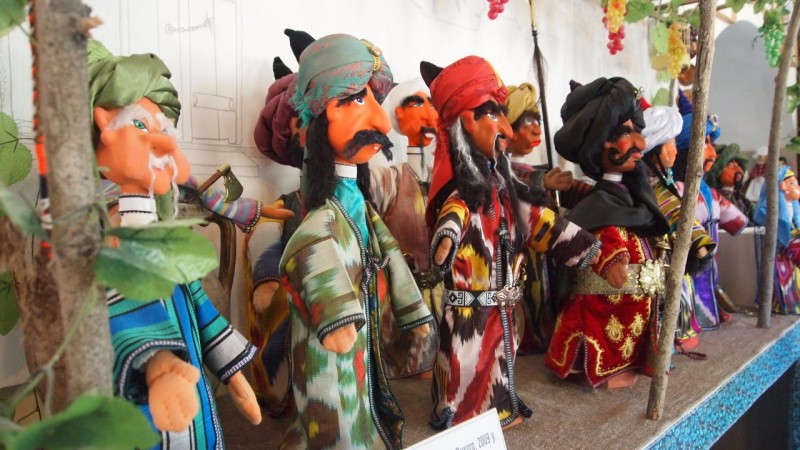 One of the coolest local puppet exhibitions. In case you haven't guessed this is Ali BaBa and his 40 thieves.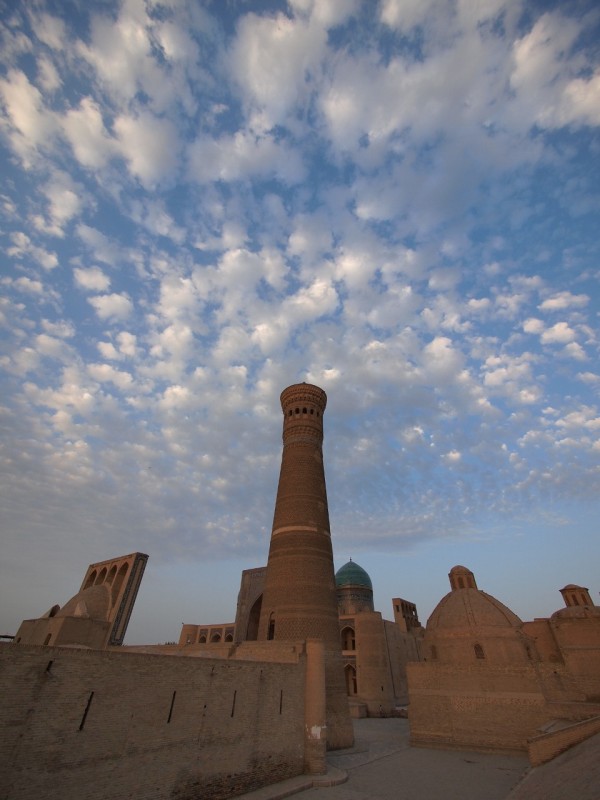 It's like a magnet, we can't get away.
While driving back to Tashkent in our taxi we pass kilometres and kilometres of the white covered fields, cotton. Uzbekistan is the fifth largest producer of cotton in the world. But the industry receives international condemnation for its use of child labour in it's harvesting even though the practice was officially outlawed by the government in September 2008.
Every year school classes are emptied for two and a half months (Sept to Nov) while harvesting is carried out.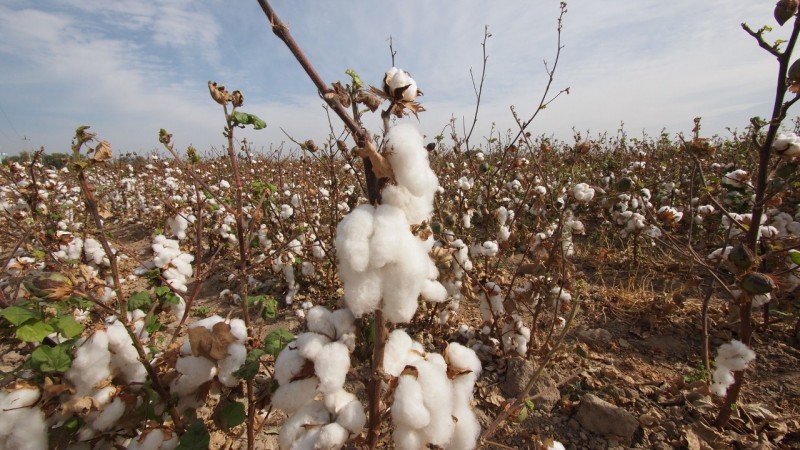 Even though I've been in countries that grow cotton, I've never been in a cotton field. It must be very hard and difficult work for children working long days in these conditions.
Before my dreaded flight back to Dublin we have a super lunch before I leave as I'm not expecting much on the plane.
I leave by taxi with plenty of time as check-in, customs and passport control can be very slow I am told. 20 minutes after I get the taxi I am sitting in the departure lounge, no delay at all. As I board the plane I am again shocked, it's a new aircraft and very luxurious, plenty of leg room and an excellent curry dinner.
I guess these sums up Uzbekistan for me…. EXPECT THE UNEXPECTED!
Oh, one final picture!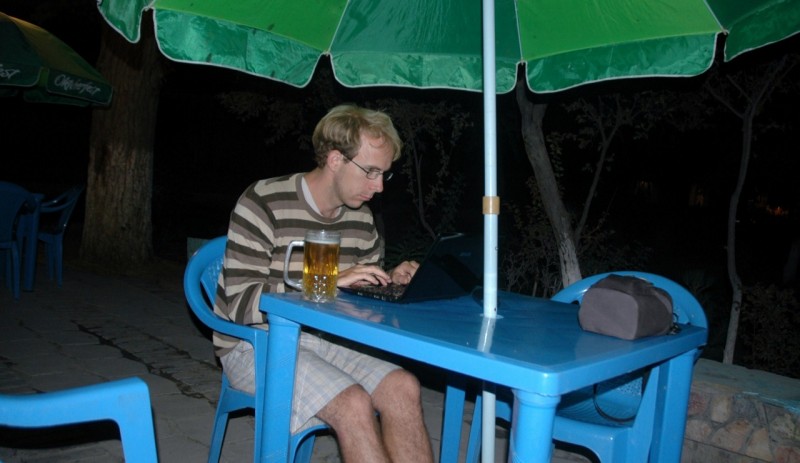 You may have been thinking how does Fernando get the time to research and write this blog while travelling. Well, here you have it…. He uses every opportunity to work on it.
A little expanation on the title… There is a movie called Planes, Trains and Automobiles and as I used all forms of transportation I thought it an appropriate title.
Cheers from a rainy Dublin
Thank you for the posting Dermot!