2010
11.22
After some problems with the computer power adaptor, finally I can come back to post again.
We were in Kyrgyzstan so I continue. What have I come for here? To see mountains. Forty percent of the country is over 3000 meters highs and in it's mountains there are 8.200 glaciers. This is possible due to the Tien Shan mountains that divides this tiny country with China. I start the trip in Issyk Khöl lake to go to the south later on and cross to China.
I start in Bishkek, waiting my red haired visitor. Silvia is coming the next day to stay two weeks here. The capital doesnt have much it is a simple city but, I wouldn't expect more from a country that until two generations ago were nomads. Extremely a thing to do here is go to the opera, so I try,  here it costs just a few euros and in Madrid over 200, but there is no show. Getting unlucky with the opera, in Tashkent I tried to go and it was under renovation, I'll have to leave it for another trip.
In the morning I go for a walk and to change money, from the streets huge mountains can be seen in the distance, I didn't expect them so close by, but this is why in Sogdian times (tenth century approximately) they gave it that name; "place under the mountains" How will the mountain villages be?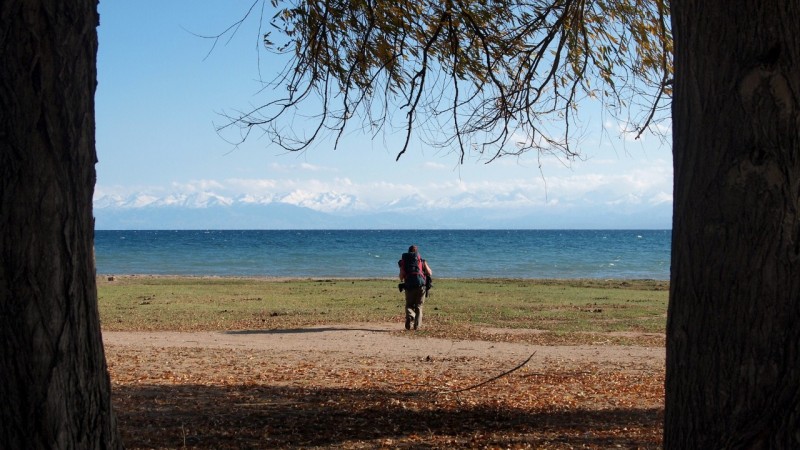 Our first visit to the Issyk-Köl lake is the little village of Tamchy, and, Why look for accommodation if you can have a bath?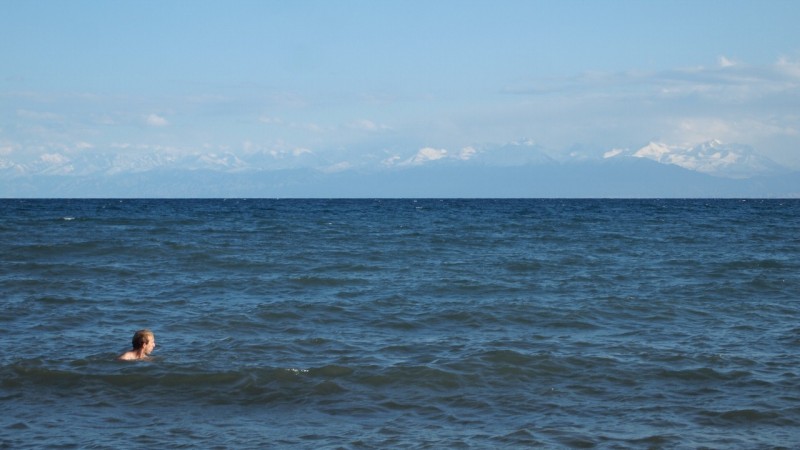 The lake never get's frozen(it's very deep and has a high salinity) so it's called "warm lake". I'd change the name of it to freezing lake.
Two men came to us when we left the water, they are stunned that we got into the water and cheer us up with hugs and loud good words. Wait!, they are pissed. If there is something left from the communist era, that's vodka. They hit their necks with a finger, we've figured out later on that it means to go drinking. We politely decline the proposal and search for a place to sleep.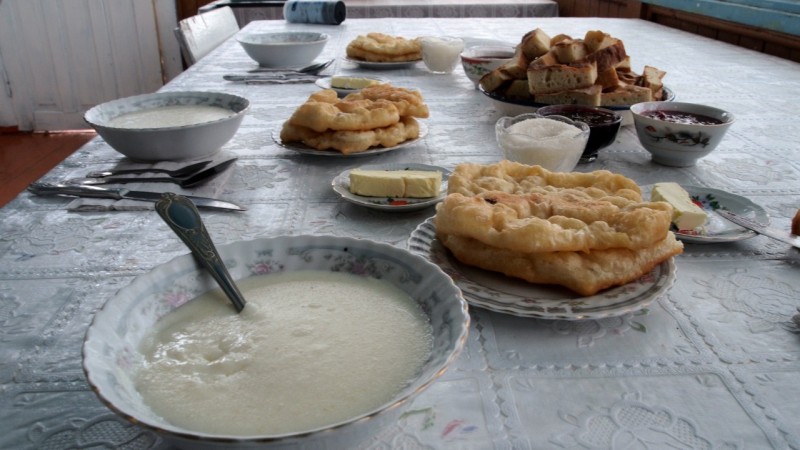 When arriving to our guesthouse a snack is brought to us to recover the energy left in the cold water. Some fried kind of bread, yogurt and home made marmalade.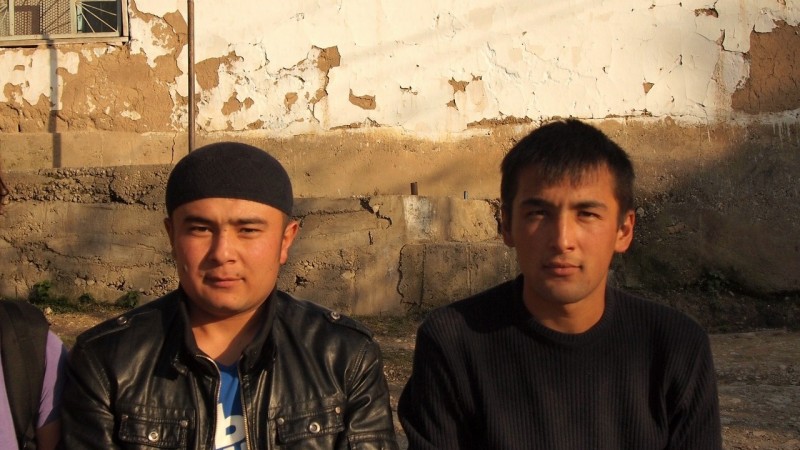 Locals are funny, they ask us things about Spain and tell us what they know about it. We learn that the best Spanish guitarists are Antonio Banderas and Alejandro Sanz (they may believe this from TV movies or something like that but it's not right at all).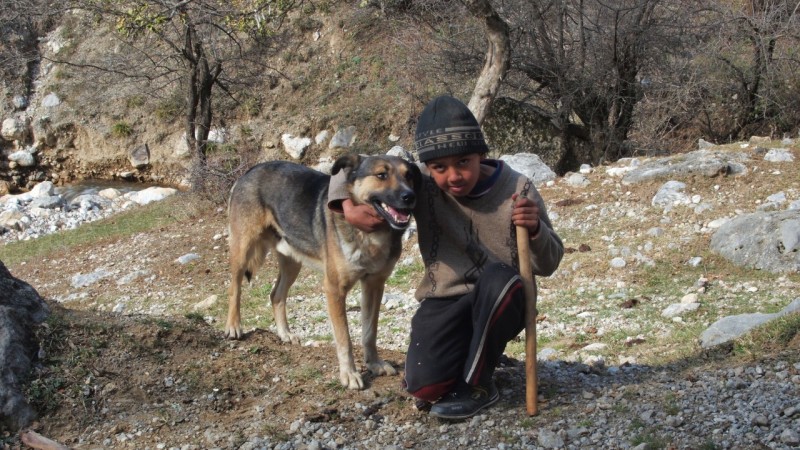 This is a country attached to it´s land and animals.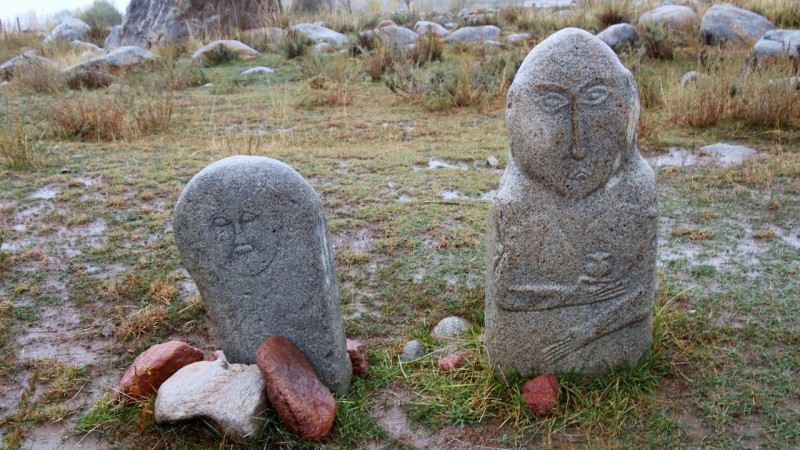 Next day we go to Cholpon-Ata to see this petrogliphs under the rain. We get wet from feet to head.
We keep going around the lake, on the bus we get surprised by a hurricane storm, we were not sure if we'd arrive, the snow falls stronger every time and we don't even see two meters on the road but the driver keeps going and going. Winter has arrived suddenly. There's 30 centimetres of snow here and the village is beautiful.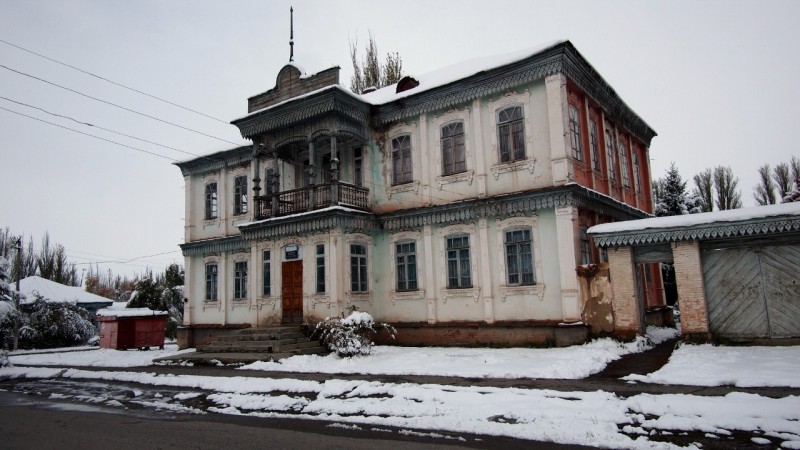 We see some colonial buildings.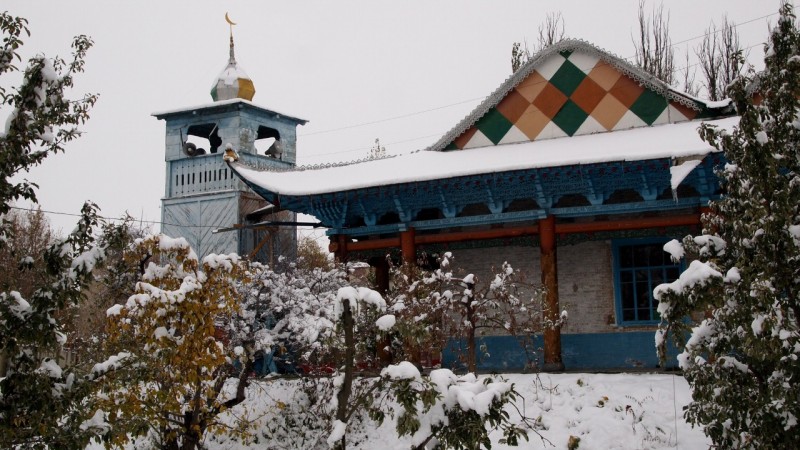 A… A… What is this? It's not a pagoda, neither a church, but on top of the tower… A moon? This is a Chinese mosque, built with no clay in 1910. It's a current cult place and was closed by the Bolsheviks from 1933 to 1943. Even Kyrgyzs are not very religious it's not strange to hear the call to pray in some villages.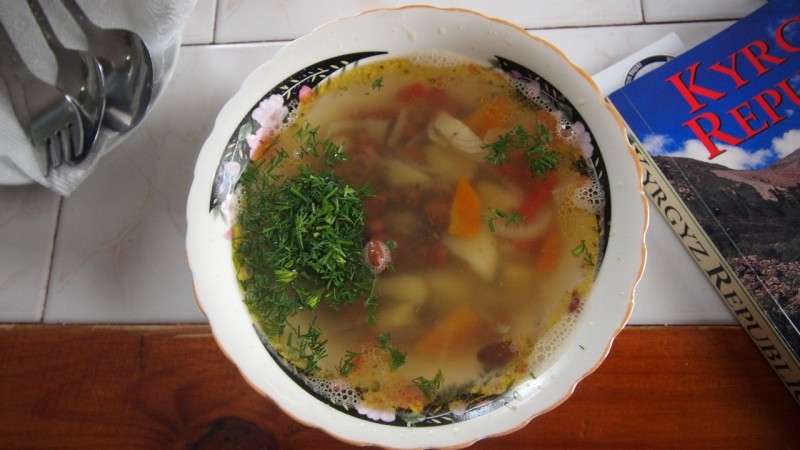 We stop for lunch and have a soup to warm up. I try a different soup from my favourite central asia noodle soup Lagman and I get this russian one. Silvia get's one that tastes like Rufles.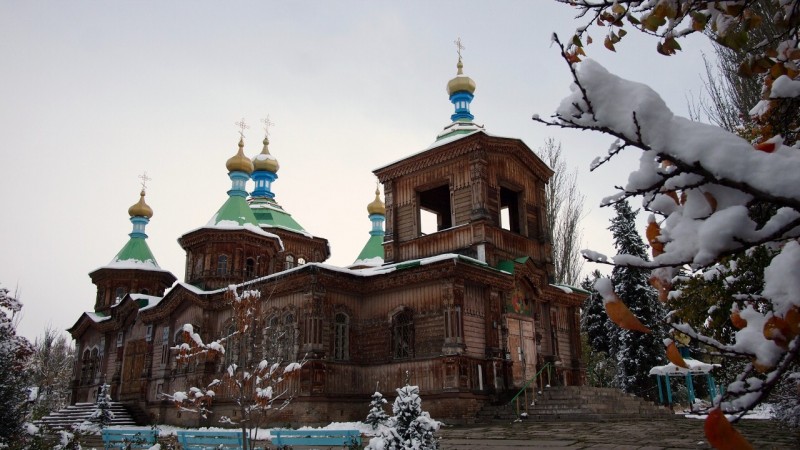 Holy Trinity Cathedral. Had never seen a Russian orthodox church before.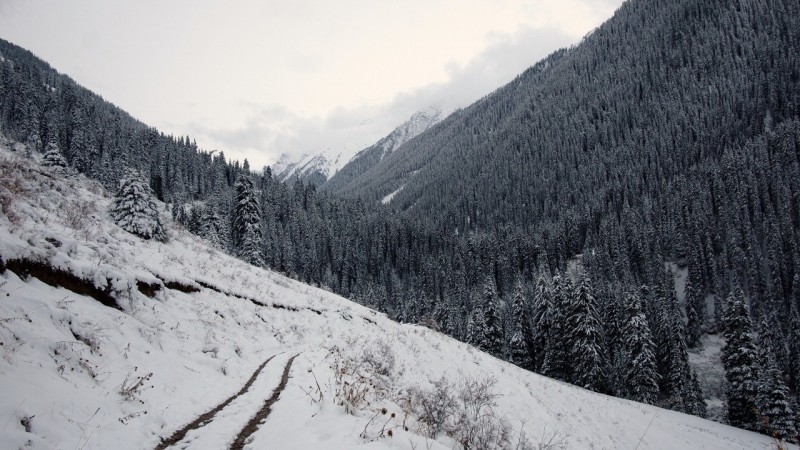 We go to Altyn Aranshan, some hot springs in the middle of the mountain. 14 km awaits us in the snow, there's been a car before and sometimes we have no choice but walking by it's marks, it's like walking in a catwalk, quite uncomfortable and tiring.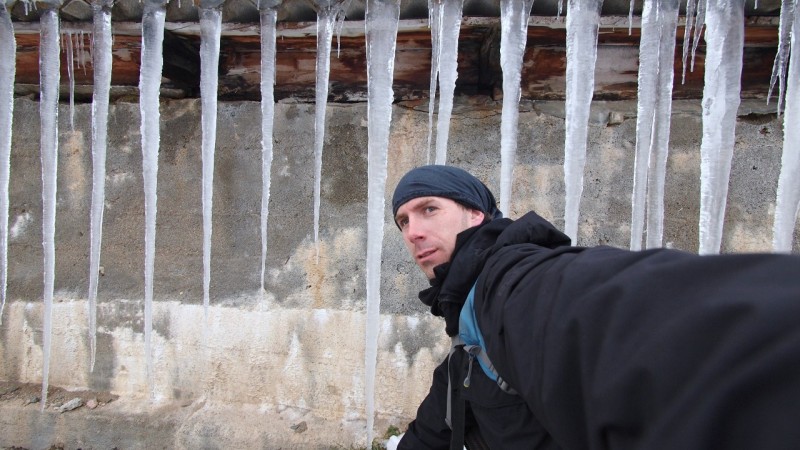 It is -10 degrees. We go to the baths that are 56 degrees, after walking four hours it's a pleasure, moreover, we are the only ones.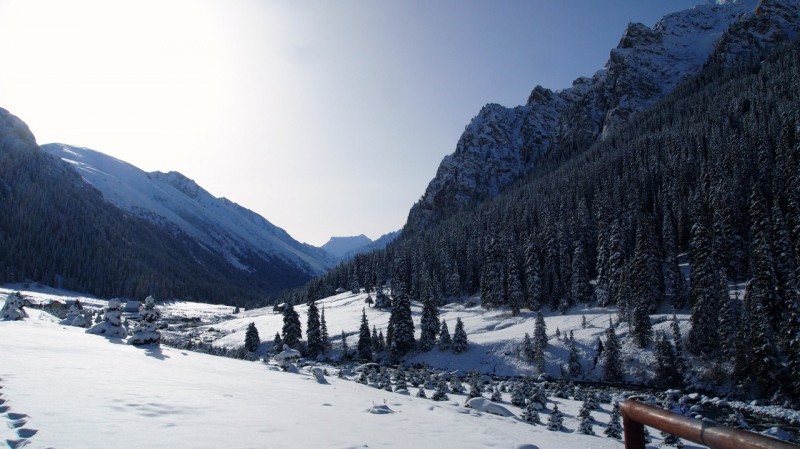 We have slept in the mountain hunt with three layers of blankets and a hat on, of course, there was no heating an in the morning there was ice formed inside the window glass.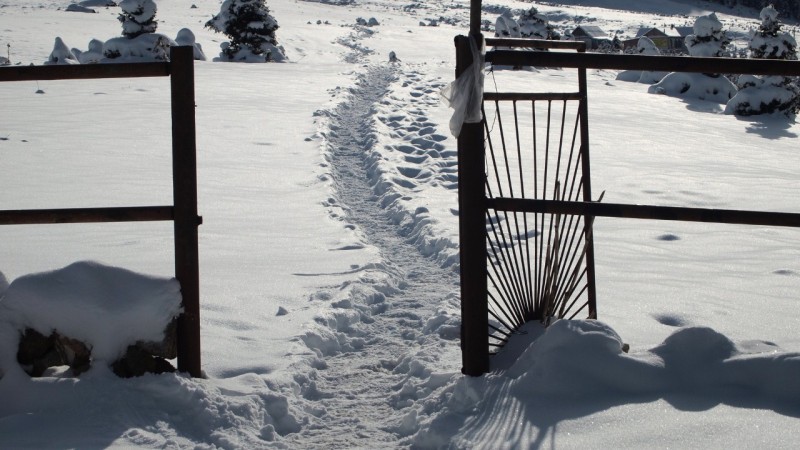 Kyrgyzstan has the second biggest population of snow leopard but it's nearly impossible to see them.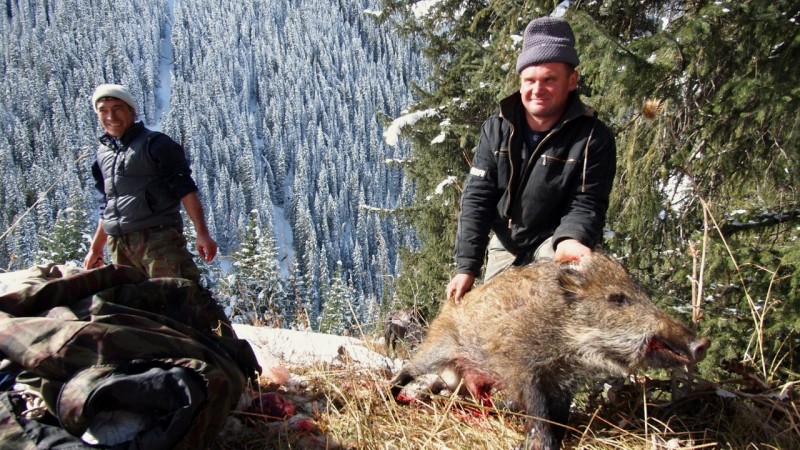 They've been lucky today and have got some game. We see other hunters on horses, they tell us that they are Don Quijote and Sancho Panza.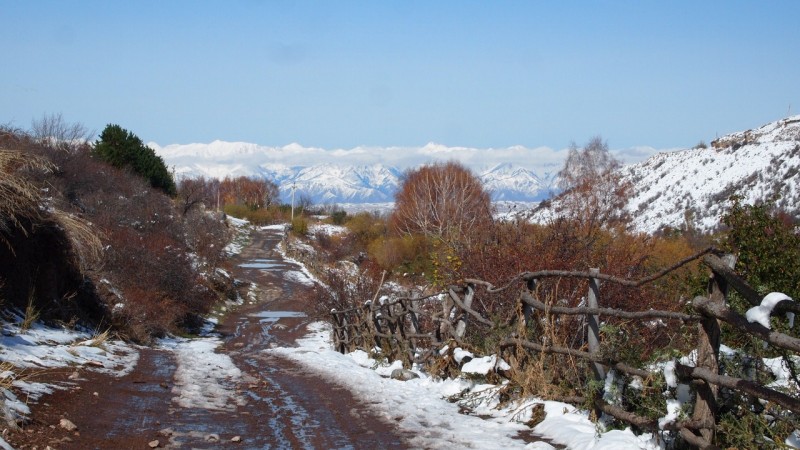 Karakol is surrounded by mountains and it's ideal for several days of trekking, but it's too late, there's too much snow and cold to camp out, we have to enjoy only short excursions.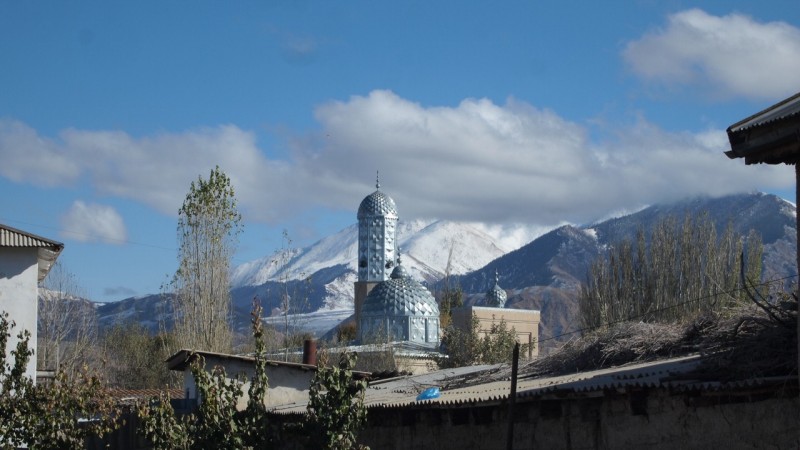 We continue round to the lake going to Bokonbayevo. On the picture a mosque of the village. From here there will be a video that I wanted to do in Uzbekistan but I couldn't.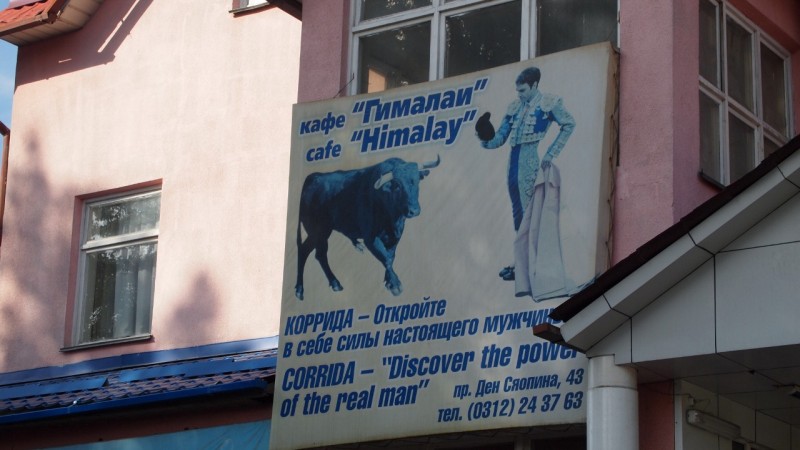 To go to the south we have to go to Bishkek again and we found this. What famous men we have in Spain!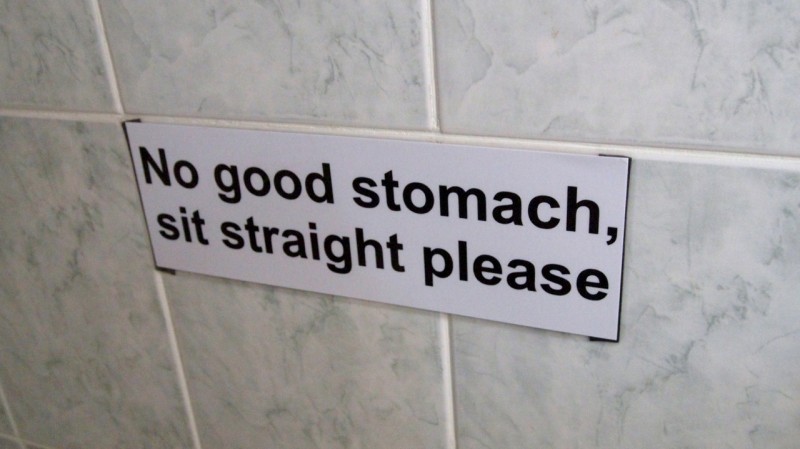 another funny banner to finish.
Writing soon.
Fernando