2011
01.03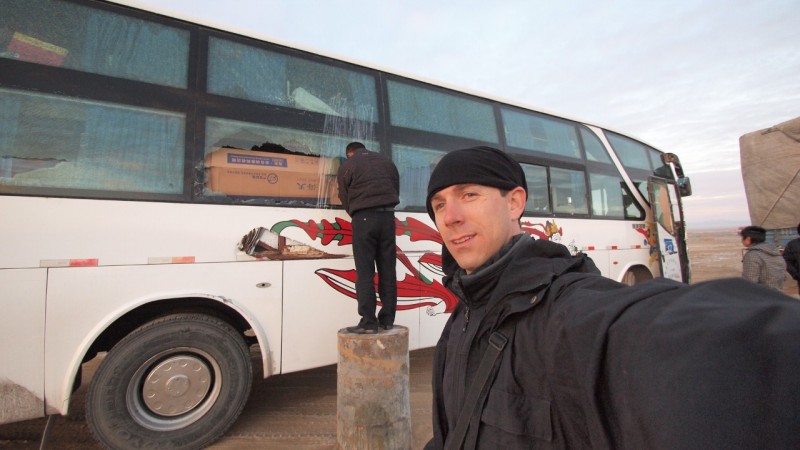 Wasn't this post about caves? Yes, but not everyday the bus you are in crashes into a truck.
I wake up with a sharp noise, when opening my eyes there are several windows with no glass or with them cracking. We've had a crash, a bit flamboyant, but it's been on the side.
Nothing serious happened, the worst was to loose an hour to relocate passengers and fix the door a little bit. When there was sunset and some light, we stopped again to close the windows with tape. Half of the tape was from a roll I had in my backpack. From here the trip was more pleasant as cold was not getting in by the window.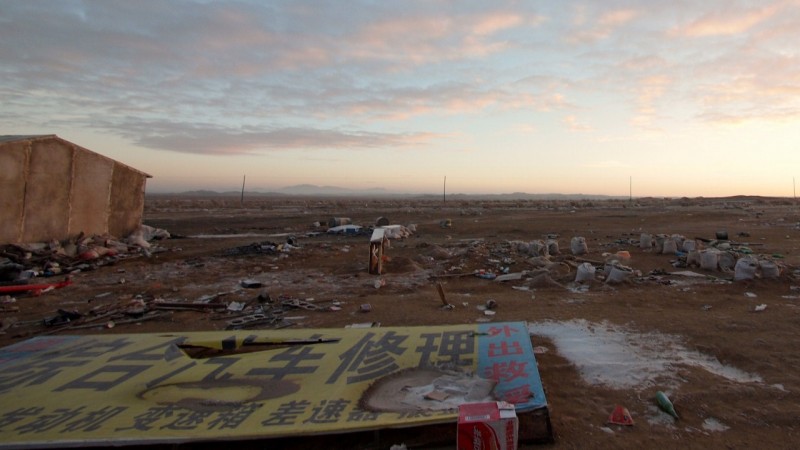 Rubbish on the Gobi desert.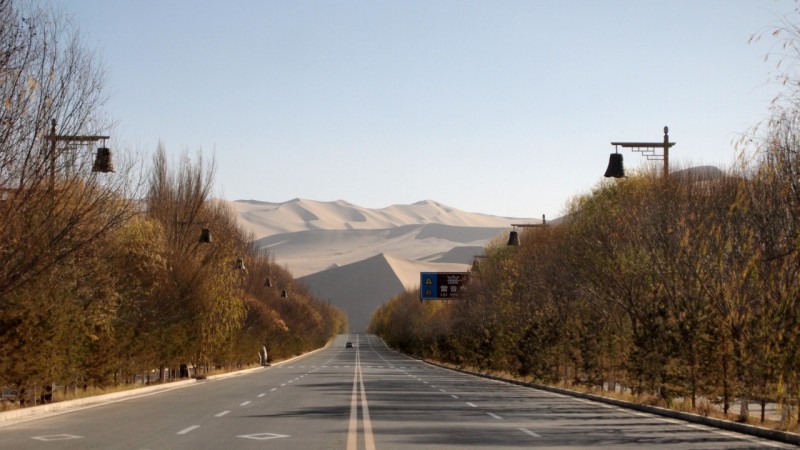 Arriving to Dunhuang's hotel I see the Mingsha Shan dunes. I was recording a video in the same style as Pilat dunes, but looked horrible so I haven't edited. It's lake in growing shape with it's monastery is an icon in Chinese tourism. It didn't envoke any emotion for me so I don't even put a picture.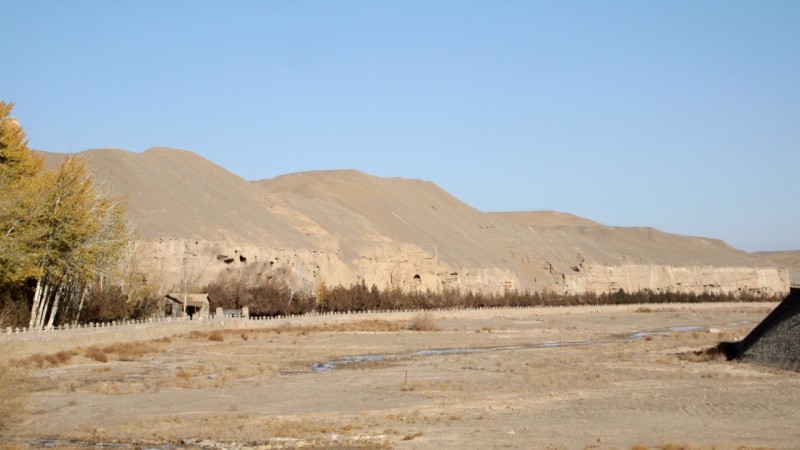 And here the topic of the post finally I arrive to Dunhuang caves. A very waited milestone in my trip. A big stop on the silk road that became the biggest exhibition of Buddish in the world.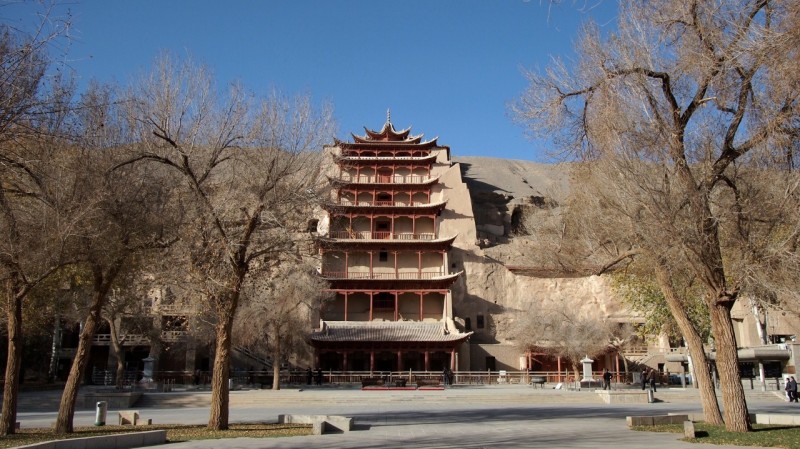 There were 18 monasteries with all type of artists, writers, translators and calligraphers. The caravan traders of the silk road came by here asking for a safe trip when crossing the Taklamakan desert (I talk to you about it in the previous post). To ensure that their request would be heard the merchants made great donations. With these great donations is how the complex was built over centuries.
The same way it grew with the influx of silk road merchants, when the road route stopped this treasure of treasures was abandoned and was forgotten.
In the 1700 of cliffs 492 caves where carved. The most important cave is not the one with the fifth biggest Buddha in the world (counting the two biggest destroyed in Afghanistan) neither the caves with paintings or sculptures of the 4th to 14th century. The most important Dunhuang cave is the library. A little space with more than 20.000 manuscripts rediscovered in 1900.

The superior monk Wang Yuanlu pulled down a wall during some restoring renovation and they were found within it. Who put all those manuscripts, and the knowledge they contained, it's not known. Why? It's not know either, probably to protect them, but it's just an hypothesis.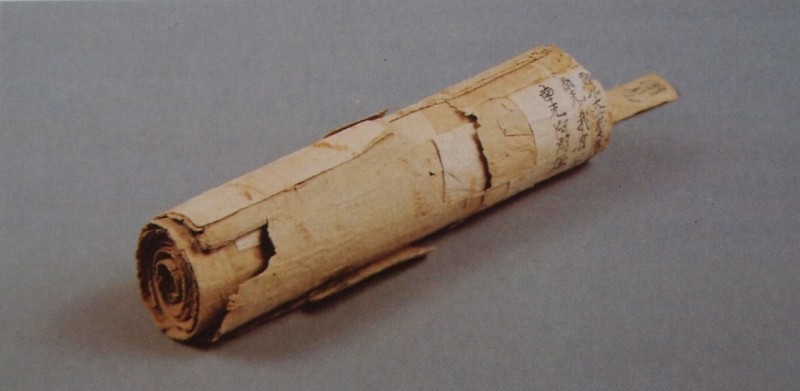 The cave contained things like the oldest printed book in the world (from 868 AD) and, texts of old rare Central Asian languages, military reports, musical scores, medical prescriptions, texts of other religions as Confucianism and Maoism, Buddish sutras copied by some of the best Chinese calligraphy and many more.
Very soon after the discovery the avid European archaeologists arrived to sweep with the haul.  A total of 220 miserable pounds were paid to the poor Wang Yuanly for most of the old scripts.
Aurel Stein was the first foreigner that could see the library, he took hundreds of manuscripts but as he didn't know Chinese he took hundreds of copies of the same books leaving some of the best treasures behind.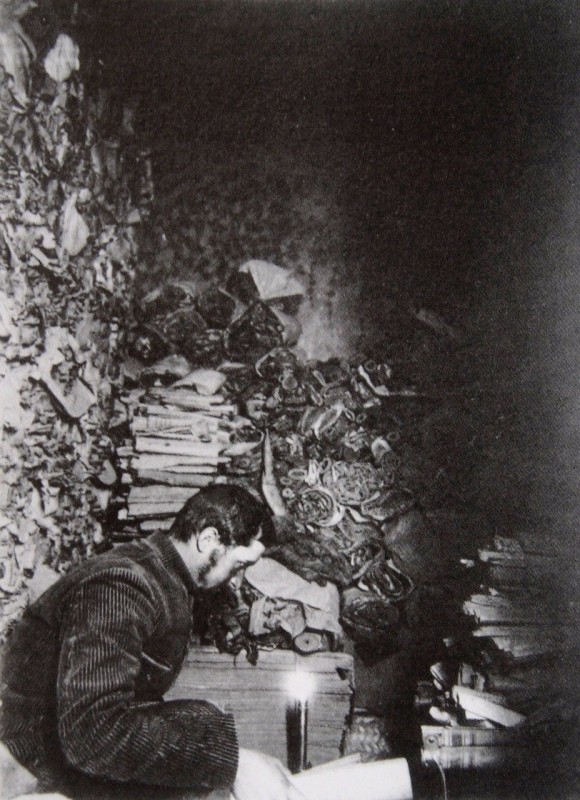 Picture of Peliot, a French archaeologist, in the library. It's been taken from the book "The Silk Road, two thousands years in the heart of Asia". Peliot was the second person putting his hands on the library, he mastered some Asian languages and was able to choose the scripts he was bringing home.
For an archaeologist finding a statue in the sand has to make him stop breathing, , discovering a mummy has to be a dream come true and discovering a hidden city has to be a mental orgasm. And finding a forgotten library? Sounds good, but not as cool, isn't it? Is not that bright, does not catch attention that much.
However if we get into an archaeologist skin maybe we change the idea. A library means knowledge. If you discover an statue, you find out what period it's from, from what king could it be, from a mummy you can deduce what century it was embalmed by the materials or the technique. A city you can try to place it in history with the architecture hints.
A library tells you, you don't have to guess or relate things or suppose, it's books tells you how life was, you don't have to imagine or deduce. There are facts written down. Texts can tell you about prices of things, about cooking, wars, religion, science or foreign visitors. If there are different languages you can know who they were friendly with or what cultural influences they had. An additional advantage is that people that write book are very organized and all is told with the date attched to it, ideal for historians.
Finding the library in Dunhuang caves was the most important discovery in the silk road from my point of view. As it does not have pyramid shape or a lot of karat gold it has not been very popular as that doesn't sell. Of course it is UNESCO heritage and has total protection.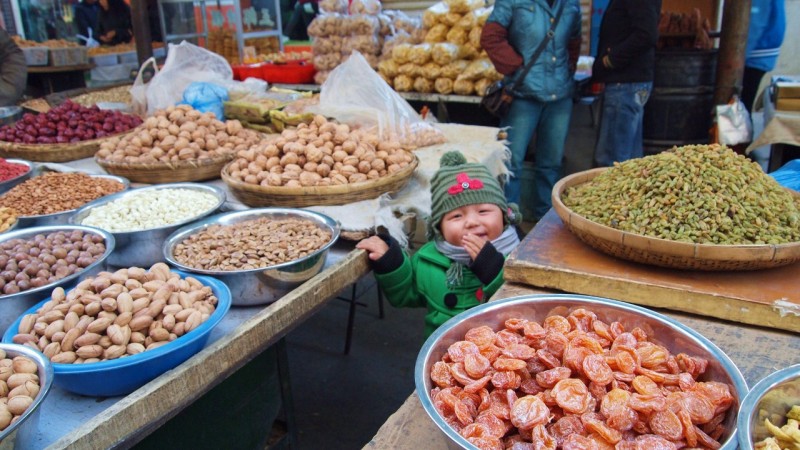 In the Dunhuang market this very funny little girl.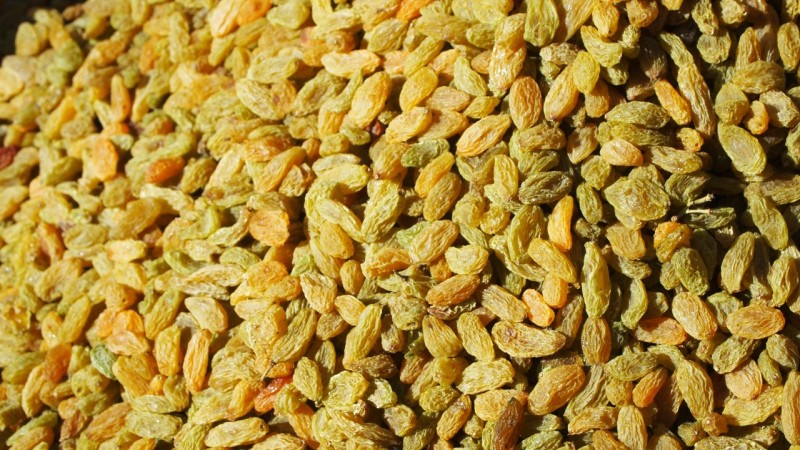 Dried grapes from Turpan area are sold. The area was full of special buildings to hang grapes and leave them dry with the heat of the desert.
It´s time for a good hotel overlooking the sand dunes, it´s low season and it worth's having abit more of a pleasant room once in a while. Here a bad picture of good food.
As I've started with the topic I put some pictures of some of the 19th century explorers from whom I've talk to you some time before. Their story is very extensive and interesting but today I'm have told you enough of history so if you want to know more of them Wikipedia tells you very well.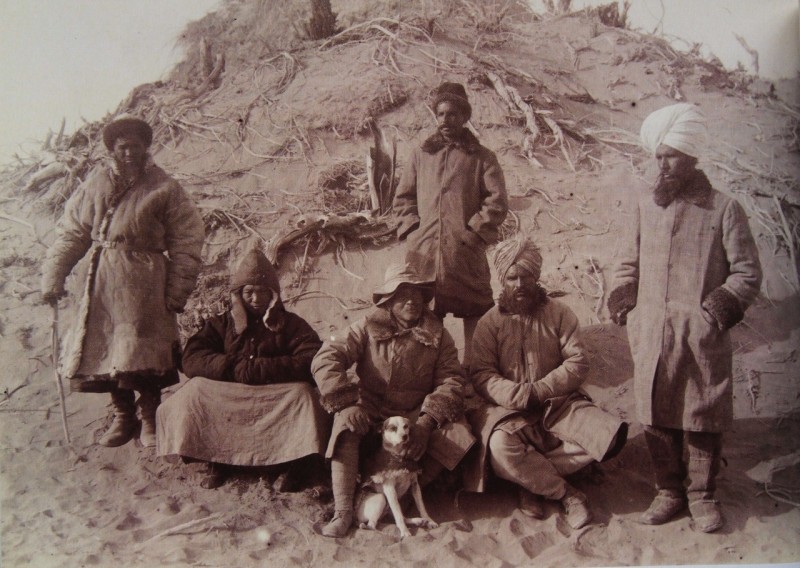 Steinon his expedition of 1908 with his dog Dash II. In each expedition he brought a new dog exactly like the previous. Stein was a tenacious man and in his eagerness of keeping discovering he'd take his expeditions to the limit loosing a big amount of men and loading animals on his expeditions. In one of them I think he was the only survivor. What a beast!. Stein was the first arriving to Dunhuang.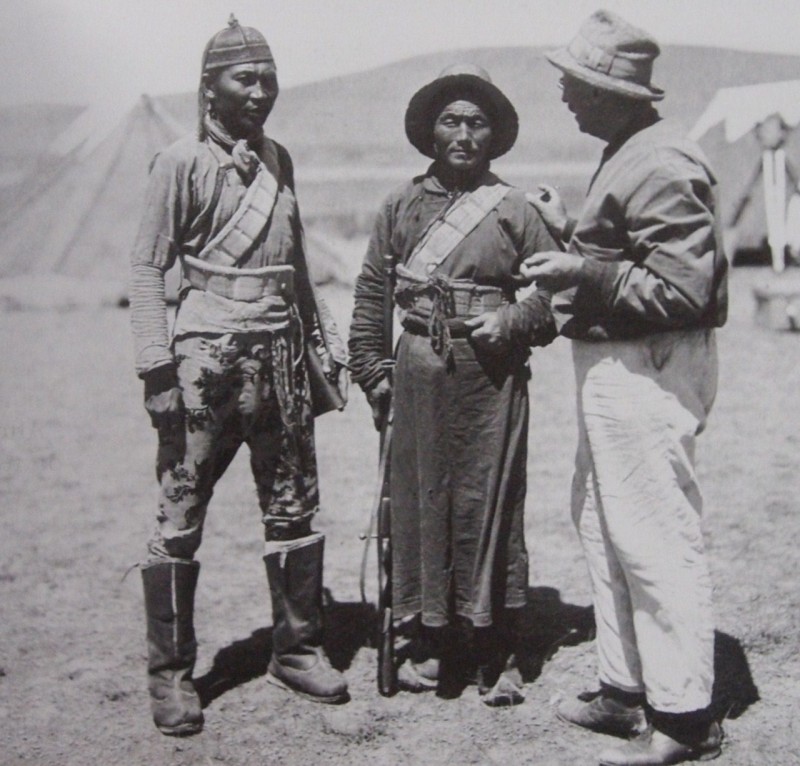 Sven Hedin in 1934. Another of the great explorer of this part of the world.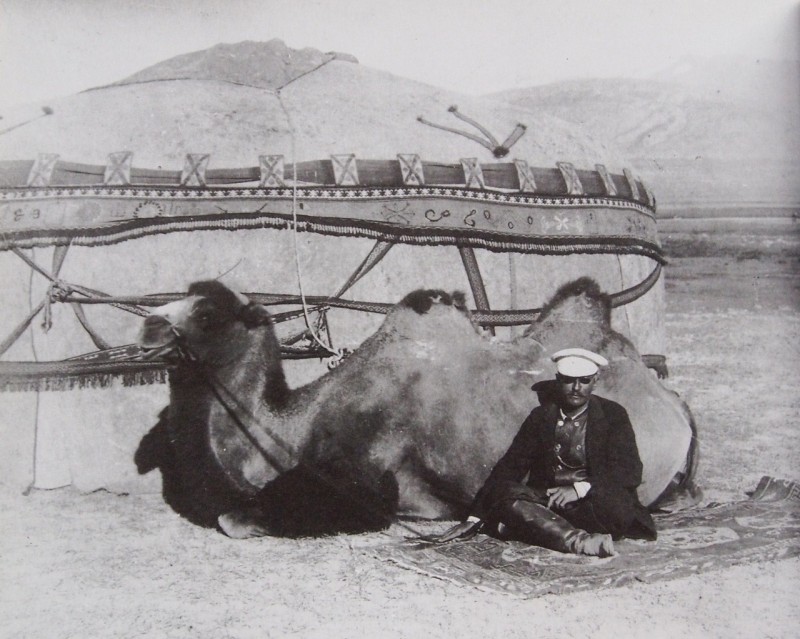 Hedin in 1936 with a Kyrgyz camel. He was one of the first explorers in the Taklamakan desert.
Hey! And the pictures of the caves? Pictures are not allowed inside, totally banned, but here you have a link so you can take a look into what's in there.
From here I go to a Tibetan monastery, but not to Tibet. I want to see another face of china.
See you very soon!
Fernando