2010
05.26
This part of the trip starts with a luxurious companion! My sister Ana! Travelling with people is not easy, if you go on a tour and the bus takes you to every place, it's OK, otherwise making the 100 daily decisions and having everybody happy is rare. I have only 4 people I can travel 100% fine with, people I'd go to the end of the world with, so having Ana here is just amazing.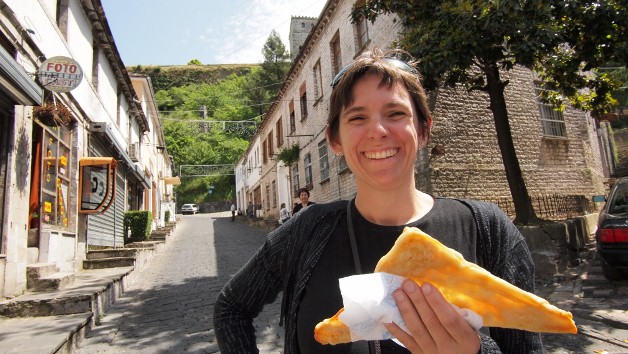 Ana having a Burek, a pastry filled up with cheese, spinach, meat.. they are everywhere in the Balkans, in each country  a bit different, the ones in Albania are very delicate mmmmmmmmmmmmmmm
We started in Tirana, Ana arrived to the Mother Theresa of Calcutta airport who was not christened Theresa and was not from Calcutta! The city with is chaos, it's very pleasant and it has a few things to see in the city and the Blloku neighbourhood has lot's of cosy cafes, varied restaurants, ultra modern bars and Ibiza style discos.
As a note Blloku was restricted during communist years, it was only the elite were granted access, where Enver used to live.
Outside of the centre there are many streets without a name, about 70%. This is quite a big problem for progress, how do you send a fine, a notification from court, the annual school report, information campaigns, catalogues that are sent from companies to retailers and another 1000 other things, not being able to get or send post is a pain in the ass. Fortunately now they are working on it, however if you go to Tirana ensure you bring a printed map of where your hotel is.
Downtown a lot of English is spoken, there are a lot of companies that are beginning to consider Albania as a potential market, Italy are doing a modern style invasion with their products but also there are a lot of NGOs, one night I met by coincidence one of the only four Spanish guys that are working in the city, I met him in a bar with a soccer table, something very Spanish.
Tirana is a city that is evolving fast but still has a long way to go. It has to be the power house for a country with 16% unemployment and according to the statistics there is 25% living below the poverty line, however Tirana and Albania as a whole is not Ethiopia and everywhere you can find whatever commodity you need. Even in Tirana you also see skyscrapers being built, colourful Smart cars and teenagers with braces in their smiles and also there are some beggars on the street.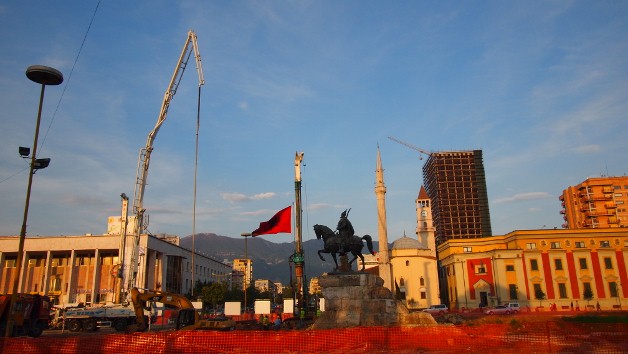 Skanderbeg square as it's being totally renovated. Skanderbeg is still today the national hero, in the 15th century he defeated thousands of Turks not once but three times having a smaller army than them. They still talk about him with respect and admiration.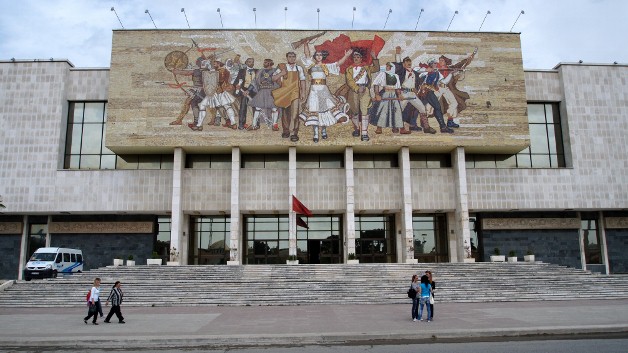 Communist mural in Skanderbeg Square. Look at the woman in the middle!!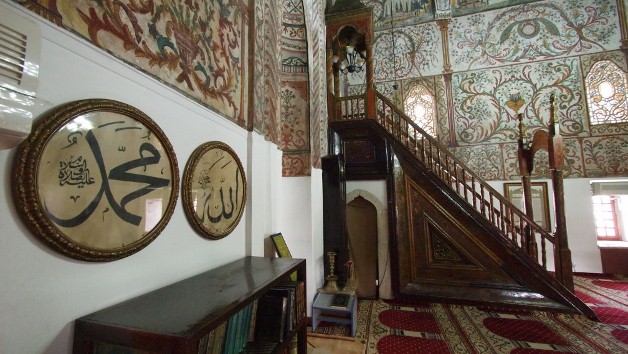 Inside Ethem Beg mosque. The guy hovering the carpet went out of my view so I couldn't photograph him. As a communist country athiesm was very much promoted, there was even an athiest museum highlighting the advantages of having no religion. Albania even declared itself athiest officially, the only country that has ever done it.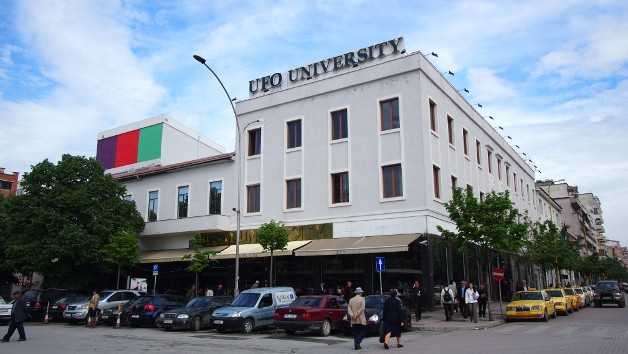 UFO university… what was the founder thinking of!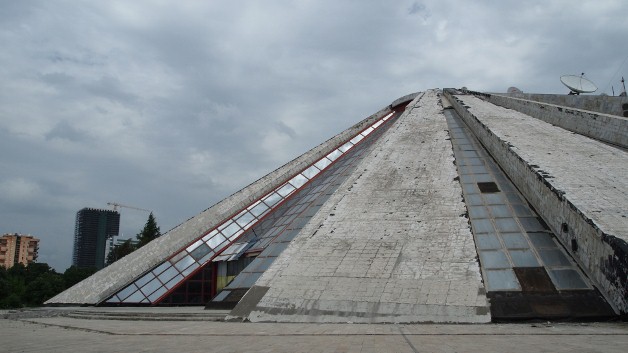 This kind of building was an designed Enver Hoxha's daughter in law. Even it's called the piramid it has the shape of the eagle as in the flag but this can only be seen from the air.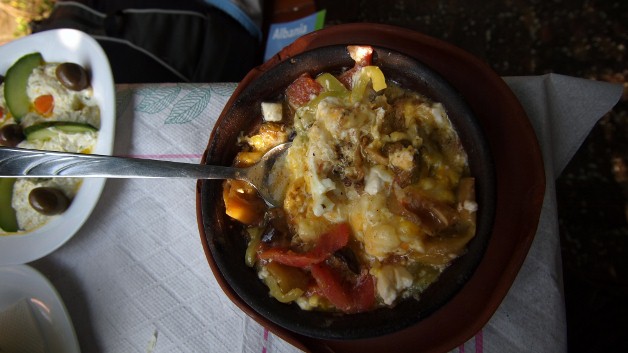 On the way to the south a stop to eat, the best part of the meal, this kind of stew done in the oven with greens and cheese.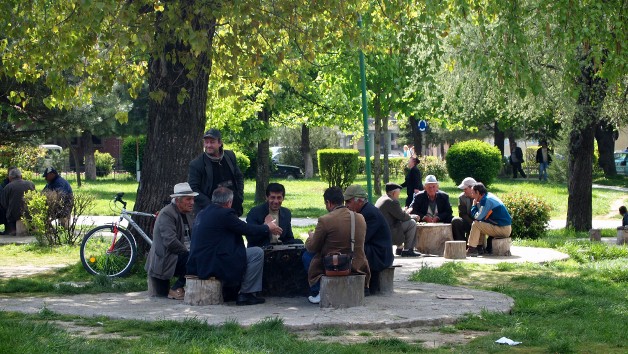 Men playing domino, in any park, anywhere you find them like that for hours.
We arrived to Durres, a recommended spot in all the guide books, a place where we left horrified. It's the typical coastal city, disorganized, concrete architecture, dirty beaches and over polluted sea. It might be interesting if you just want to sunbath not looking at the water and the going area with tons of bars to drink as much as you can, otherwise not. We don't recommend it.
We went further to the south, to Dhërmit .
When leaving communism, Albania was like a kid in a candy shop, there were new options open to it and they were not sure which to do first, so they did a little of everything which led to some initial confusion. Urban development is an example, especially since it's using all the money from the more than a million emigrants to build houses in a very disorganized way. The coast has been particularly hurt and it's something that long term they'll regret. We also had to run away from Vlora as it´s a place with horrible architecture.
But we knew there were pretty beaches and with Dhërmit we were right. It's low season so the beach was for us and for the two German bikers that were 2km away. Isolation and a beach. We stayed in a little hotel overlooking the blue sea eating fresh fish caught by the owner. Absolutelly stunning that mouth melting octopus we had, the softest ever.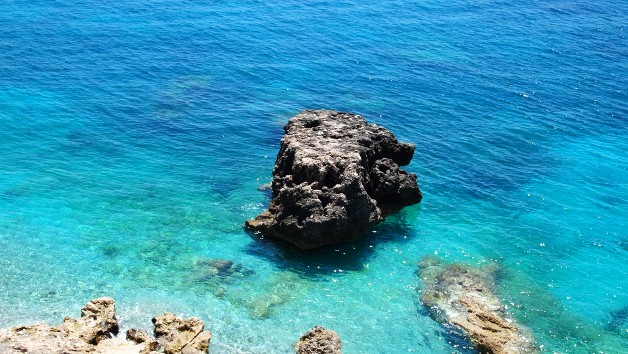 Here more to the south, near Saranda. Our last base to explore the southern coast just before getting into Greece, where the Adriatic sea joins the Ionian fighting to see which is more beautiful.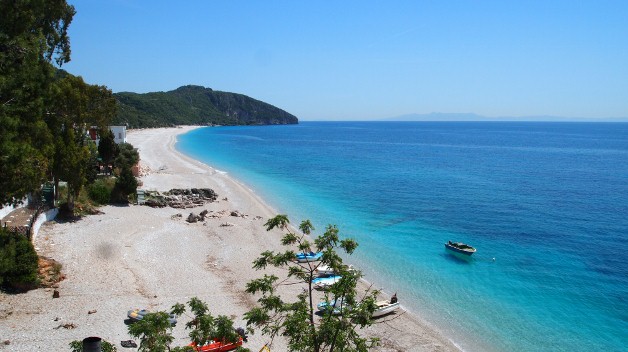 The clear blue water was screaming at us to come and dive.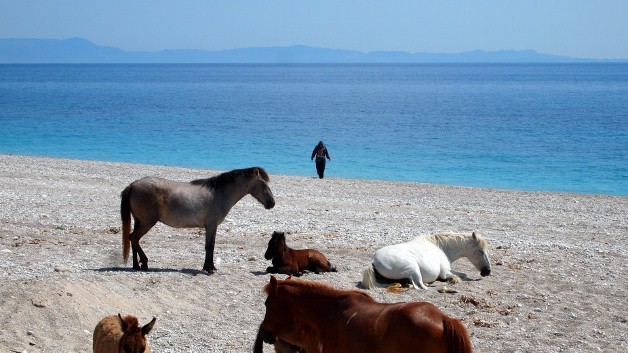 Horses resting.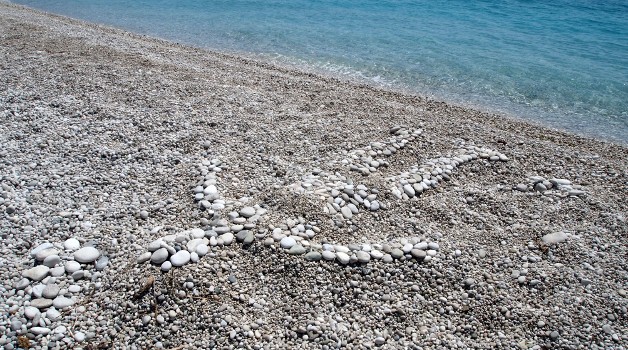 A walk in the pebble beach, the ones I like without getting sand dirty.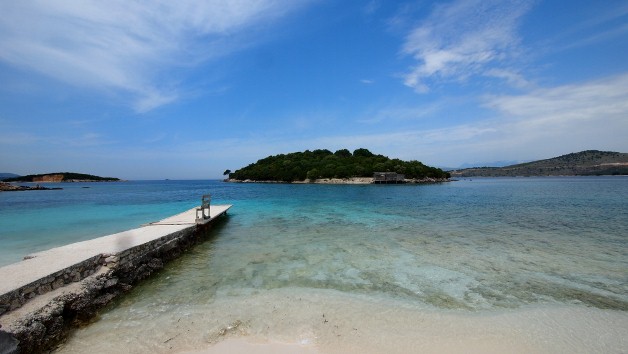 More to the South you do have sand beaches and here you can swim to the Island.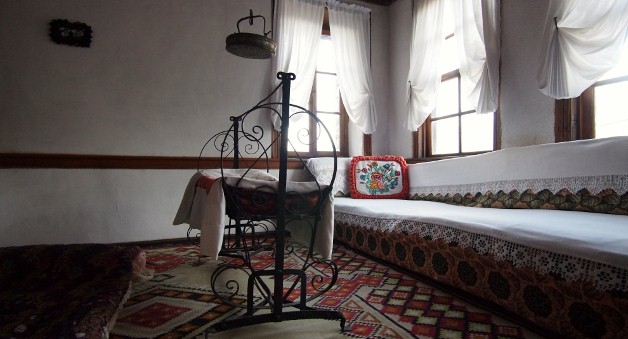 For a baby.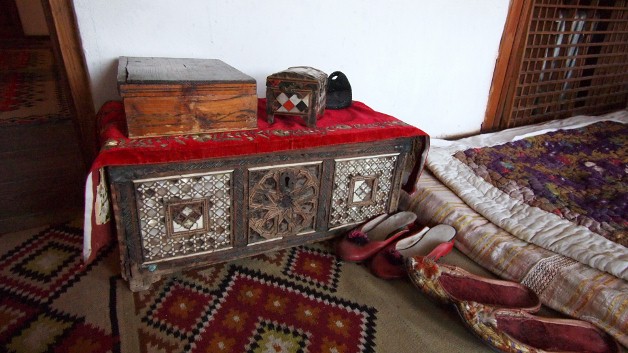 Other detail.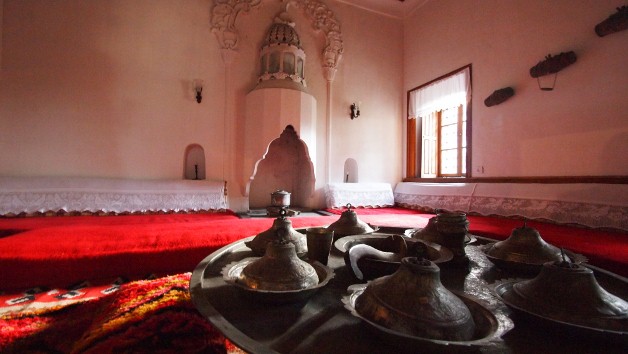 I want a fireplace like this!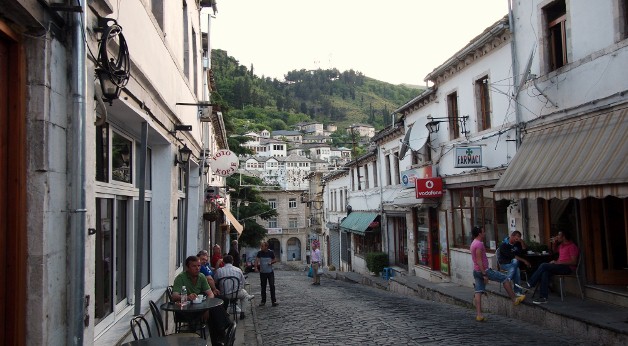 The last stop was Gjrokastra, the second UNESCO heritage city in Albania. A very hilly city. A fomous writer once wrote that you could touch the top of a mosque on one street while walking on another!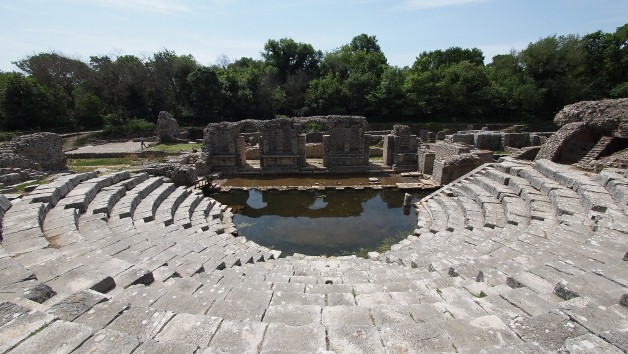 Butrint and Apolonian have ruins from several centuries, I¨m not going to get into the detail, but the best thing of it is walking near them alone.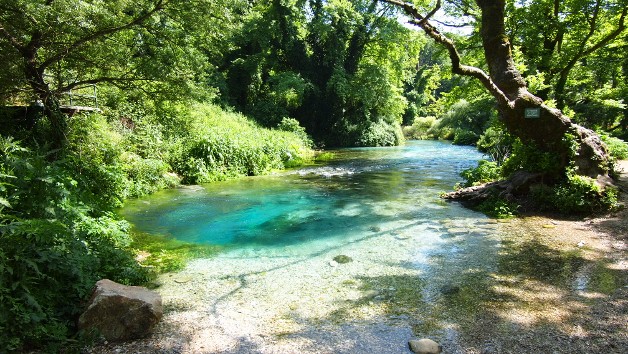 The blue eye. A spring that releases 8 cubic meters of water per second. Restricted to the normal people during communist years.
With this I finish my trip to Albania. I am organising some of my notes and I´ll be back soon.
Fernando