2010
07.04
I slept seven hours in the night bus, so i was ready for an intense day in Ephesus. As i didn't wanted to miss anything I got an organized tour. The first surprise: I had a guide that talked in English, well, he was Spanish. There were also an Argentinean couple in the bus that we became friendly with. The two Korean girls seem like they didn't have much fun in their English tour.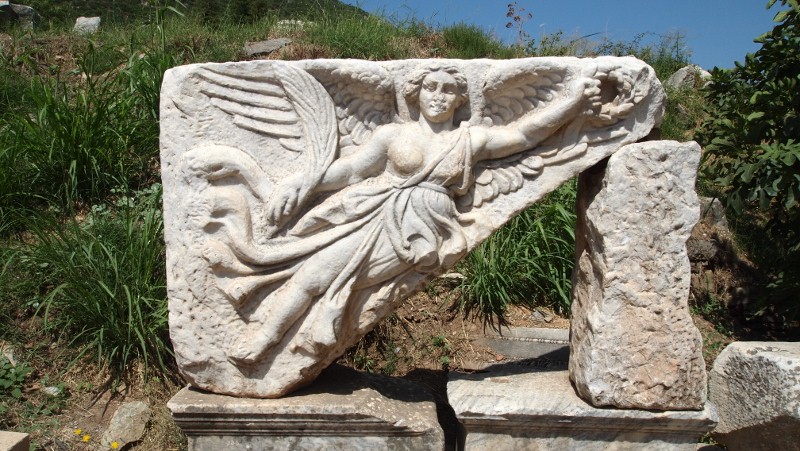 About Ephesus I'm not going to tell you much as Wikipedia tells it better than me.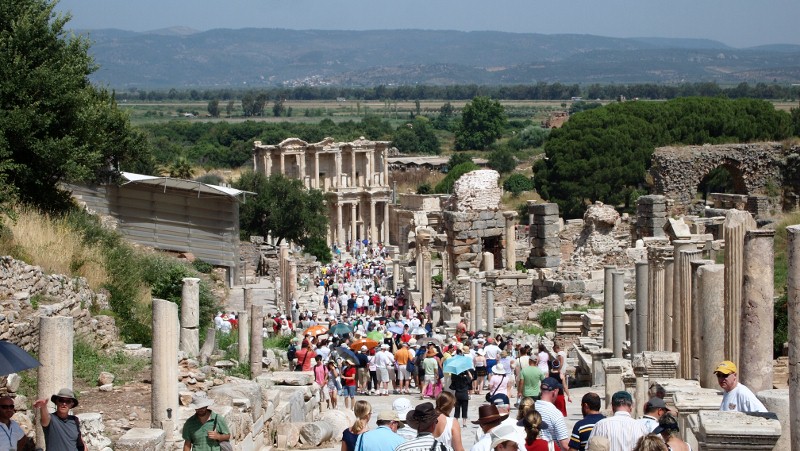 Cruise: noun. Big boat that has the skill of instantly filling up any monument with en enormous amount of people. In the background the remains of the library.
The most interesting thing about this area of Turkey is the Roman and Greek past. The Romans can be found in the ruins, the Greek is a bit more hidden. The Greek expansion had a big repercussion in the Mediterranean coast, this was part of Greece so part of the Greek thinking was born here. For example, a bit to the north, in Mileto the philosophers started thinking about the works, the beginning of philosophy, they speculated of what the cosmos consisted this being the first time anyone would think about it and the first time calling it : cosmos. The philosophers were not even thinking about men yet. Tales were from Mileto who created a trigonometric theorem, was also a great philosopher, the first of the seven wise Greeks.
Pergamum library between Mileto and Ephesus grew so much that Egypt prohibited exporting papyrus to it as it was starting to over-shadow it's great libraries and that was a way for them to stop creating books and grow. So Pergamum had to develop their own form of writing material, creating something similar to current books and not being rolled as papyrus.
Thoughts are more dangerous than armies that's why I've gone through so many burned libraries, from Sarajevo to Alexandria and now here, also Ephesus library was destroyed. As the book about Greece and Turkey I'm reading says( Ulysses Heart from Javier Reverte), 'Burning books is as old a sport as writing them'.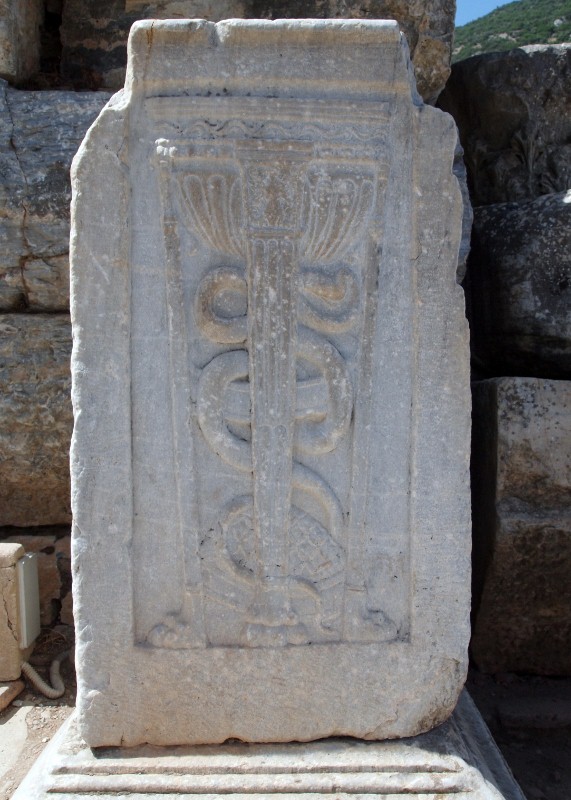 Doesn't it remind you to the pharmacy symbol? Yes, it comes from here.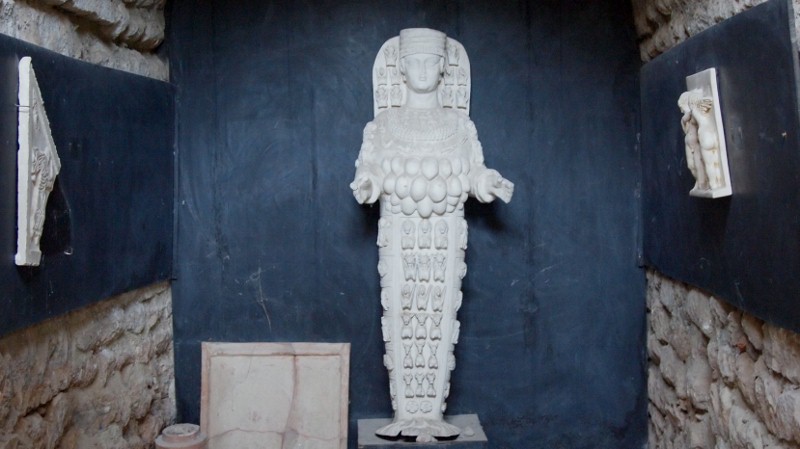 Artemisa´s statue hidden in a room. Don´t know why they hide one of the best sculptures they had. My guide pointed it to me.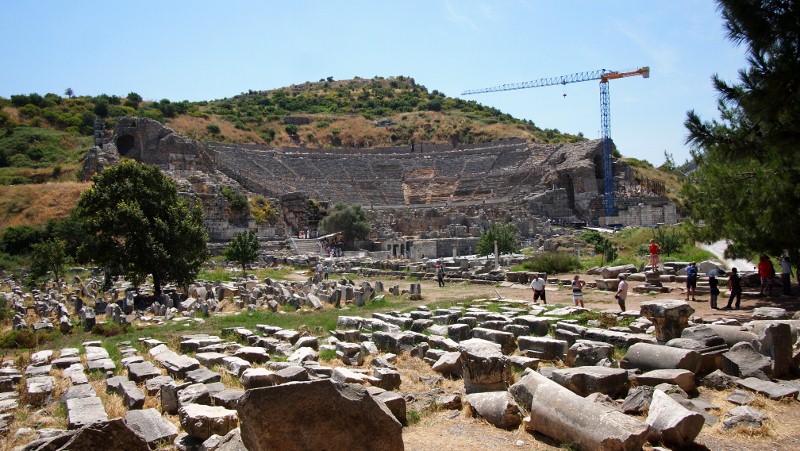 The amphy theatre.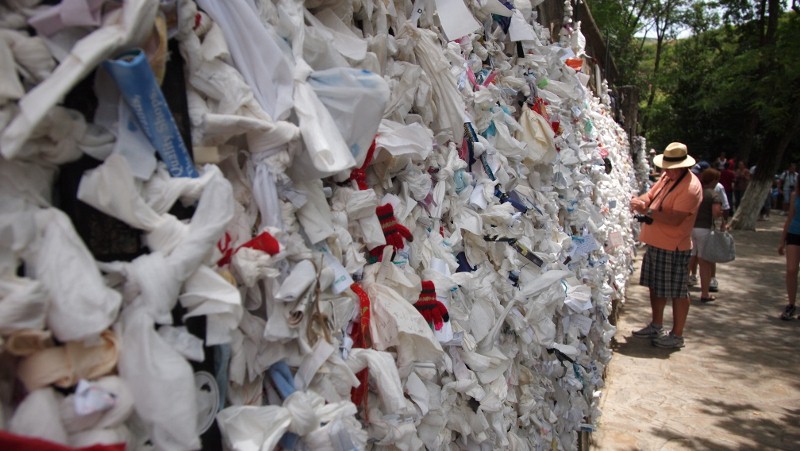 We went to visit the place where virgin Mary was supposed to die. It was discovered by the dream of a nun. On the wall you can see the papers of people that 'make a wish'… I mean… ask for something.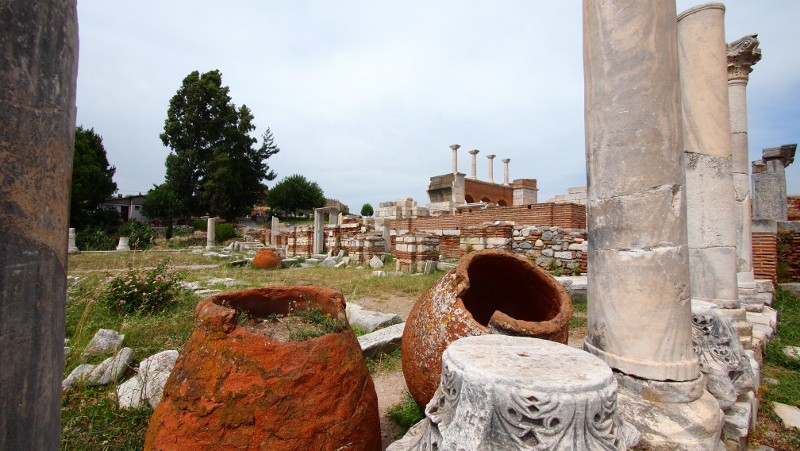 Ruins of San Joan monastery, the Artemisa sanctuary was destroyed and there's only one column left, when it was built it was one of the seven wonders of the ancient world.
If you want guides around Turkey, Andrés and Derya know everything, Derya is Turk and talks English and Spanish perfectly, she´s an official guide in French and Rumanian. Here are their mails in case you want a tailored trip with them, around turkey or just Ephesus. They know someone may call, they've got the mail from here. dibiri@hotmail.com and a_velmon@hotmail.com.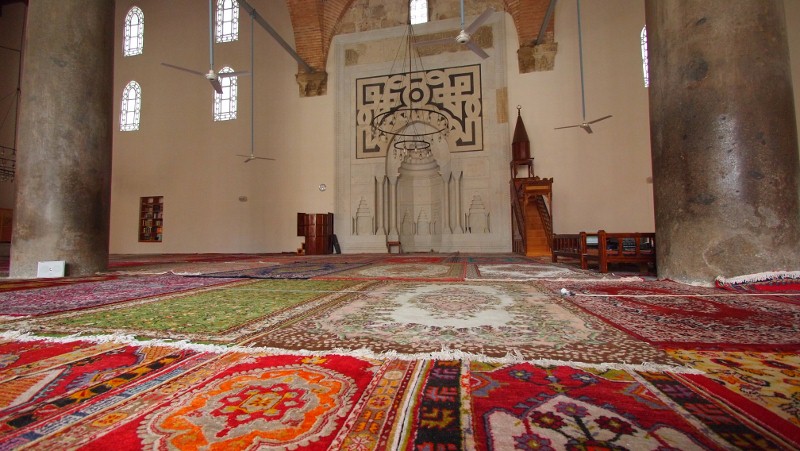 Isa Bey Camii mosque. Normally mosques have a big carpet that covers all the floor, here rugs are donated, much more cozy, some of them are really elaborated ones.
The tour finished and as good Spaniards and not knowing very well how we ended up having a beer. Cristina and Isabel had to wait to go to the airport and we were having a chat in a bar in the seaside.
A beer, let's go to the bar of a friend, why don't we have a swim in the pool at home? Spain this and that, why don't I get some Spanish jamón with water melon(typical Spanish summer dish)… astonishing! Spanish ham, so good!!! Andres was cold turkey of Spanish blood and me, without knowing it too. A little reminiscence of Spain with a beer, jamón and laughs. Like an episode of "Spaniards around the world"(a Spanish TV show that goes to different countries to meet Spanish expats). Andrés, two years in Kudasai, tourist guide, he's got breakfast with a ColaCao(Spanish brand of cacao for breakfast) on the table and watches TVE International, the Spanish TV, so he's updated on what's going on in Spain.
I met some of his friends, he talked to me about his job and the relationships with Turks, we compared the food, the customs, the bards, we talked about Madrid… the night became long. In the background "Faithless" music was pumping, I asked for something fast, after the night bus and the long day I needed some energy.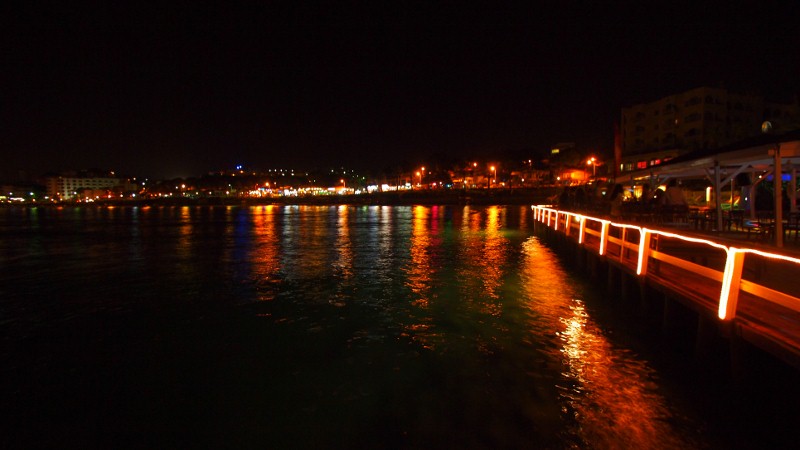 Ladies beach at night. An english quarter.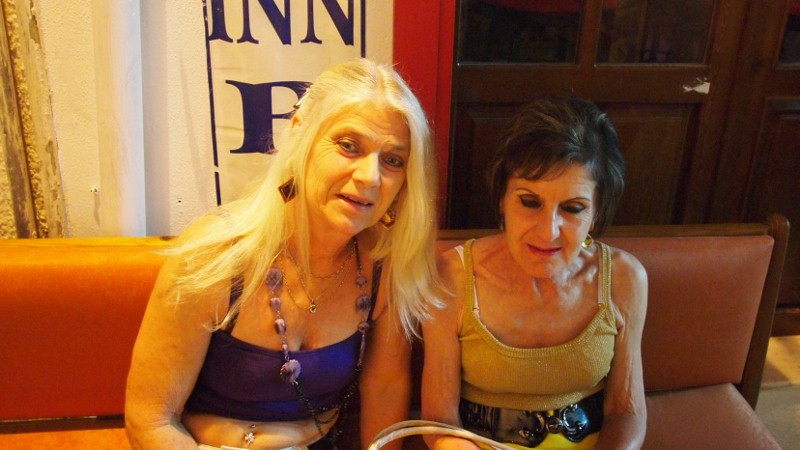 Andrés showed me all the bars in town, a much bigger variety than what I could imagine. The most extreme for me was seeing the bars where English ladies around 70, dressed as if they where 14(in England when they are 14 they already wear heels, mini-skirts and make up…) went to experiment what Andres called "Turk passion", and I think it may be as an exchange of some liras…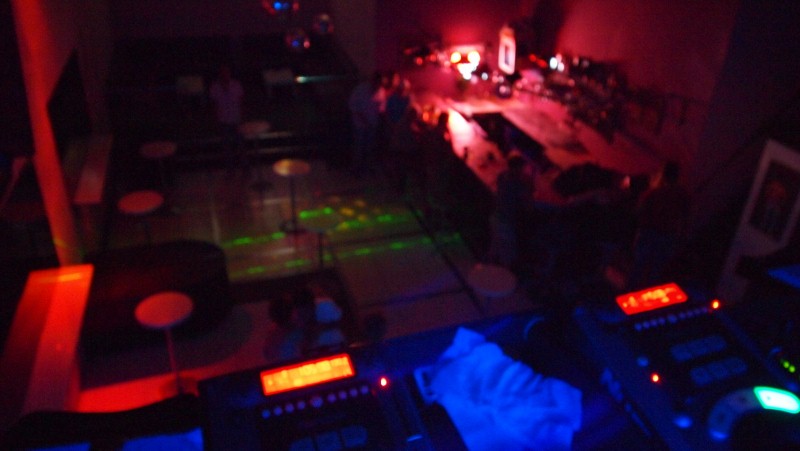 DJ Box.
I'm curious to see how was it for Cristian and Isa. They were going to be 3 days in Madrid before going back to Buenos Aires. They want to eat well so I made some recommendations that they didn't know about.
– They wanted Spanish ham so I sent them to eat Joselito ham to "Sula" in Jorge Juan street.
– They wanted Tapas so I sent them to the most curious tapas in "la Gabinoteca" from the same people as "Las tortilla de Gabino".
– They wanted Japanese so I sent them to "Kabuki".
– To send them to something intermediate between Asian and Mediterranean, I sent them to "Nodo", already a classic that in summer they have a fabulous terrace. Mmmmm that pork ear dim sum is one of the rarest and best things you can eat.
– And even they didn't ask for anything like this I told them to go at night to "Pan de Lujo" asking for a table next to the window, a real lux.
I hope he sends me an e-mail and tell me if he's liked the places
Next visit Pamukkale.
Fernando