2010
10.14
A passport shouldn't be divided into two pieces. It's not been built for it. In page six of my passport is says: "It will be null every passport that shows alterations or amended, or with lack of pages…".
Imagine my face when I open the passport reserved pocket of my bag, I see the cover covering nothing and the page next to it. My most precious belonging, most cared than any thing else… in my bag.
I recover from the facia paralysis to say. Crap! I'm about to go to the Chinese embassy. I got the Uzbek passport in just five minutes so want to get also the Chinese visa as I have time.
I know that so many countries and visas are a mess, so here is a summary. The countries are in the order of how I'm going.
Turkmenistan: I'll be given it at the border, I have the papers ready.
Uzbekistan: got it in Tehran in five minutes because I had a letter of invitation(this is not that someone appreciates you a lot and invites you to his country. It's an official paper that agencies ask the government before you pay them 30 Euros).
Kyrgyzstan: I want to get it once in Uzbekistan.
China: I hope to get it here in Teheran, if not I'll get it in Kyrgyzstan.
I tried to get the Chinese visa in Damascus as I had some time there. It was impossible, they asked me about plane tickets to get in and out of the country, hotel reservations for my whole stay, 5000 dollars in a Chinese bank account and a residence permit for Syria. So I left it for later, the closer you get to a country the easier it usually is to get the visa.
¡Crap! My passport is broken, just came back to my mind. Supposedly I can't travel. I have two options:
Wait three weeks for the Spanish embassy to make me a new one. I don't know how it works, but probably the visas I have in the broken passport would be null.
Buy glue.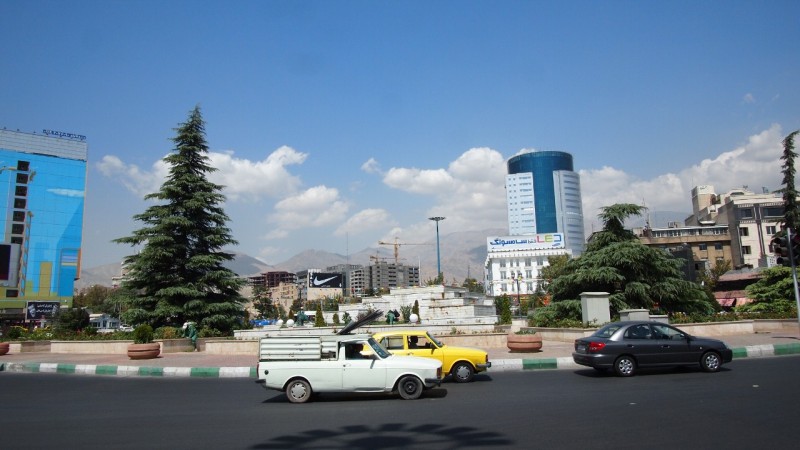 A picture of Tehran with the mountains in the back.
This days in Tehran I've been in Ferran's house, the Spaniard I met in Georgia. It's a total pleasure to be in a place with a fridge in which I can eat salads and greens. While travelling it is not easy to eat in a healthy way so I take advantage now to eat green. For more luck, Ferran likes cooking and eats great, with spices as he likes Indian food a lot. I can't ask for more. Iranian hospitality Spanish style or Spanish hospitality Iranian stile. I'm better than in a five star hotel.
Ferran works in the university giving Catalan(the language spoken in Barcelona region)… yes, Catalan lessons. For me at the beginning it was surprising. Who'll want to learn Catalan in Tehran? But for linguists it's interesting, it's another Latin language and they don't see learning a language as something purely practical. Before coming to Tehran he spent five years in Moscow doing the same.
Something I miss, while travelling alone, is laughing. I have a good time, I do laugh with people, but it's not that laughing hard that you only have with friends, so these days have been more fun than normally in that way. Ferran is a peculiar guy and we've match well. For you to get an idea of how he is I'm going to tell you something about his nephew, and I think they must be similar. One day, when he was four, he told his mother that he wanted to die and be reborn as a panda bear. His mother, as stunned as scared, told him that he couldn't choose how to be reborn and that maybe he'd be reborn as a worm. So the kid spent three days dragging himself on the ground saying "I'm a worm, I'm a worm". I can imagine him in the hall!. Moreover, what kid has black as his favourite colour?
During the last two weeks I've seen a lot of people with a band aid on their noses, a lot. It's the fashion here, some even have a bigger thing covering their noses. Yes, they've got a nose job and, to make it clear they've done it, they go out to the street with the band aid on, every day I see some. I think that men don't pay that much attention on women's nose… but I may be wrong. Also guys have the band aid here.
After the run over I'm fine, the knees hurt a bit, mainly the right one, but I can do all the movements, I think the pain comes from the impact, not from a twist.
One of this days having a walk a man came to me.
– Hello.
– Hello.
– Do you have some time to talk?
– Yes, of course.
[After exchanging names, nationality and the question if I've liked the country].
– I think Europe has a problem. [I like the question so much adoring of the west sometimes annoyes me a bit]
– Which one is it?
– Europe has a problem with sex. I have satellite at home [banned in theory] and there are a lot of porn channels, hundreds [I don't know how they do it but they have over 1400 channels].
– Aha
– And this is bad.
– Well, if you don't want, you just don't play them.
– But them are too many, in Europe there is a problem.
– Well, if someone spends four hours a day watching porn, I agree that he's got a problem.
– It's a problem in society, because it's wrong.
– I don't see it such as a big problem, who wants to see them can see them.
[This part of the conversation got stuck a bit as he couldn't explain very well what "problem" meant to him].
– If you see a boy and a girl kissing in a car, what do you think?
– I don't really care, it's something that concerns them, hope they enjoy it.
– But it's wrong.
– Why? If you don't want to see them, don't look and that's it.
– But you don't think it's wrong?
– If both agree on kissing [I think he meant more than kissing] and is what they want. I don't see evil on it. If every day they are with a different person, maybe they end up with a big mess on their heads, but initially it's their problem.
[The conversation became a bit boring, we've been talking 45 minutes and I'm becoming bored. Just when I'm about to leave]
– What do I have to do to kiss a foreign girl?
– Sorry!?!?!
– Yes, if I want to kiss a foreign girl, what do I have to do?
– … I don't know, there is not a set rule [What can I tell this guy?], You, at least, will have to ask her…
– And if I want to have sexual relations with her, What do I say? Can I have a sexual relation with you?
– [What can I tell him?] If you do that you won't get laid and probably you'll have a slap on your face. Pretend being nice, take them to see the city, buy an ice-cream, and if it works out… it is something that depends on the moment [in fact the guy is uglish and I don't think he'll be very lucky with the blonde Germans he likes]
– After the ice-cream can I ask them If I can have sexual relations with them?
[I think I'm not very good giving flirting advice so I move to something where I have more interest]
– So you are telling me that Europe has a problem with sex and you want to have sex with foreign girls [because you think it is going to be easier] not getting married and with no feeling at all?
– …
–  [I want to know more] Have you ever got into bed with a girl?
– Yes.
– That means more than one?
– Yes.
– Not being married.
– But I try not to do it, I try to be strong against myself for not doing it, because it's bad.
[It's becoming late, there's nobody in the streets and I want to sleep. We say good bye, he thanks me for the open and honest conversation, I also tell him thanks it's been interesting and fun, today i've really laugh].
It must be difficult to live in this society. On one side you have the religion saying one thing, supported by the government and part of society. On the other side is what you feel or want, an on other one the bombing of western television on the "non-existing" satellite. The "cool", is the western, life style, the dressing style, the parties of the MTV videos. But, even being the "cool" here things can't be like that.
No alcohol, but you can find all kinds of non alcocholic bears, even with pear taste.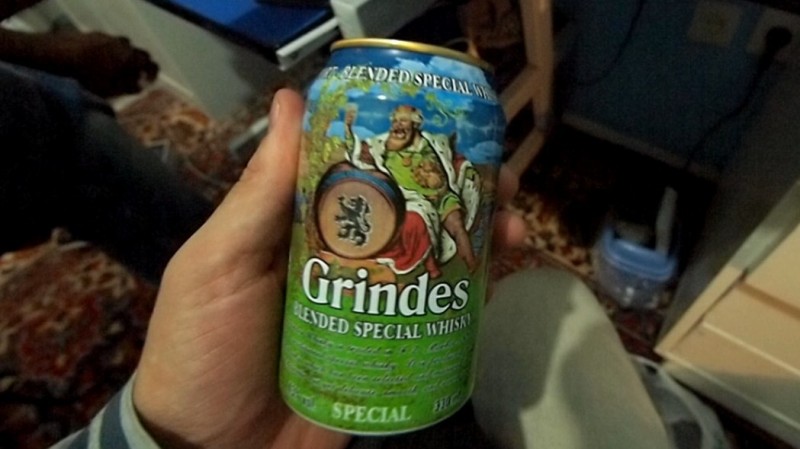 Ilegal alcochol, I don´t want to imagine how bad it has to be.

Being conservative is also difficult, moreover for youngsters. Not always you can say openly that what you see on MTV you don't like. It can't be that you don't like the "cool", you have to be a bit of a rebel and drink in private parties. The ones that have money go on holidays to Dubai to drink whisky, And if you don't like drinking whisky because you are Muslim and you believe in it? The society is divided, what to do? Can't you be conservative? It's not fair either.
In this kind of regime seems that, if you agree with the government, live in paradise, but here the ones that agree have their problems also.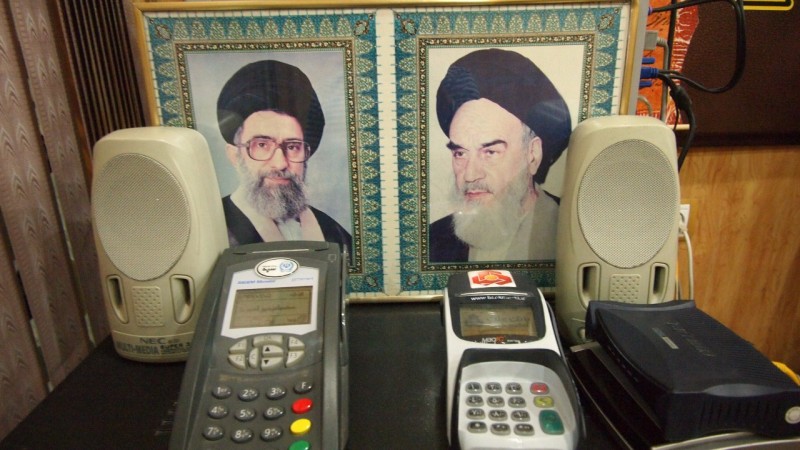 In Iran the political system is different from anywhere else, it´s a theocratical republic. There is a religious power that controls the political power. A political party or a candidate can't get into the elections unless it's approved. The pictures of the two main leaders are everywhere.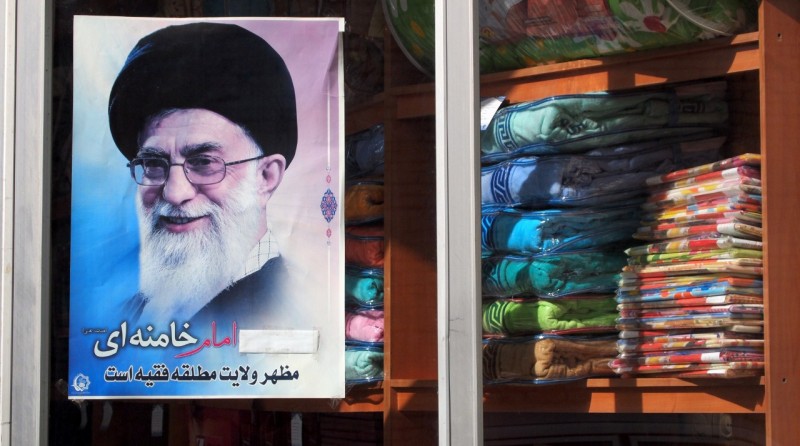 Ahmadineyad is sometimes in the pictures as well, but a lot less. Do they put the pictures because they like them? Do they put them to pretend they like them?
I hope the glue lasts the activity inside the Chinese Embassy. The idea of having a possible illegal passport stresses me a little bit. I'm scared of having it damaged inside the embassy or as I cross the border.
See you soon.
Fernando