2010
03.10
I have found Venice absolutely impressive, it´s an extravagant city, it does not make sense to be constructed as it is but this is what makes it so special. The simplicity arriving to the train station is different to any other. During the last minutes you can only see water on both sides of the railway, once in the station instead of seeing the buses and taxis ready to take you to your hotel, you just find a channel and a bridge. In the channel you get the vaporetto (public transport boats) that takes you to your hotel, and that's how you spend your time in Venice, with no cars, lights or traffic.
With Venice I'm in the same situation as in Rome, doesn´t make sense to compile a list of the monuments and their history, National Geographic has alreado done so and for sure much better than me. However, but this time it is special. I´m going to show you the pictures as to how I saw Venice!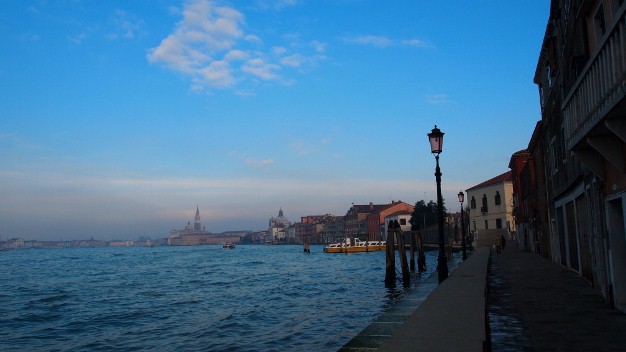 My first hours in Venice were absolutely special. Knowing that Venice would be incredible what I saw enveloped me, as I walked the streets nearly in ecstasy. There was beautiful light and I was there, taking my time to look at everything and being impressed by each channel, bridge and corner. An hours walk became four hours.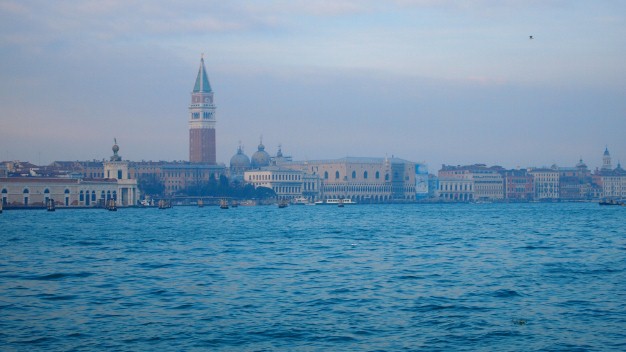 My accommodation was in La Giudecca island, in front of San Marks just two stops by vaporetto.
It doesn't matter whether you look into a small channel or a big one, you'll always be looking into something beautiful.
My place, an old restored wheat storehouse.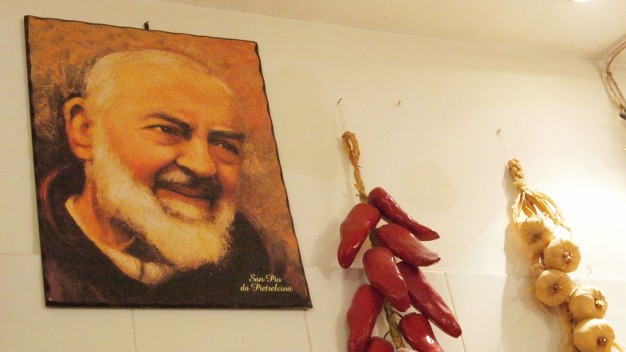 Padre Pio is present all over Italy. I find his innocent boy's face funny.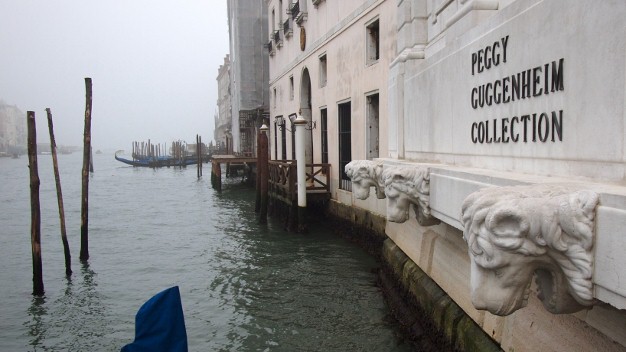 Peggy Guggenheim museum, a treasure full of XX century art. In the entrance there is a hunging Calder Mobile. You also find a sculpture garden and pictures Braque, Picasso, Dalí, Miró, Klee, Giacometti and Kandinsky amongst others.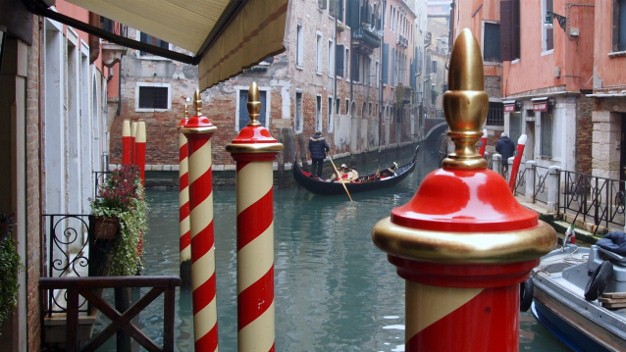 The gondolas and their tourists. During the XVI century there were 10.000 of them.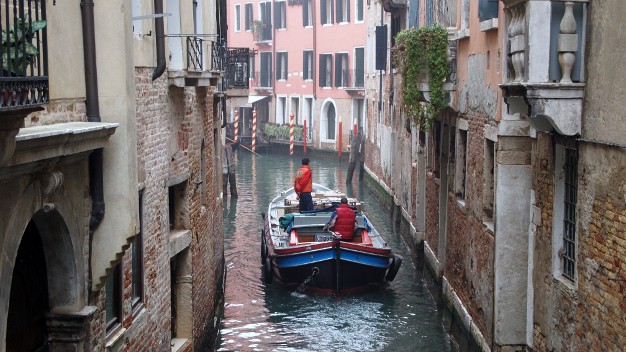 Everything goes on in the channels, there's always boats moving all kind of things, from one place to another.
There was fog for two days and instead of spoiling the views it gave Venice a mystic feeling.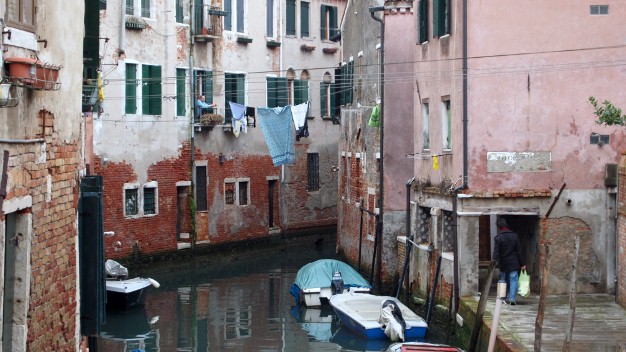 Out of Saint Marks surroundings normal life continues, people with grocery shops, or hanging out the clothes. Normally dropping a garment when you are hanging is a pain, but inVenice it must be worse.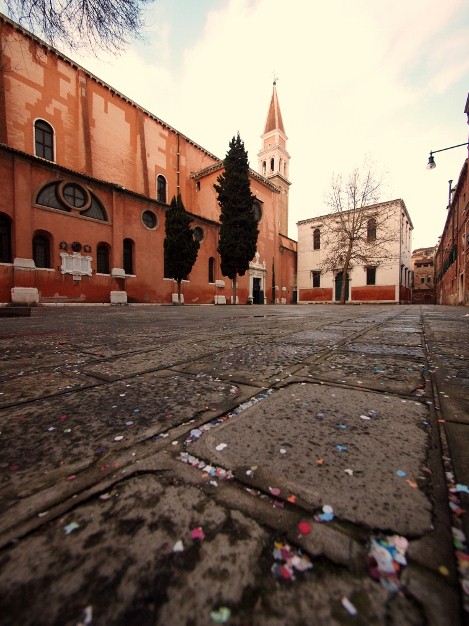 Carnival flowers left over from a few days before.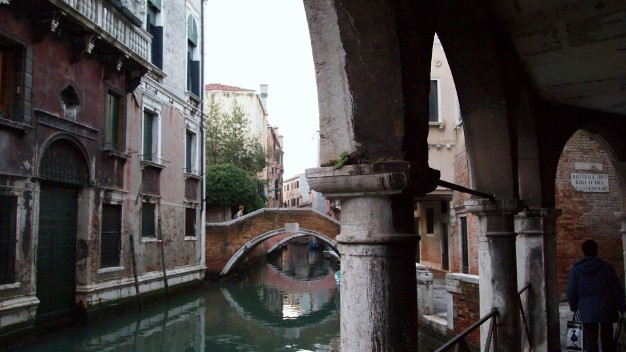 It´s full of colonnaded streets that inter-twine with bridges. Faith in the map is needed, believe it and keep going to that alley that looks like a dead end.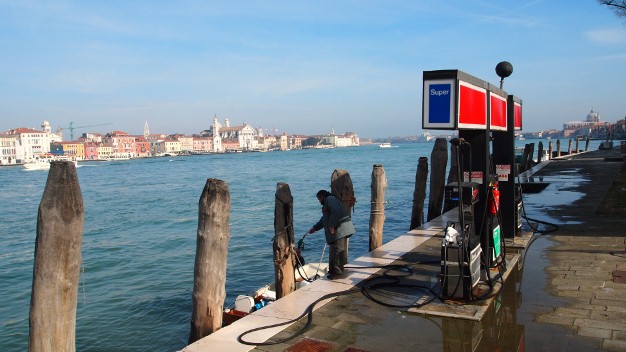 Getting fuel in La Giudecca island.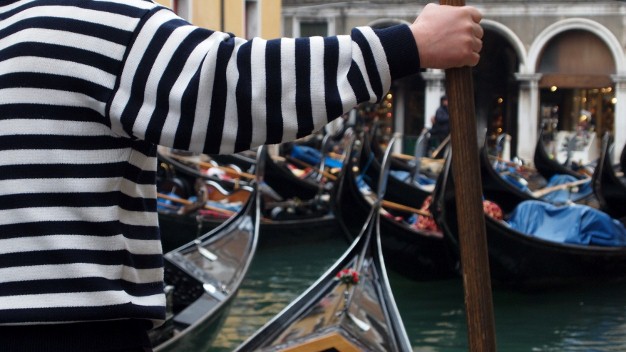 Specially during weekends the aquatic-squares become full of gondolas waiting for their  tourists.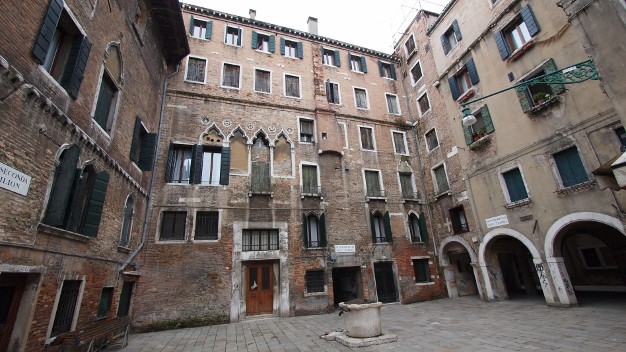 Supposedly Marco Poló´s house. Marco Polo also gives the name to the airport and to a travelling magazine. Surprisingly there´s not a museum dedicated to him.
With Marco polo I have to stop for a while as he is an important character on my trip. From all the Silk route explorers during the later centuries he's the most famous. His stories have influenced generations to this day, but maybe one of the biggest to be inspired was Christopher Columbus as he wanted to visit the places written about in Marco Polo's book, The Book of Wonders. It was found in his belongings with annotations, he wrote it during his 1492 trip. Maybe if Marco Polo hadn't gone to Asia and wrote the book Columbus wouldn't have discovered America at that time and current history would be different.
Marco Polo was not the first European to reach Central Asia oe China, however he was the first to document it and the first one that made Europe aware of what Asia was, he even had the first mention of Japan(in the Chinese name Zipang or Cipango) in western literature. Marco Polo's father was called Nicolo and was an important Venetian merchant. During this time Asian product arrived to Europe via the middle east countries. They were the middle-men and were Muslims. Venice and other ports received the goods to re-sell them around Europe making a lot of money. They became wealthy and important places so they started more aggressive merchant strategies exploring the routes to avoid the middle-men along way.
In 1255 Nicolo went to Asia with his brother(Marco Polo's uncle) Maffeo. On their ways they met Kublai Khan (Ghengis Khan, the Mongol emperor unifier that I'll talk about in detail in the future as he's a reference in the silk road). Kublai Khan was very interested in the political and economical management of Europe as well as in religion so he ordered Nicolo and Maffeo as his ambassadors to go to the pope and give him a letter to have him send 100 educated people from the seven arts (grammar,  hetoric, logic, geometry, arithmetic, music and astronomy) so he could compare his religion and see which was right (wise and open minded the Khan).
When Marco Polo's dad came back to Venice to fulfill his mission Marco Polo was 17 so he decided to bring him to China on his second trip. The came back 24 years later after 24.000 kilometers, something hugely impressive for the time.
When he was back he participated in a battle with Geneva (a commercial rival at that time), he was captured and put into jail. Here he dictated to his jail mate his adventures around central Asia and China creating the book "The Travels of Marco Polo" also called 'The Book of Wonders'
During the 24 years he served Kublai Khan as ambassador getting to know Chinese culture which was more developed then European culture in many aspects. Currently there's a big controversy about his story and about the truthfulness of what
Marco Polo tells. He forgets to relate some important facts of the time about the Chinese empire, such as the creation of the great wall. It's been demonstrated also that on occasions he forgets to explain the most important economical activity of a place where he stayed for a while or to gives just a vague explanation about certain areas. A point that would solve the issue of whether Marco Polo was telling the truth is the Chinese documentation of the time, as it was very detailed. Here the expert's don't finally agree either. Some say that his name is not mentioned which would be nearly impossible as he was a foreign ambassador. Other expert says he appears as Po-Lo. It's quite possible as well that Marco Polo relates stories he has heard from other people and claims to have seen or done these things himself.
Even when he was about to die his family tried to get the truth from Marco polo and he insisted he was telling the truth and added "I've just told half of what I saw". Regardless of the truth, Marco Polo had to be an incredibly charismatic and special person, he made a trip that even now is complicated. In truth other explorers had similar adventures but they didn't have the "luck" of being in jail for months dictating their stories plus having a father and an uncle that had already gone half the way, maybe they are the real explorers. Anyway history regards Marco Polo as one of the biggest explorers and he deservers this fame.
As a curiosity the most complete version of the multiple versions of Marco Polo´s book was found in the library of Toledo's Cathedral in Spain in 1932.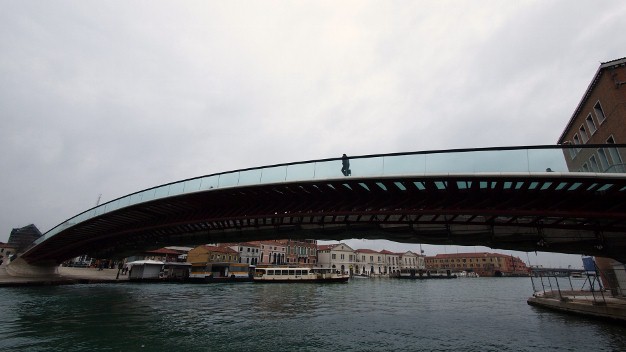 Seeing the bridge would be difficult to guess who designed it and it´s because Calatrava this time didn´t do a white bridge with a spine and cables holding it. I can imagine that for an architect characterized for doing bridges, doing one in Venice, must make him very proud.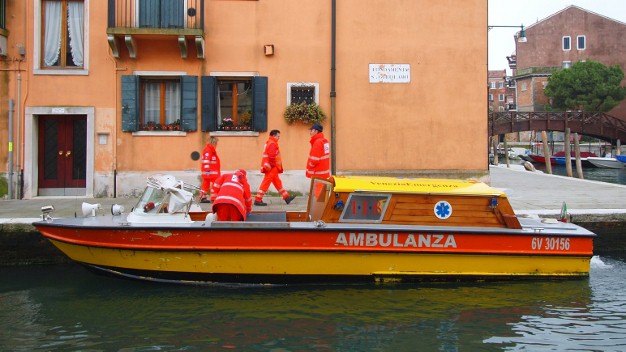 All goes on around the channels.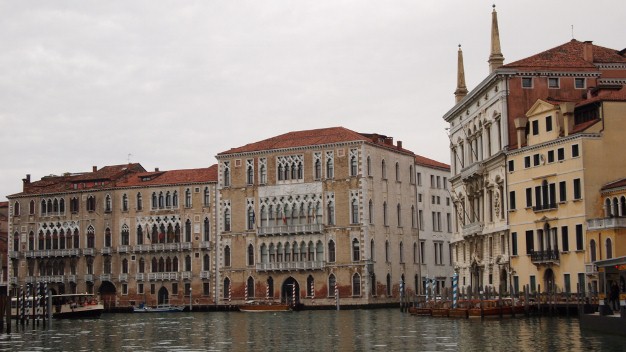 Moving around in a vaportto is a joy and some times the only way to see some of the palaces.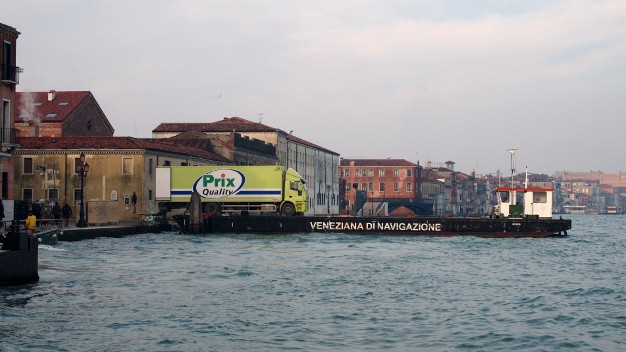 Why unload the goods from the boat and then load the supermarket?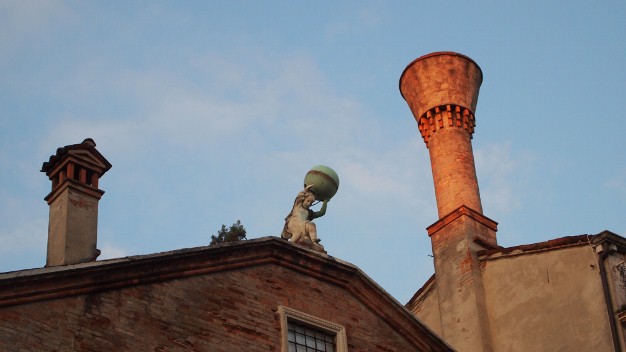 Anywhere you look there´s detail.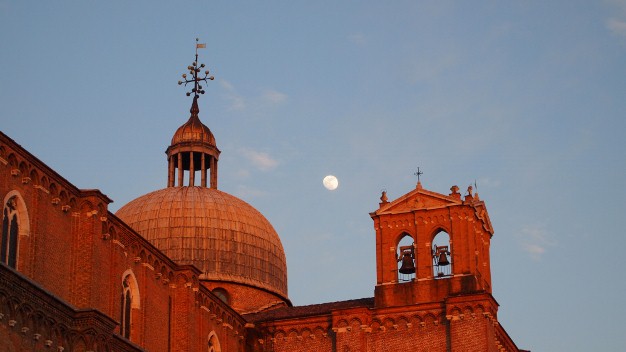 Will soon tell you what the moon brought.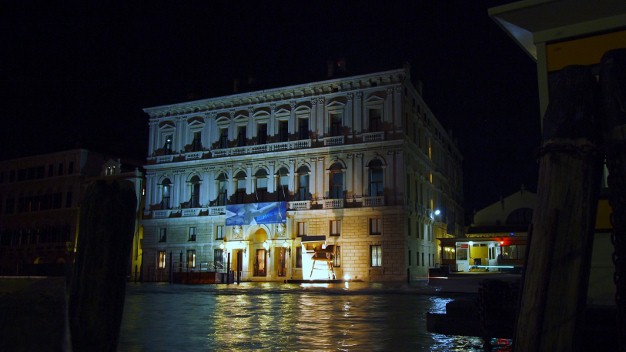 This palace is illuminated from under water so when the waves go over the lights it gives a beautiful moving light. I also got in in video to get the effect.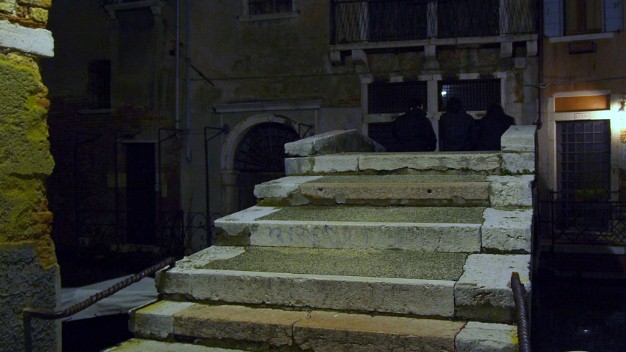 Long ago used to be a lot of bridges with no handrails, this is the only one left out of more than 400. It´s in the corner of Fondamenta di San Felice and Fondamenta della Misericordia. It´s a dead end.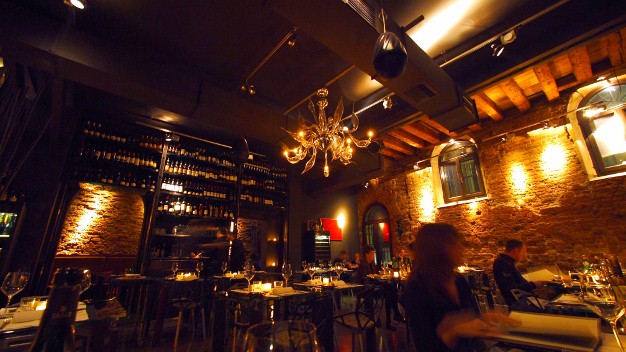 I liked Venice so much that I wanted to say good bye in a special way, so I searched for a marvelous restaurant. The story of how by mistake I was invited to an 80 euro bottle of wine and only paying €26 is long…. So I had an even better dinner than what I expected.
I stayed two days more days than I had planned, but for an unexpected reason, one of those things you don't see that easily. I'll tell you soon in a video!
Fernando