2010
03.17
The car rental company owner was a fan of Spain, he liked Almodóvar, Bigas Luna, Azucar Moreno and El Duo Dinámico, what an image of Spain he may have!!! It was fun talking with him, he even knew sentences of films and pieces of Lyrics, a fan.
He rented me the cheapest car in town 35 Euro picking you up at home. I'm driving again much sooner than what I expected, It's good, I feel like driving. Being such a tiny country in a day you can even go to the most remote place or even being close to cross to Germany by mistake…
My first stop was the Julian Alps, named by Julius Caesar when he conquered them over 2.000 years ago. This was fundamental to the roman empire commerce as during the time most of it was done by land and this opened the routes to the east which was incredibly important for the silk commerce, the roman empire achieved a great deal of richness due to this successful time of commerce.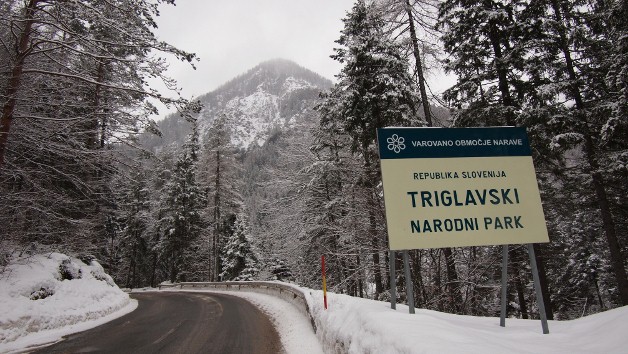 This is Triglav national park that surrounds the mountain with the same name(the highest in the country at 2854 meters), I don't stop seeing snow and busy forests. It's probably here where all those bears are living!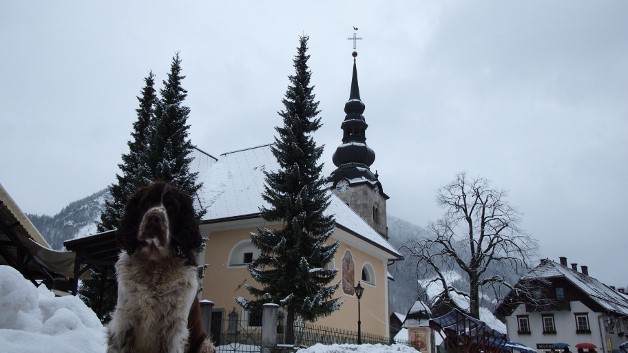 The snow doesn't't let me go through Trbiž pass to the Soca river but I don't mind too much, there are things I want to see in this area. I stopped by this ski resort on the way, there were many. The dog ran away, he may be shy about having his photograph taken.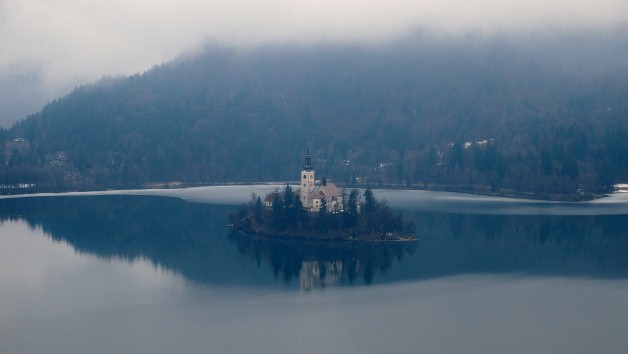 The second stop and the place I wanted to visit the most is Bled village, one place that seems to have been done for postcards. Would be difficult to do it so beautiful on purpose, it has it all, a castle, a lake, an island, a church with a sharp roof and mountains in the background.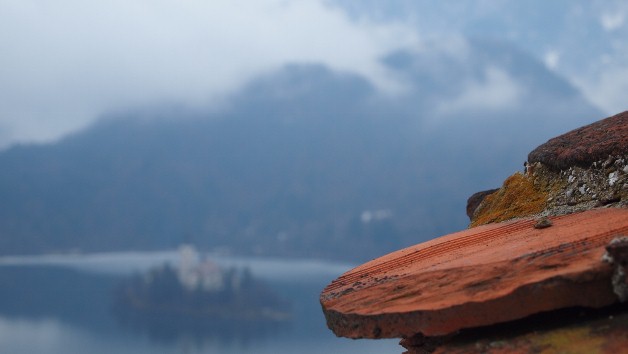 This picture does not really add much, but I like it.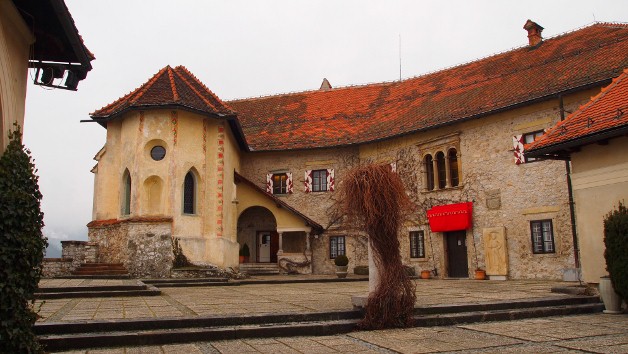 In summer the castle restaurant opens a terrace tha has to be superb! It´s run by the Bled cuisine school in.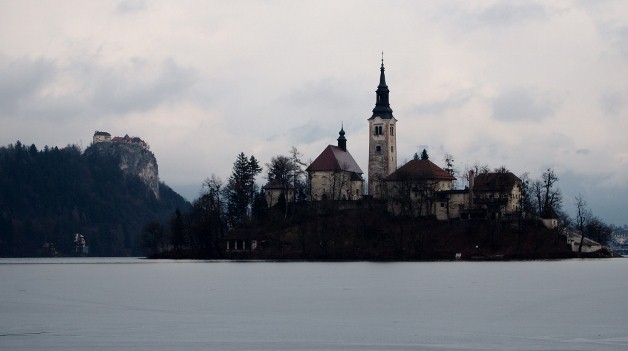 Surrounding the lake and seing the castle in an impossible rock.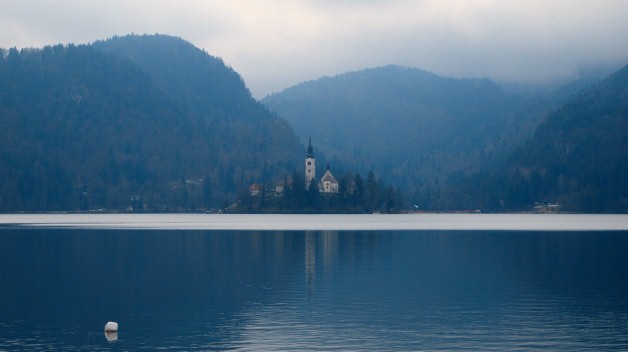 Part of the lake was froze. Nearby Bohim lake offers amazib views as well, i liked it too.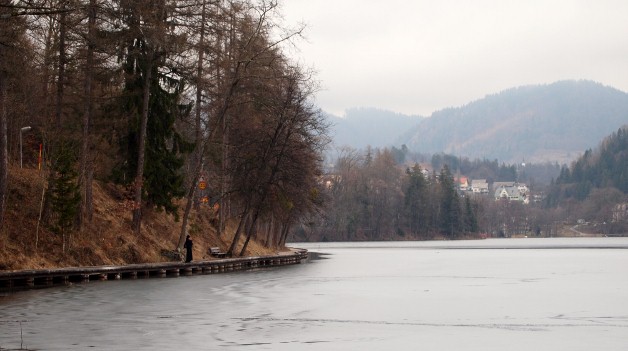 This wooden walk was created in the 18th century and has been maintained since. A peaceful corner in the world.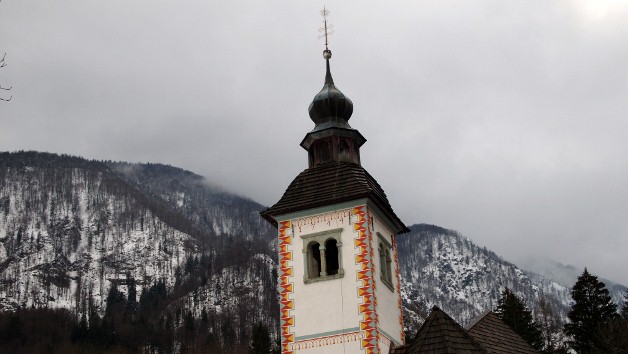 This  is how Slovenian churches are.
Here finishes my short visit to Slovenia, a small country with helpful people and a curious recent history, it was the first country to leave Yugoslavia with a just 10 day war and 66 people dead.
If you want to see magnificent landscapes in a country that is easy to move around, this is the place. Perfect for quiet nature and relax.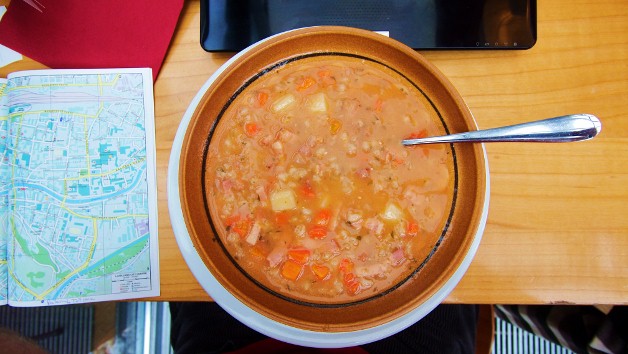 Slovenian stew and how my table looks like normally; map, computer and the guide books. One of the places I had dinner in Ljubljana served me black pudding as part of a traditional assorted dish.
The stew was just 4.20 Euros as Slovenia entered into the Euro in 2007. Before that they had the Tollar for a limited period of time since they left Yugoslavia in 1991. I guess everybody wanted to move to the Euro just to get rid of such a silly name.. Tollar??? Probably a spoonerism of Dollar.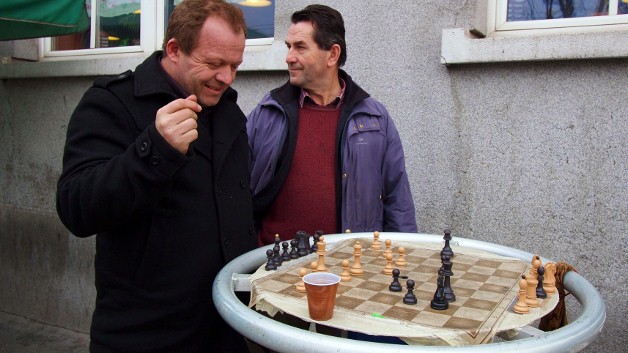 Waiting to get clients in the taxi.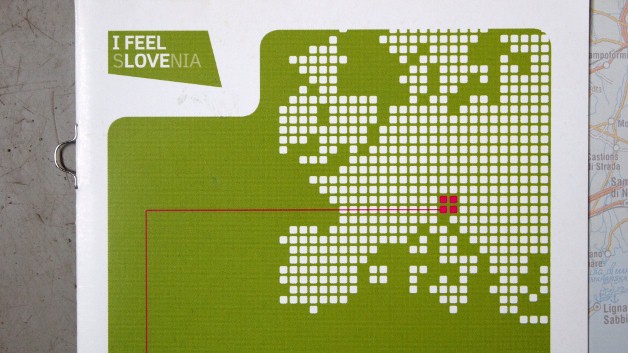 Nice slogan.
So I say goodbye with the phrase Ljubljana's mayor said when they gained independence on June 25th 1991. "Tonight dreams are allowed. Tomorrow is a new day".
Slovenia's video is nearly ready, I'll update as soon as I have it ready.
Fernando