2010
12.22
Silvia left days ago. When she told me about her return trip I asked her to write a post about it. I thought she'd tell me forget about it, but she wrote it. I'm delighted, this time I just have to translate it to English and enjoy the story, moreover she traveled with people that were able to explain to her the ethnical problems in the country, but better if she tells you:
By Silvia Ocaña.
After 15 days in Kyrgyzstan, I have to say I've been surprised by the country. It is one of those countries that when you go, your friends ask you; why are you going?.. There's nothing… The truth is that if you like the outdoors, it is one of the best places to go, people are very kind and warm.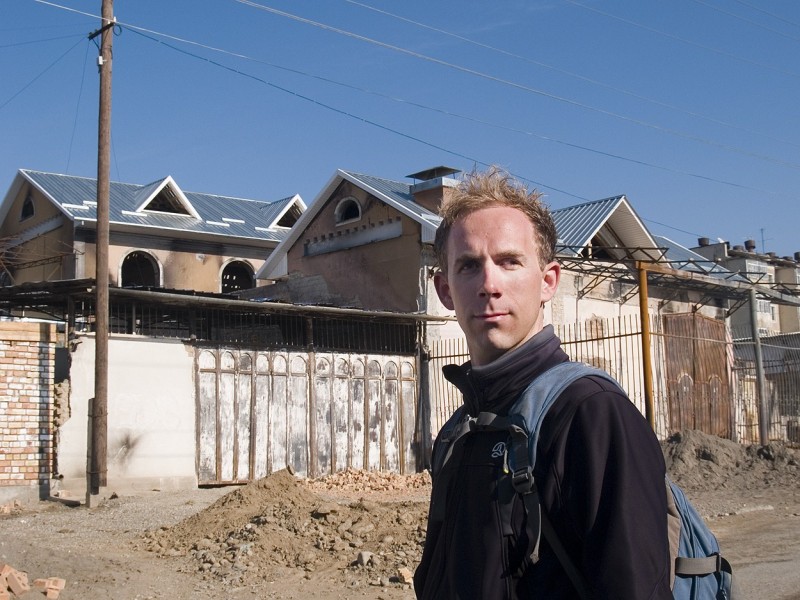 I was traveling with Fer around the country, the last city we visited was Osh. After two days there it was time to split, Fernando was going to China and I had a long stretch of road to get to Bishkek and get my flight back to Spain.
In the morning at 8 a.m. we split in the bazaar that is the place where you take the shared taxis and after the usual bargain they take you where you want. My driver was an energy engineer but as he had no job, was working as driver temporally to make some money. I was sharing the taxi with a guy that never talked so don't know about what he did and another guy that was studding international relationships, and that talked good English. He's the one that became my translator for the trip.
We started the trip, on the way they kept telling me things and asking my opinion about tons of things. Just after we left we went through the neighborhood in which the June problems started, I was told that it was a political thing; the official version is that there was a petrol price rise that was quite high and people went to the streets. As you can imagine that was just an excuse, for them petrol comes up and down every day.
The unofficial version is that when the USSR made the divisions long ago they had not taken ethnic groups into account, and the Uzbek people got between Uzbekistan and Kyrgyzstan, also it seems that even they have a democratic system all the ethnic groups don't have the same weight in decisions on the parliament. In any case for what I've been able to see from people there and the newspaper articles I've been reading is that a group of politicians exalted the thinking with independent ideas arguing that some had more economical power than others, the some are discriminated, etc…
Seems that there was some disturbances on the streets with shootings, raping and attacks to shops and houses. All this finished with a wave of violence and the majority of houses and Uzbek shops were burned down. Some times with people inside and with 200.000 people running away to the Uzbek border (Osh had 300.000 people).
You can still see remains of the disturbances with official and NGOs cars everywhere.
Just after leaving, we stopped for breakfast to start the day well, and for not saying than Central Asians are not hospitality, they invited me for breakfast.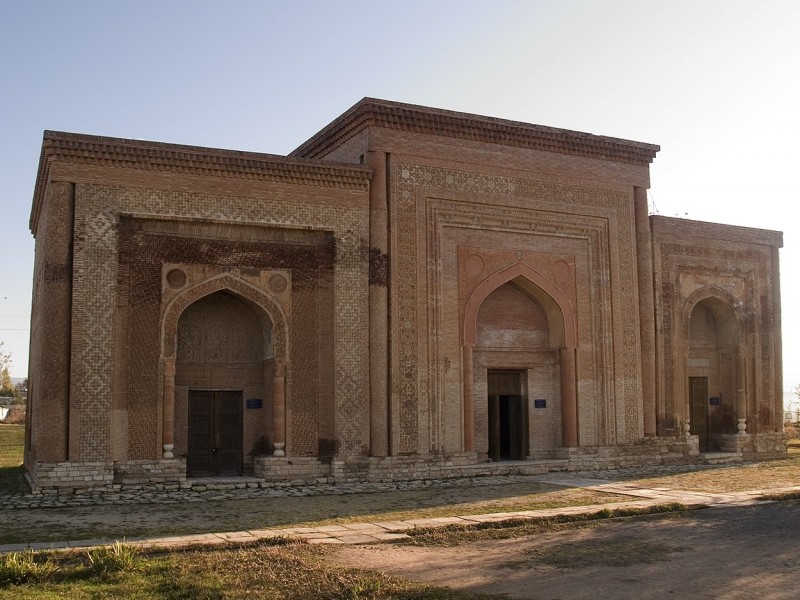 After, we started the journey and stopped in another village to try to get another person into the taxi. I took advantage of this moment to see a 10th century watchtower and a mausoleum, in the picture.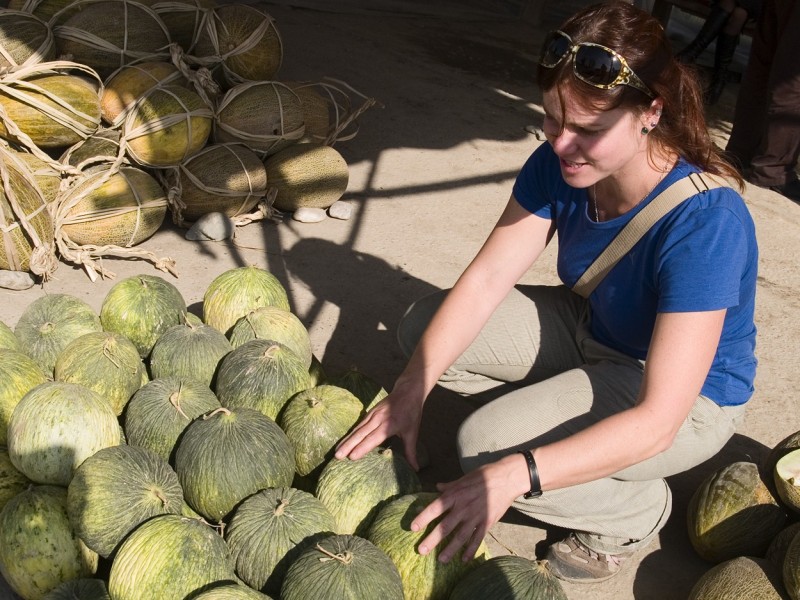 While driving, we saw many stalls on the road, most of them with fruit.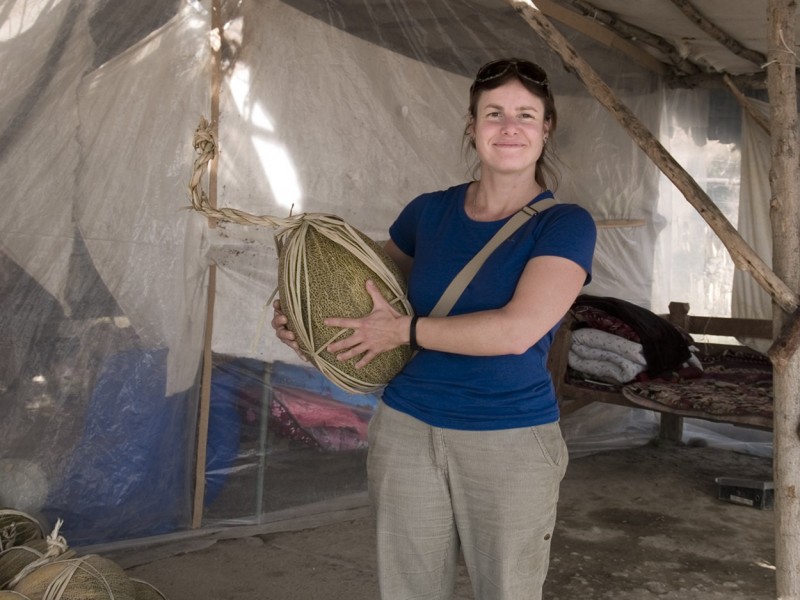 The best ones were the ones with huge watermelons, some of the biggest I have ever seen!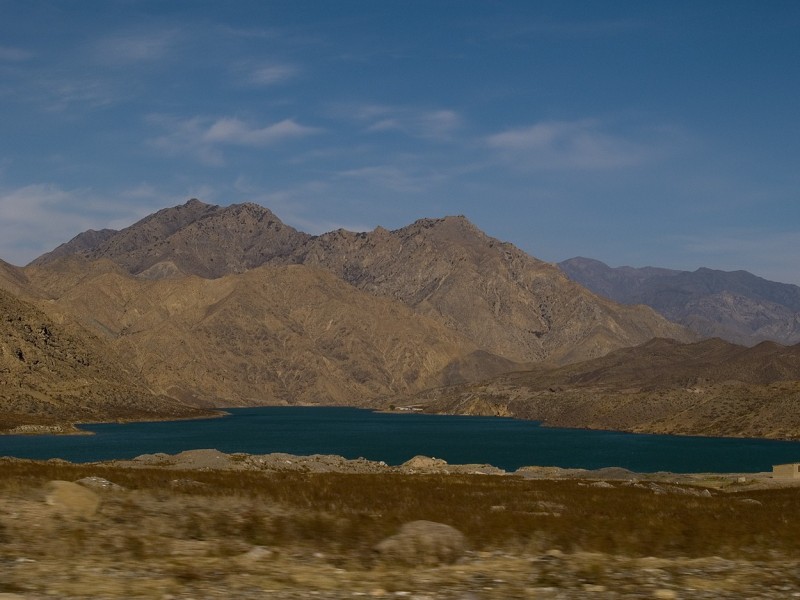 The road goes along the Naryan riverbanks, it's an enormous river with a gigantic dam constructed after WWII, supplying energy to Kyrgyzstan and the nearby countries, and even it is not very profitable for them. Stalin agreed a concession for 90 years in which Kyrgyzstan benefits of the exporting of electricity to Uzbekistan, but at a lower price to what its costs them to produce.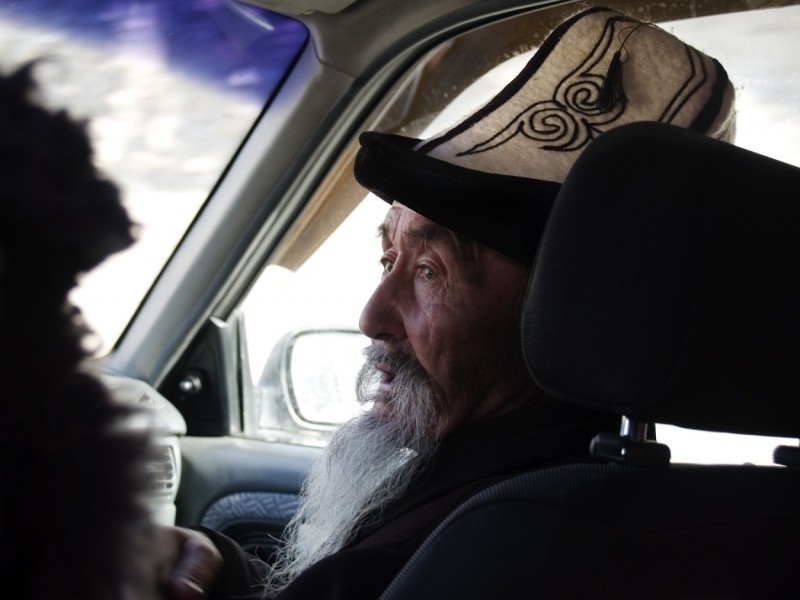 One of the guys in the car told us about the set up of the numerous electrical towers. It was done by a Chinese company and the set up of each tower is about $200.000. There must be 100 and taking into account that Kyrgyzstan is a poor country it's normal that people are indignated and see this as politicians not doing their job in the "right" way.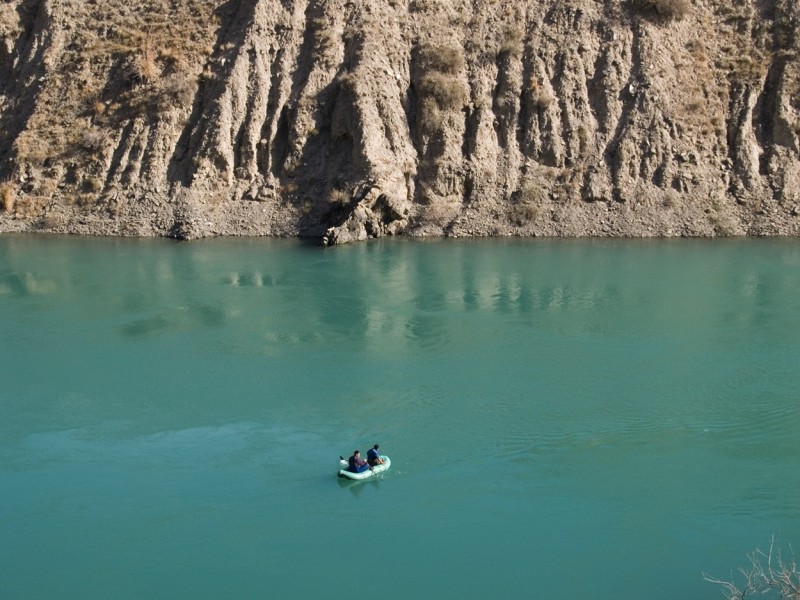 The good part of the dam is that fishing is possible, we saw fishermen on an inflatable boat that was later sold in stalls next to the road.
The taxi people ask if I liked fish.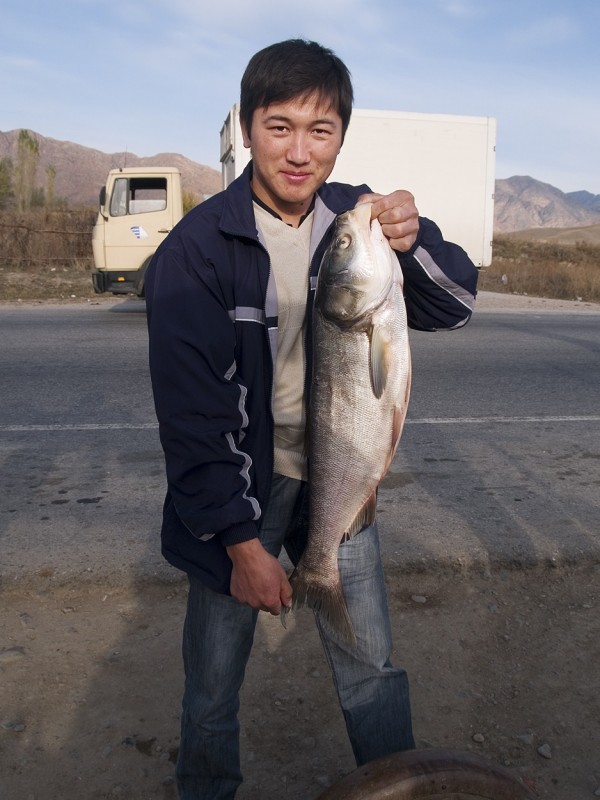 We bought some and took it with us to get it fried in a restaurant on the road at dinnertime. Life goes all around, in the restaurant I met a Kyrgyz that had learn Spanish in Cuba!!!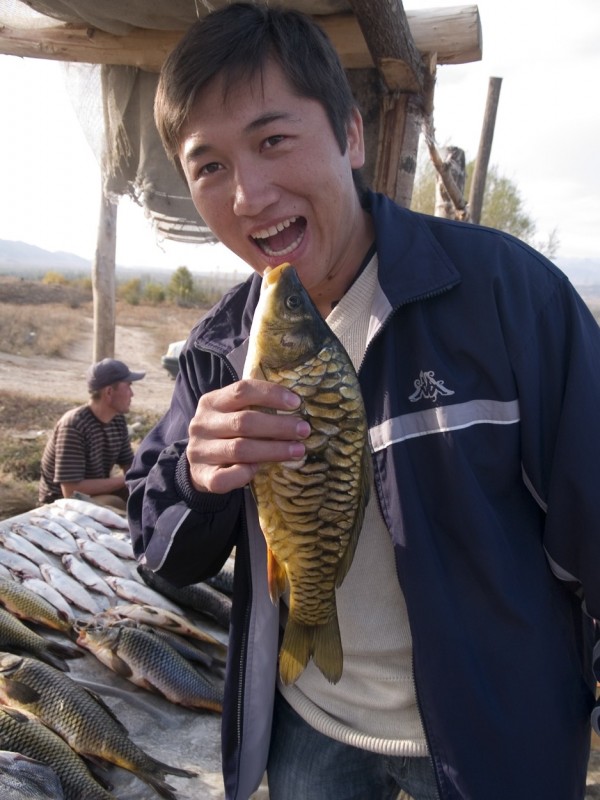 Kyrgyzs have their sense of humor.
Night started falling and as roads were not very good, there were accidents everywhere.  We stopped three times to see if the people involved in the accidents needed help, here it is normal to try to help in any way. Luckily there were no injuries. The forth time we stopped was not that good, a car had fallen into a field overturning. The driver and his wife had died, only the mother of the driver had survived and was crying disconsolately.
After 15 hours of car, at 11 p.m., we arrived alive to Bishkek. I said goodbye thanking my taxi mates for the good time in the taxi and desiring each other good luck.
I got a taxi to the airport to spend the night waiting for the plane and come back to Spain, but that's another story…
Silvia Ocaña.
Thanks a lot Silvia!