2010
03.25
Train is ten minutes late, it is one of those times that you come running and while waiting you think the effort to arrive on time is a waste of time, recording Metelkova for the previous post took me a bit longer than expected. I want to sleep but I can't because the landscape next to the Sava river along with the Slovenian mountains is too good.
After two hours of landscape the trains stops,  by the window I can read Slovenja, I'm at the border, I get ready, bring my passport out to give it to the Croatian border police, a big young, serious guy. I give it to him smiling as if I have to convince him to let me in. He brings a magnifying glass out of his pocket. After a while examining it he returns it to me and I feel a bit of satisfaction.
I like Zagreb, I get the tram that goes everywhere, reminiscences of Yugoslavia. It´s a pleasant city, but not too beautiful, the austro-hugarian buildings here are not too impressive however there are hundreds of cool bars, and the people are incredibly helpful. Can be a good place to go for a stag party.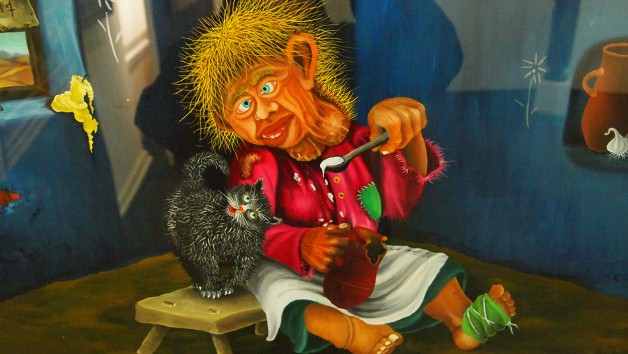 I get into the Naïve museum, there are landscapes as the ones in Dragon Ball and this woman with her cat, don't miss the onion on the right side.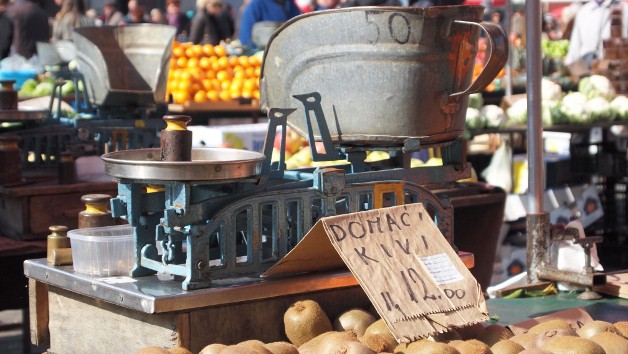 I spend a while taking pictures of Dolac market, I've always like countryside people in the city, there are no weird products and in the end this is a similar climate to Spain, I see a lot of Mediterranean products.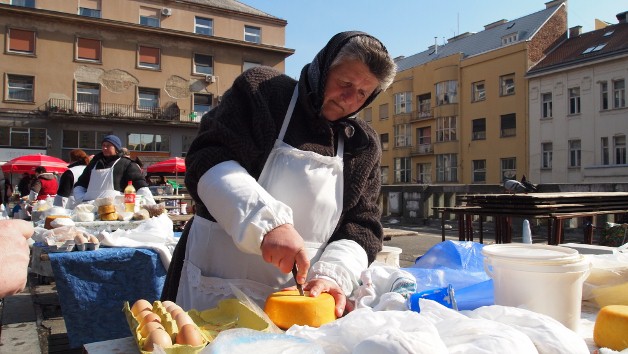 After buying some fruit I buy a piece of smoked cheese, very smoked cheese, super smoked cheese, having that cheese in my mouth is like putting my tongue in an neighborhood bar ashtray.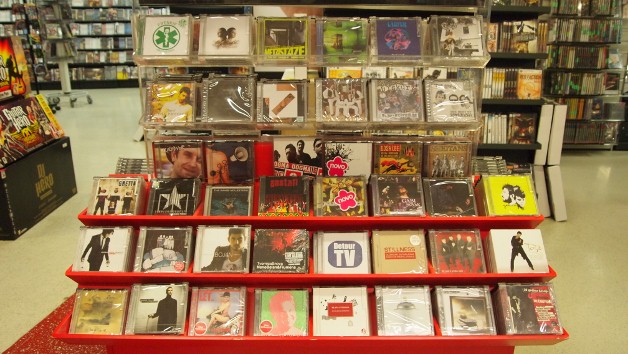 I want to buy some Turbo-folk, I'm curious, it is a mix between traditional music and modern rhythm, it started as a joke or criticism and became a Balkan hit after Yugoslavia, has some nationalistic undertones. It's obvious that the shop assistant of long hair, goatee and hidden piercing doesn't like the style of music, but he helped me to choose it.
I also ask him for current music, he get's happier, for being a country of four million people they have a huge music scene. He explains to me each of the Cds on the shelf. There's a woman that is like Dido but more instrumental, a guy inspired by Tom Waits, one that is supposed to be similar to Moby but if you hear it you fall asleep, a girl that sounds like Dolores O'Riordan(The Cramberries), REM support band that Peter Bucks has said are amazing, he shows me the first CDS of a guy that recorded during the Yugoslav era and that due to copyright problems of the country you couldn't buy before, he's excited about the idea, and many other Cds of suggestive covers and incomprehensible tittles. There are also compilation CDs with Yugoslav hits from different decades. I buy the one that Peter Bucks likes, I trust him, also buy old hits that. Music is very cheap here.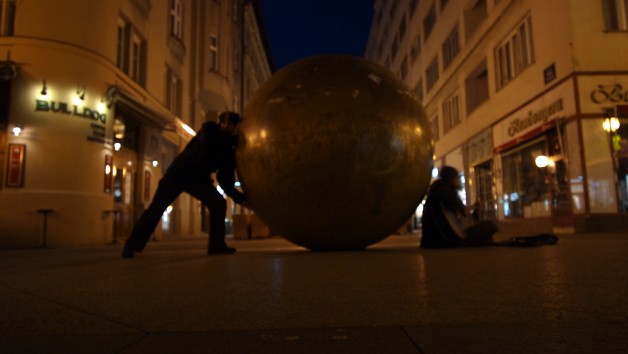 From the city itself I just have two pictures, a panoramic view from the top and one of Kapol square where it seems everything happens, every minute there's a tram arriving. The rest is not very photogenic, so I go to the coast. The most modern sculpture in Zagreb, the musician was there for three nights I walked by, however after running the ball over him I'm not sure if he's been able to play again. I used to play well.
I wait three hours for my rented car in Hemingway's café, the most modern place in town, high heels, porches at the door, gel in thinning hair, shirts with crocodiles and sun glasses with big letters, the music is very good, the wifi is fast and free and the tea is nearly the same price as in other places. I write and read.
Cool, in two hours I'll be in Rejica(read Reica, the j sometimes is an "I" and the other just goes with it with no pronunciation). When I thought I'd be in Rejica I'm not even half the way, the snow, my Smart with small wheels and no chains in the trunk make my trip hell, the 60km/h winds don't help much, I arrive super tired.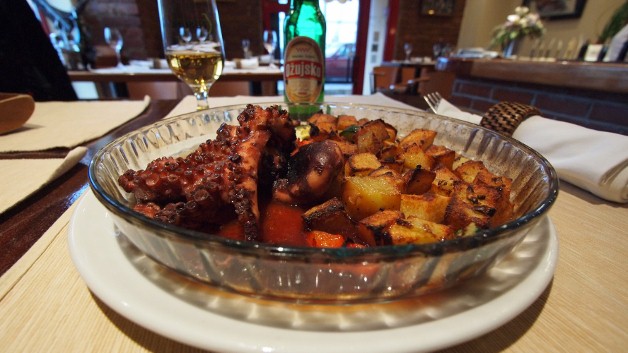 Rejika is interesting as is a normal non touristy city, the port is the most important in Croatia and the buildings are prettier than in Zagreb. Keeps snowing, I see snow over the sea for the first time and decide not to move. I eat recently fished octopus. There's a European chess championship, in my hostel there's a German player, he tells me a lot about chess, very interesting, I find him funny.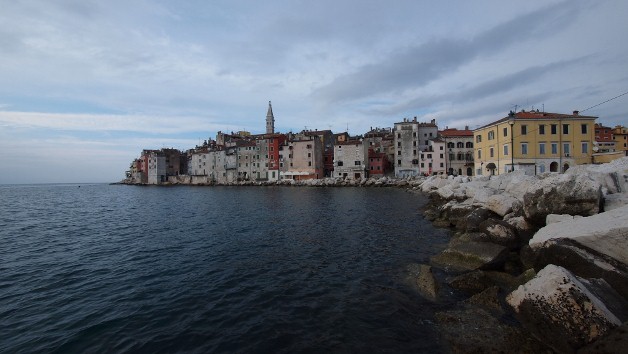 With the sun I go to Rovinj on the west, the Istria peninsula(love the name) I enjoy the center with marble stoned alleys, it's very quiet, I walk slowly by this charming place.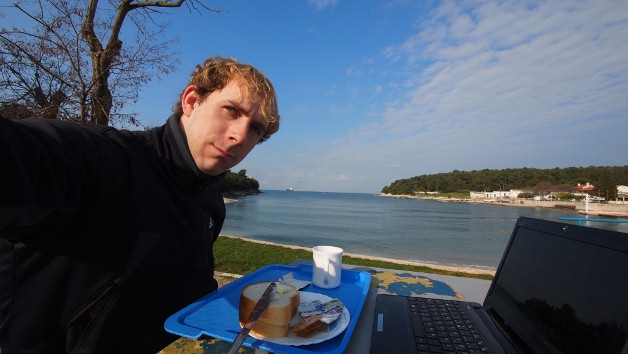 Finally sun, no hat and no jacket! I have breakfast in the street, I'm a bit cold but I want the sun to fill me with energy. Today I've Slept Alone in a hostel for 200 people.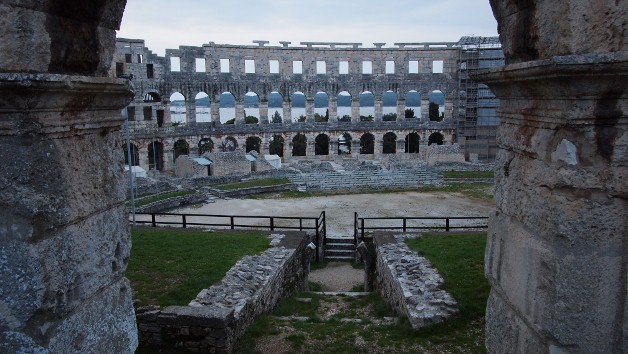 The sixth biggest coliseum in the world, it's wonderfully conserved and being next to the sea is strange, I never imagine roman buildings by the sea, maybe because they are not like that in those roman films I don't like.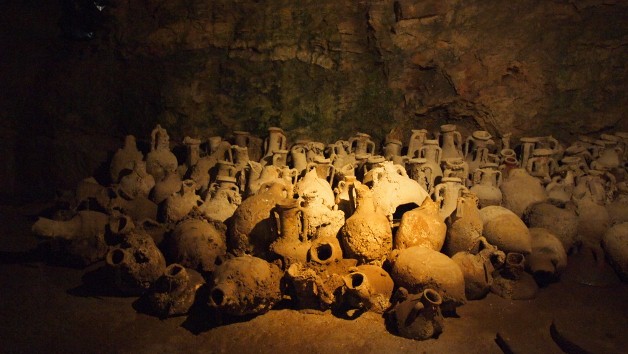 It is possible to walk under the coliseum where the gladiators relaxed after killing their adversaries, the nicest thing to see is this amphora.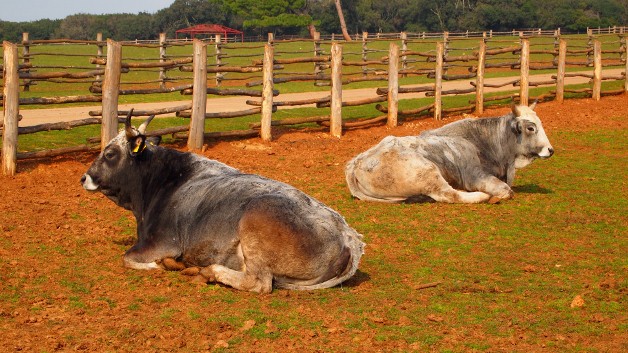 I get a boat to one of the islands in Brijuni National park where Tito used to expend half of the year inviting state heads. This is the biggest island on the park and I wouldn't call it a natural park, it's not wild at all, it still has government buildings and kind of an run down zoo it also has interesting roman ruins but all quite artificial, there's a 1600 year old olive tree that still produces olives and these cows that are endemic of Istria.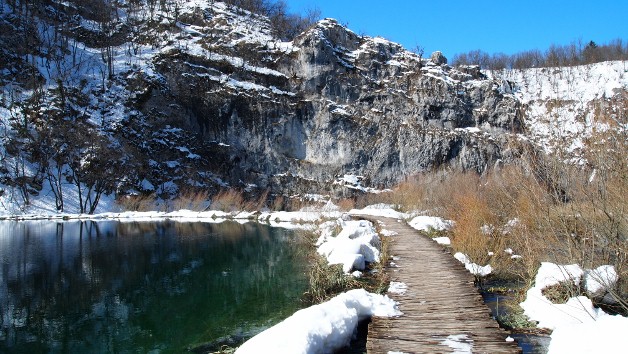 Continuing to the south I stop by the Plitvice Natural park where 16 lakes are connected by waterfalls and where I want to stay all day to breath in the nature and maybe if I have infinite luck, see a Lynx. But  nature itself changes my plans the snow is blocking the paths and after a short walk I've seen it all, it's nice but not impressive, the Japanese in front of me love it but I know in Japan you have nicer things. They have huge mountains there.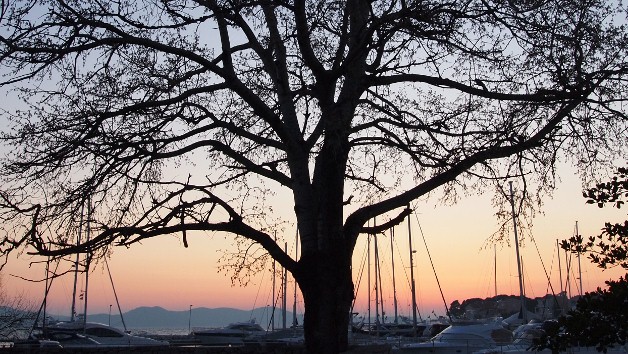 From the waterfalls I go to Zadar, a city I like and I'll recommend to anyone asking me about Croatia. There's an afternoon with clear sky and I can see the still Adriatic islands while the sun sets.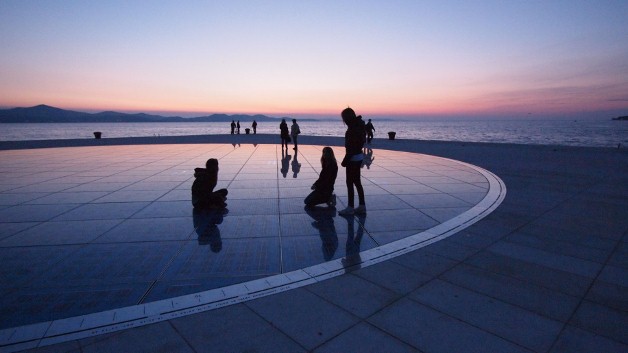 What is this? This is a shot of the next video.
See you soon.
Fernando