2010
05.31
When an Albanian greets you feel his strong hand of thick fingers shaking your hand. In other places maybe you leave and nobody has shaken your hand. In Albania every day someone comes to say hello, someone wants to say "hi", "how are you" or just being sure you don't need any help. This is why I leave the country knowing what an Albanian shake of the hand feels like.
That extreme hospitality may come from the Kanun, an ancient set of rules on how to behave that in ancient time placed a lot of importance on guests. Because Albania is an ancient race, fairly remote, coming from the Illyrians, maybe they were the first Europeans. That's how their language is, remote as it's mountains. It surprises that we are similar to them, even by our standards it could be said that they are backwards, but that's a good thing and a bad thing. We don't have that hospitality, we have become more advanced, independent, we share less and we are more egoistical, when somebody talks to us we think they want something.
In one of those furgons I learned that if you have a hiccup it means that someone is thinking of you.
Jeff, an English guy I met near Theth was cooking outside at night on his burner while camping that night, someone from the village saw him and invited him to come to his place to sleep. In Spain if they see you they'll try to get you out of there or just call police directly.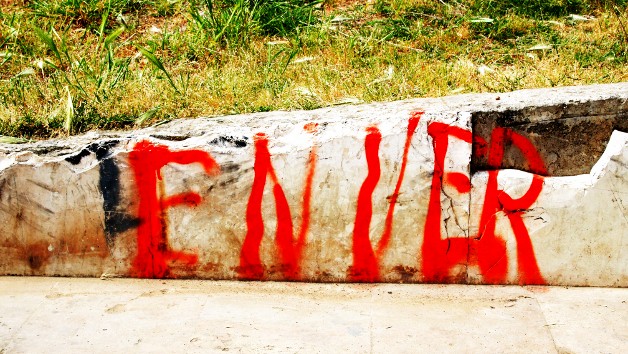 It's a country that still suffers absurdly from the Enver Hoxha regime but also there are many differences, the X5, Cayannes and even Ferraris that you see in the cities are a big contrast to the countryside where the fields are ploughed with horses. During communist times people were not allowed to buy a car so now they drive even to go for bread similar to 18 year olds who have just got their licence.
Enver Hoxha left the country in a weird state. Imagine that any of you or the people you know would have the power and the craziness to dump on a country your restlessness, fears, admirations and frustrations. But that's what happens to a country under a dictatorship. The personality of a person envelopes the country and the reaction of the people to the imposition!
Capitalism arrived with extreme force. In 1997 the financial system collapsed with pyramid investment like Madoff in the US or in Spain with Forum Filatélico or as in Ireland with Seanie Fitzpatrick and Anglo Irish Bank! Maybe the west could have learned a lesson from the Albanian crisis if we had paid attention.
But capitalism has brought some good things as well, people that visited Albania a few years ago remember the noise of generators in the afternoons, that doesn't exist any more or the cyber cafés where all the screens now have Facebook, wouldn't work. Somewhere has to be the 500 million users of the site.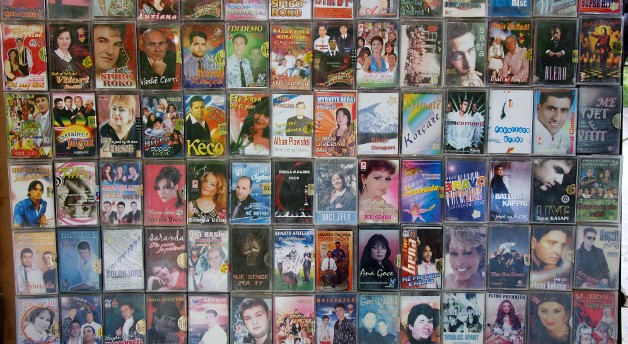 The market in Korca was great, you can buy a lot of cassettes…. Also nearby here a man was lighting up charcoal with a hair drier.
A rural society but who isn't surprised by the countryside people in your own country? However young girls dress like Lady Gaga and the men like men in Spain, a jacket maybe a tie, maybe a jumper, but for sure the collar and cuffs worn out.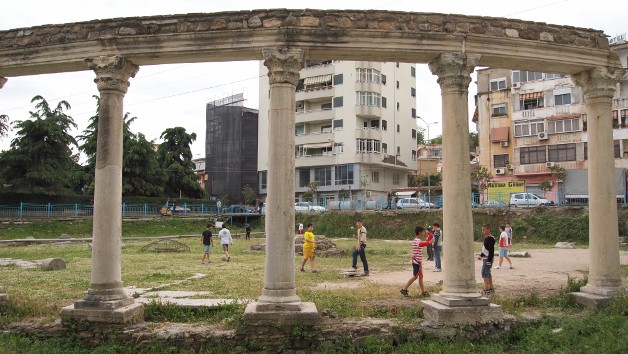 A really unique place to play. In Roman times Albania was highly important as it's the closest place to the Italic peninsula. From Durres was the "Via Egnatia", a merchant route direct to Thessaloniki and Istanbul, first grand stop of the silk.
Some "dress code" in the mosque. However the Becktaism is a variant of Islam that is quite relaxed, it is a similar style to Christianity as practiced in western countries. It's widely practiced in Albania. On the other hand, in some traditional places they still have arranged marriages. [Correction provided by Erion Elmasllari that have found the blog. The sighn says "Do not kiss the stone. God does not permit adoration of stones and walls" ]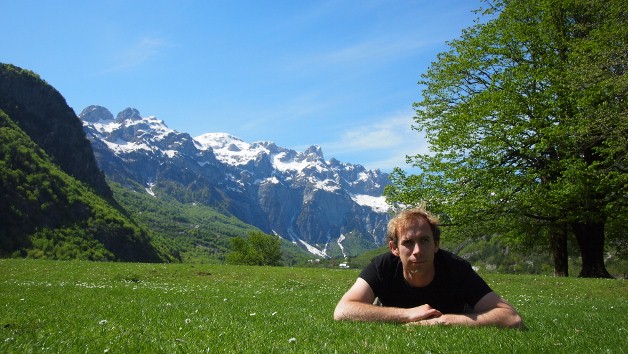 Promise, the last Theth picture.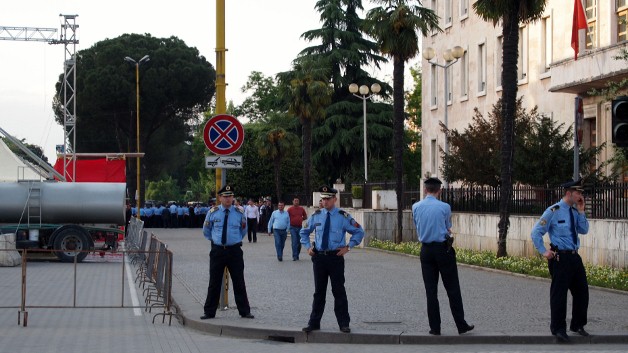 Edi Rama, the one who painted the buildings, lost the last elections and now he's protesting in the middle of the city claiming a re-count of the votes is required. Part of the way to democracy, the right to protest.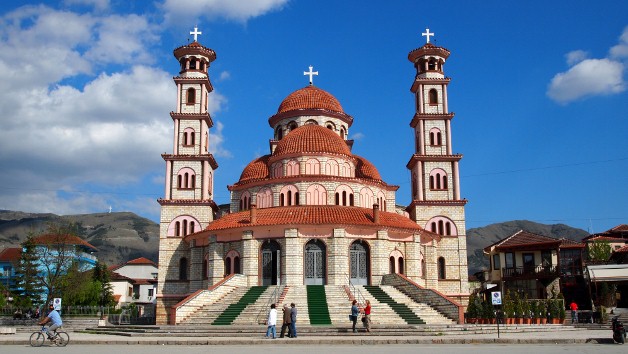 This is what an Othodox cathedral looks like.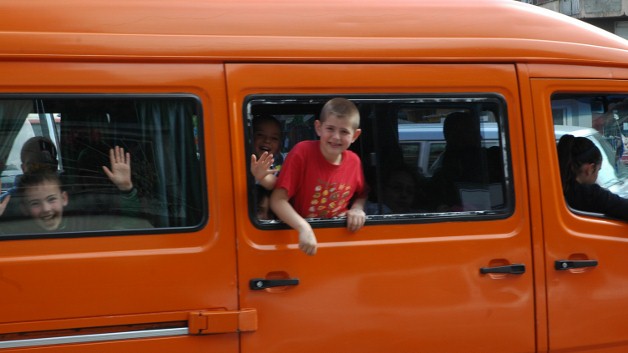 It is very surprising how safe the country is.
Something amazingly surprising is that they say "yes" like Indians do, moving the head similar to when we say no but in a wobilly way. It's very confusing. I heard it once called the "the 8".  Ana and me have been practicing, but we are horrible doing it.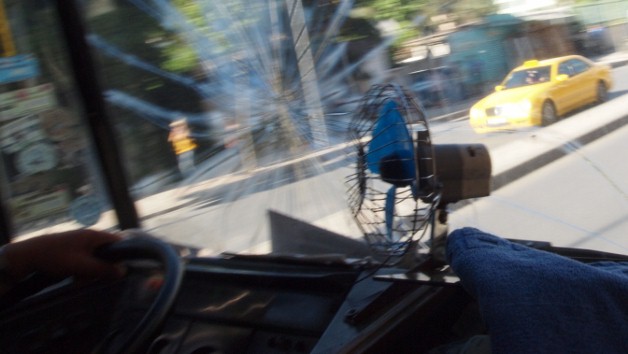 A less important handicap, the roads are so abrupt that even with a full windscreen the blue bags that the sick people request would keep flying through the bus.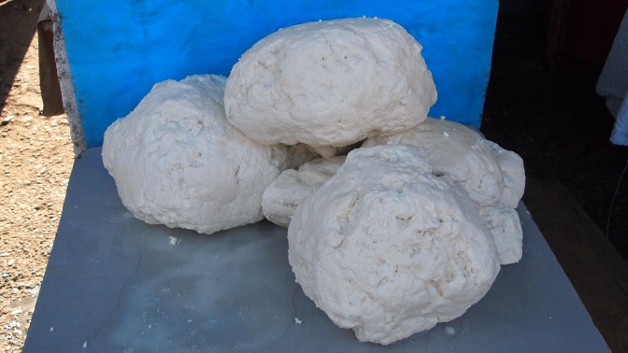 A very popular cheese from the north. Other traditional dishes are liver, heart, tongue. In my memory will remain that salad of spicy beans. There are a lot of Mediterranean products, melon and ham are eaten.
The great thing of sleeping in a 3 Euro place is the price, the bad is that you sleep in a room in such a state.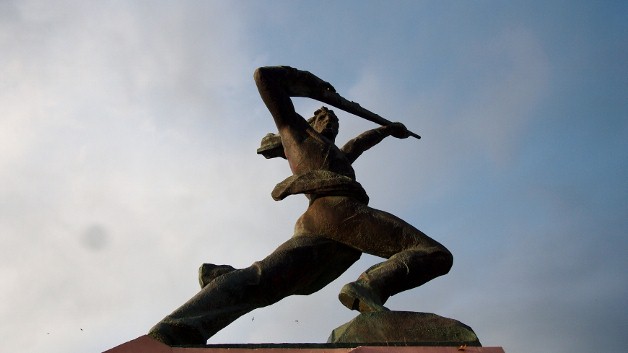 I like communist statues; dynamic, warriorish, impressive. The stain in the lens is now clean.
Those who ask me for a suggestion on where to go! Until now the most interesting I've found is Bosnia Herzegovina and Albania as they are the places that are going to change more and seeing how they are now is extremely interesting.
This maybe a dangerous recommendation, not everybody should come here. One must come with no pretensions, the travelers' that come here are not demanding. The light may go, water can stop running or the bus may never run, and in the end this is good. If we get what we have at home the country changes and it would stop being interesting. Please if you come take this into account.
I´m finally been able to leave Albania, I loved it, I was trapped but now I'm in Greece seeing things that are surprising me, but before telling you about Greece I have to post a video of something very special I did with Ana on our last day.
Soon more about the trip.
Fernando