2010
09.21
Radical Islamists and dangerous killer terrorists. We travel with our prejudices. And the Iranians one as "the badies" is one of them. But Iranians are famous for something else, the one they have had for centuries, of being the most hospitable people ever on the earth s'surface. Because of their nomad past, part due to their merchant past, or for being cosmopolitan before New York existed. Iran is a country that during generations they've taken foreigners as a treasure brought from Allah.
Even last few years, maybe 20, or even lees, 10 years, have not changed this rooted tradition or changed the soul of Iranians in a sudden way. The outside policies of the government, doesn't necessary have to match with the psyche of the normal people. I hope to find kind people, honest, generous, and over all, hospitable. I want to talk with the people to see if my image of Iran coincides with  the truth.
After crossing the border, with nothing special to highlight, I take a taxi to Jolfa. It costs me 10 dollars, a bit expensive, but I want to stop on the way to see something so its worth it for me. The Iranian phone company wishes me "A memorable stay". I'm in the Aras river valley and I like the landscape.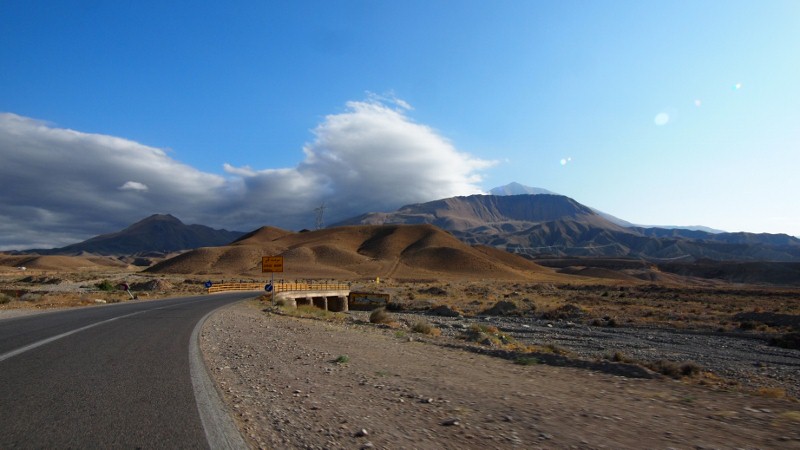 The pictures doesn't show the truth of the landscape.
The taxi driver tells me his name, it sounds like "Cerda"(Spanish for female pig), it's easy to remember, I repeat his name often, I find it funny. He likes takewando and he talks really good English, he's got a Peugeot similar to the 407, he's paid 1000 dollars for it, I'd wish he had only had 500, because he takes me at 140 kilometres per hour in the bends and I'm not very comfortable with it. To complete my sickness Cerda asks me about what music I want to listen to, Iranian or European. I tell Cerda that he should play what he prefers. He tells me he likes European and after hitting "play" horrible electronic music that would have been prohibited in the "bakalo route"(early 90's drug oriented route of discos with repetitive music) for being too repetitive.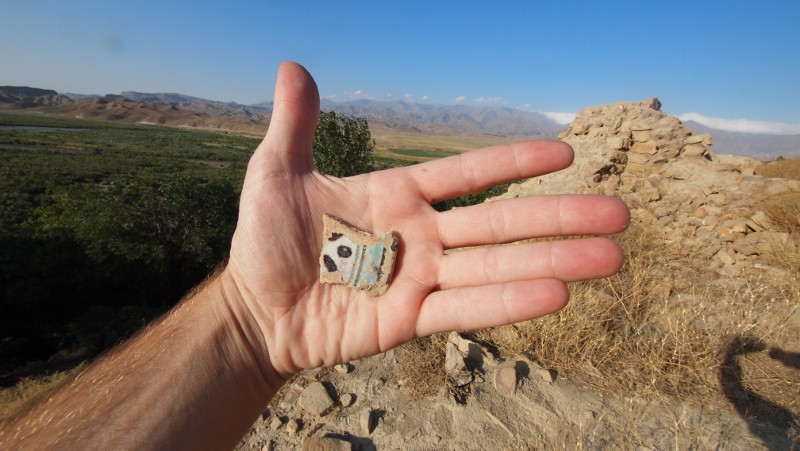 We stop in a village with adobe houses, on the ground you can find ceramic pieces. My ears and stomach rests.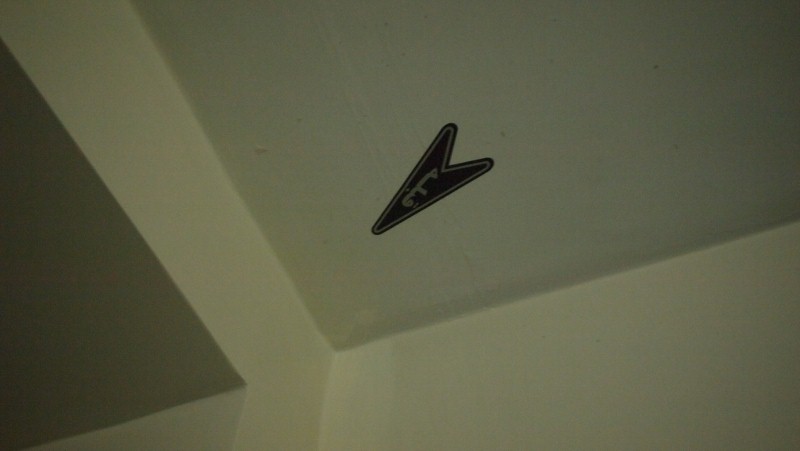 In case any time you have wondered how they know where Mecca is when they are not in their places, here is the answer.
I meet three Turkish in the hotel and we go for dinner together. As it's early we go for a walk around the little village. An army pick up stops next to us, we continue with our conversation and our jokes. The guy in the right seat, which is the man with a higher rank talks to us, I understand no word, but the Turks get to talk with him. Seems that the guy wants to know if we are illegal, it has all the logic in the world, I must be the only blond person in the world, I have a blue backpack and a camera hanging from my shoulder, the ideal way to be unnoticed if you cross the border.
We are told to go to the pick-up. He goes to the headquarters. They ask for our passport that is in the hotel, I realize immediately it's the first time in all my trip I've left the passport in a hotel. They talk with my new Turkish friends for a good while. The guy that drove the pick-up laughs a lot when the colonel, or whatever he is, is not looking. He realizes how absurd the situation is. The colonel get's in the headquarters and we wait outside talking with the rest of the soldiers, they are doing compulsory army time and they are bored as hell so to talk with a foreigner is the best thing they've done in weeks.
A border policeman sees us thought the gate door. He stops to talk with the idiot general. He goes to get our passports and takes us out of there, he excuses us and takes us to the restaurant we wanted to go to. All the of this has taken over an hour, it has not given me any nervousness as I was seeing it so absolutely absurd that I knew it was a matter of time, one of the Turks says he's suffered a bit, he's a judies and Ahmadineyad(believe it or not I've spelled it properly at the first time) doesn't like them too much.
The chicken kebab taste is good and my idea of Iranians still has not changed.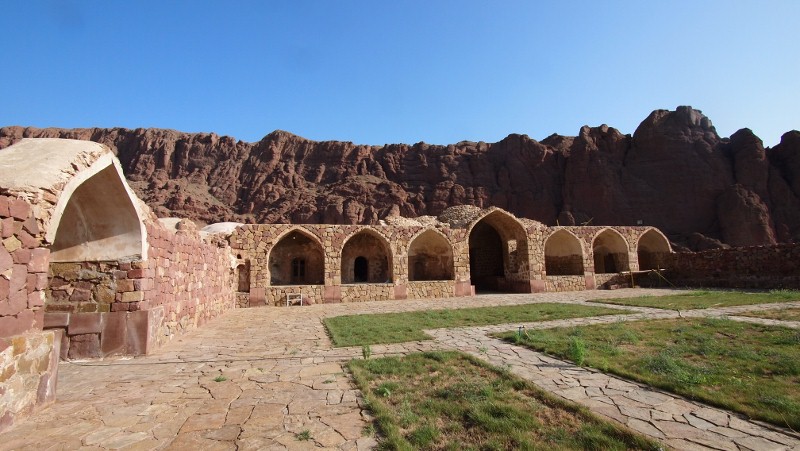 I stop in the Khajanazar caravanseray, here there's a view from the outside with the Aras river mountains in the sides. I try to see some wild goats, but I see none all the way. The next canyon is more red than the Colorado canyon.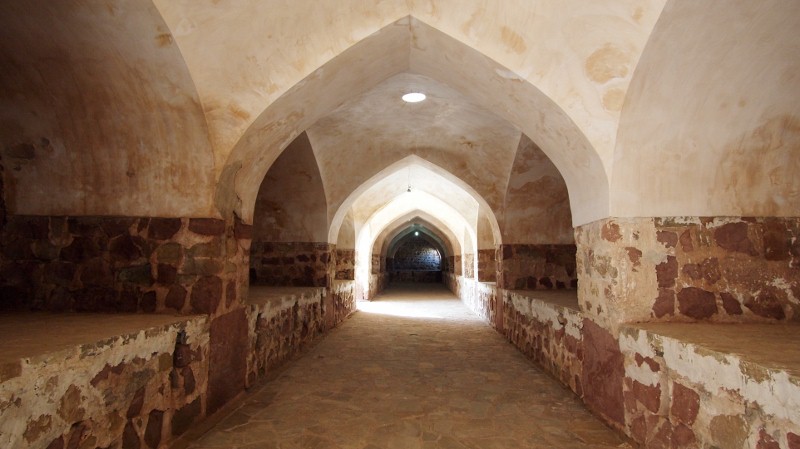 Inside you can see the different compartments that used to be rented to the travellers and the holes where the horses or camels were held.
Before continuing I come back to the Aras river valley. I stop in the 10th century St Stephanous church, it became part of UNESCO in 2008. In Iran there's quite a community of Armenian Christians and there is a cathedral in Tehran.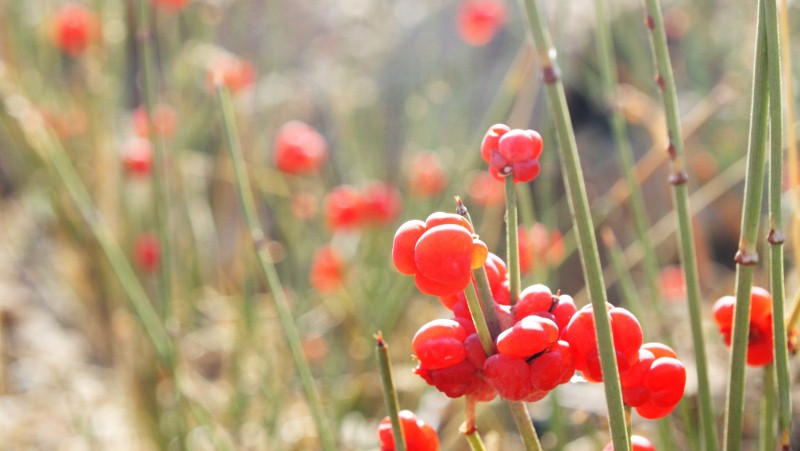 Plant with kind of meaty fruits, I found it curious.
I get a shared taxi in the direction of Tabriz, as there's a seat left we go around the center a few times to see if we find another passenger to leave. The driver shouts "Tabriz, Tabriz" from the window. I, to his total surprise, help him shouting "Tabriz, Tabriz". Neither of us is lucky for a while.
Tabriz has given me an instant rejection, another middle east city, that noise, that chaotic traffic that doesn't let you cross the roads, the monotonous colour of the construction, so many people… Georgia and Armenia were more organized, cleaner. I need to adapt again to this, but bit by bit. I don't feel like staying here, and decide to stay here to see the two things I want to see of the city and go to a small village to sleep. I leave my backpack in the tourist information office and go to the Kabud mosque.
In the street three different people stop me to say hello and welcome me to their country. One of them tells me that his government doesn't let them have the freedom that if we have in my country.
I'm surprised, girls have the scarf, all, it's compulsory by law, but they have it more in the back than normal. You can see they have a head,  some even have their hair loose on the back and it shows out under the the scarf. In Syria and Jordan you don't see this.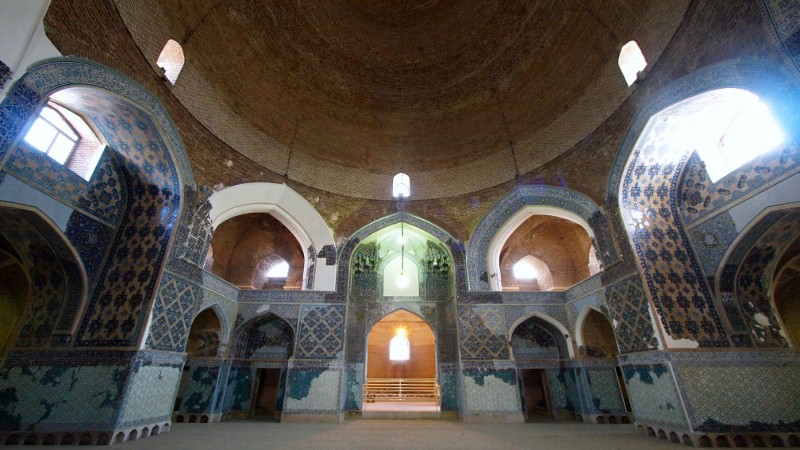 I go to see the Kabud(blue) mosque, an earthquake destroyed the work of 25 years that it took to decorate this in an intricate type with blue tiles. At the exit a young says hello. He talks fantastic English, he tells me that tomorrow he's nothing to do, that we can meet and he'll show me the city. It's summer, he's bored and in that way he practices English. Unfortunately this time I can't change my plans I have to meet people in Esfahan to go paddling.
I see the Azeri museum, it has not much but in the ground floor there are some modern bronze statues, somehow tragic but cool.
I go to the bakery, the smell of bread has been in the air for 100 meters. I try to buy bread done here, but they don't let me. The man gives it to me, also some sweets. He asks me to send him the picture so I'm going to do it as soon as I finish the post or I'll forget it.
Tabriz bazaar has come to be part of UNESCO this last year, so I go around.
It's quite an old one and very well preserved. It's lunch time and there's not many people.
I go to Kandovan, a place similar to Cappadocia. By the time I left Tabriz I was adjusted to it, but continue with the plan of sleeping in a village anyway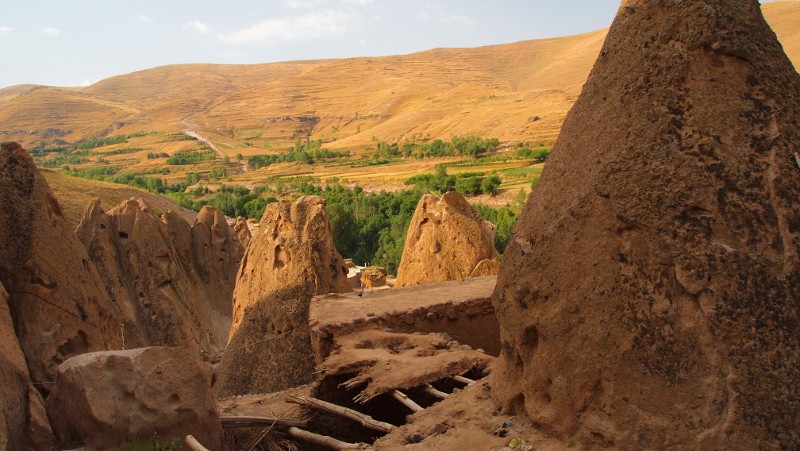 Some chimeis are still used as houses.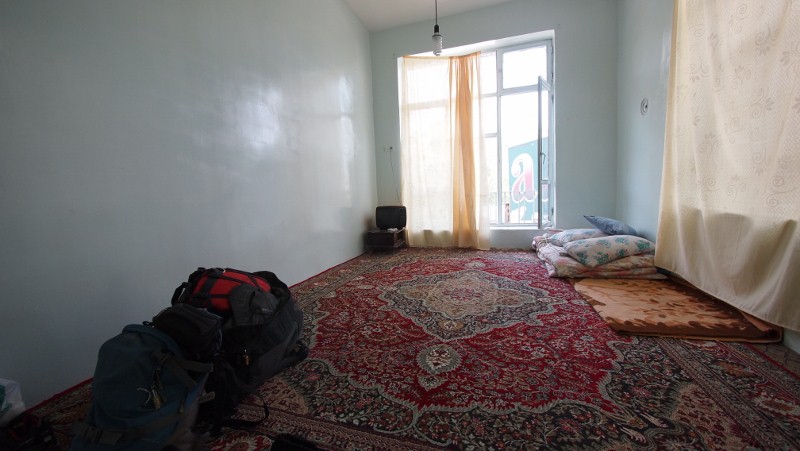 This is my room of the day. The carpet and that's it. I'm going to sleep on a Persian carpet!
I eat in a restaurant with a half Iranian, Azeri family but that they live in Tbilisi, I didn't have it very clear. The father is Iranian, but he tells me he can't leave here (because he doesn't like it). I talk with them for two hours, the older girl has good English, she tells me that she doesn't like wearing the scarf, the mother is resigned, but doesn't like it too much. They ask me tons of things and they invite me for dinner.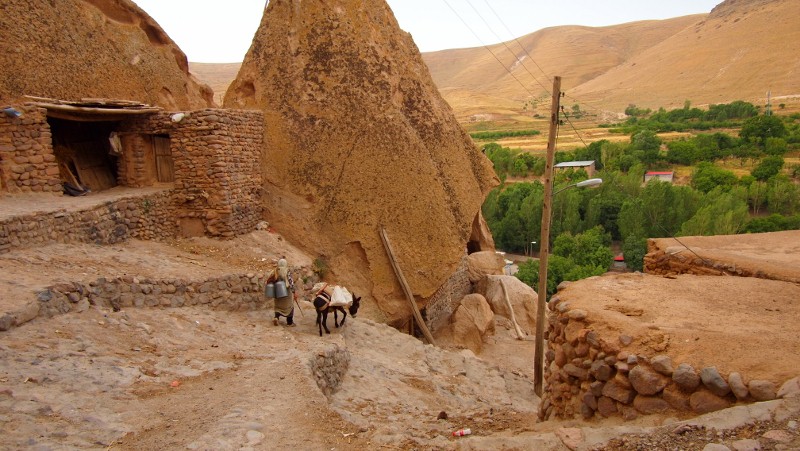 In Kandovan they have a basic life.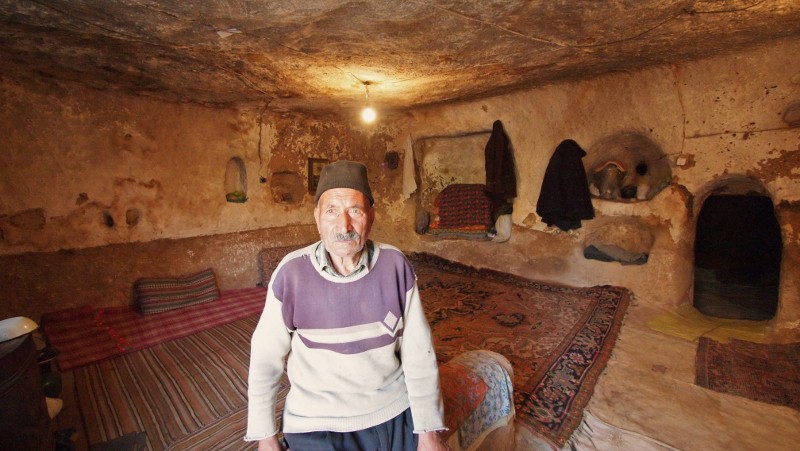 Seems people don't like tourists too much here, I think they are bored of people coming to take pictures of them. I'm as discreet as I can and I leave early. When I was already leaving this man offered to get into his house.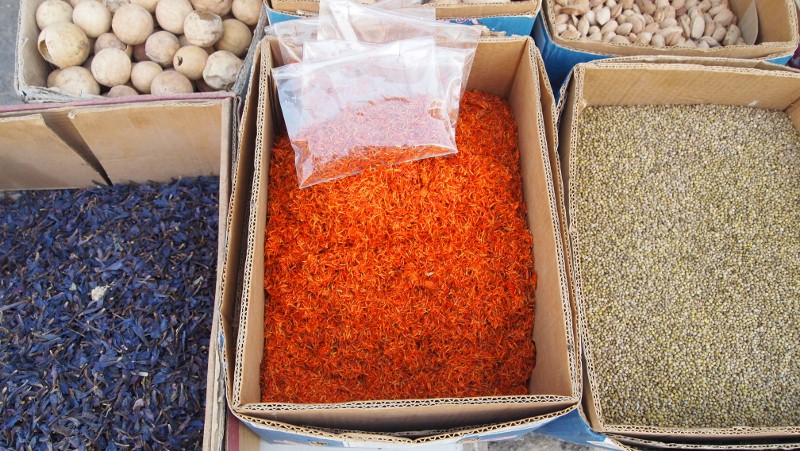 Some spices.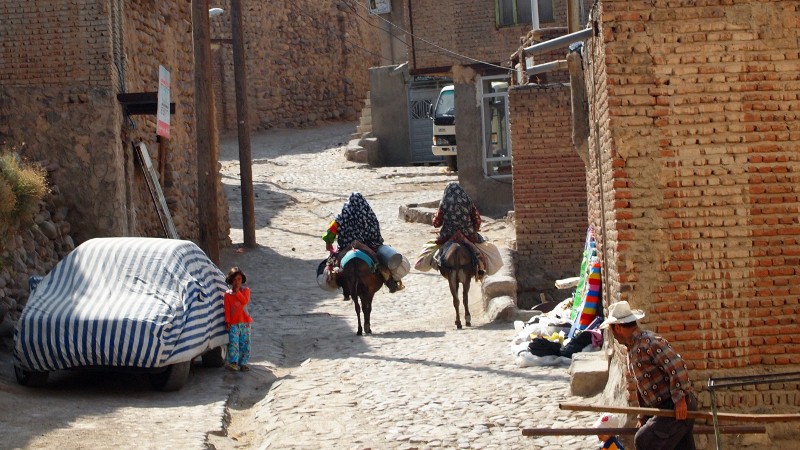 Donkeys and non-black chadors.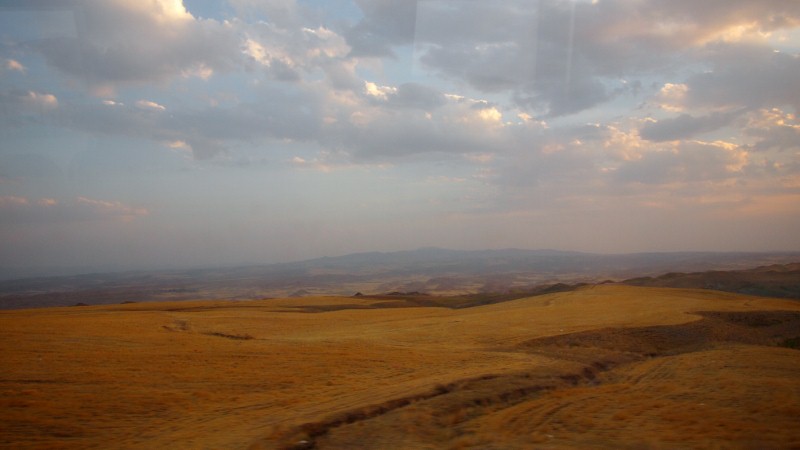 With this I go to the centre of the country, to Esfahan, the city that promises being the most beautiful of Iran. The city of the sunset colours and I get ready to sleep. It's been a long day.
See you soon.
Fernando